Tyler Cameron Is Unrecognizable In Latest Instagram Photos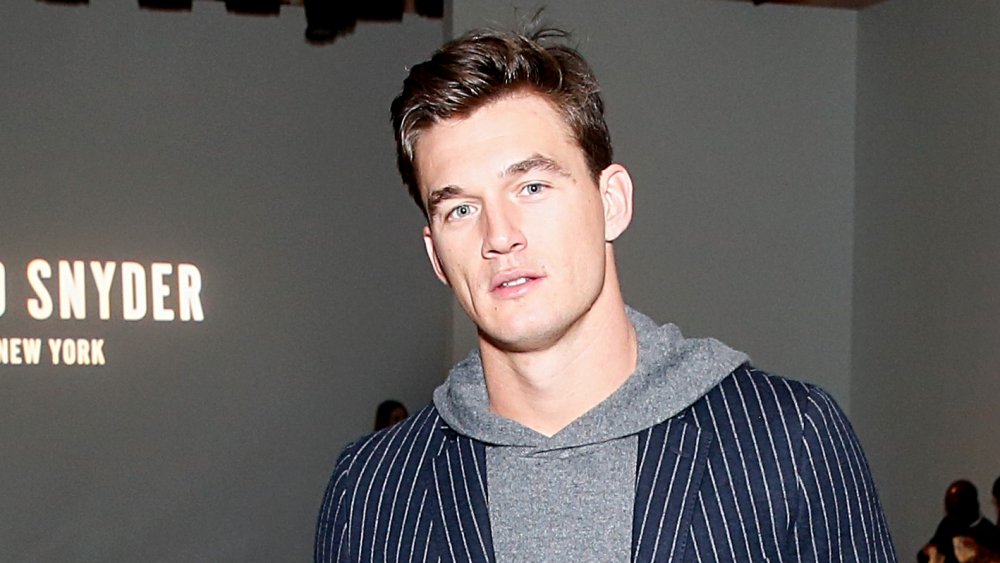 Dominik Bindl/Getty Images
Former Bachelorette suitor Tyler Cameron has used his time in quarantine to grow some... uh... questionable facial hair. Cameron spent most of his season on The Bachelorette clean-shaven, but he has rocked facial hair before. He tried out a goatee a couple months ago, and he's rocked scruff on photo shoots (via People). Still, fans were shocked when Cameron revealed his new, mustachioed look in a recent Instagram post.
Commenters weren't afraid to make their feelings on his new mustache clear. "Please just stop with the facial hair," one implored, while another bluntly stated, "Hate the stache." Cameron seems to intend on keeping the mustache, at least for a while. A more recent Instagram post showed him with a slightly trimmed version of the mustache. Cameron has been on a tear promoting his new YouTube channel and his partnership with Verizon.
Tyler Cameron is single and dating... for now
Despite the world locking down for COVID-19, Tyler Cameron's romantic life has been pretty busy this year. In March, he reunited with former Bachelorette Hannah Brown to lock down in a "Quarantine Crew." While fans speculated the two were dating, Brown and Cameron have only admitted to being friends. In May, Cameron told E! that he wasn't ready to date yet after the recent death of his mother. "My main goal right now is focusing on my little brothers, taking care of them and getting them where they need to be," he said.
Now, Cameron seems to be starting to get back out on the dating market. In a conversation with Us Weekly, Cameron said that he's been trying to date on Zoom, with mixed results. "I've kinda just been staying low-key and hanging with my people and that's it, you know? But as the world opens up, maybe I'll get more of the dating, but I've had some Zoom dates here and there." he said.