Before Shopping At H&M Again, Here's Everything You Need To Know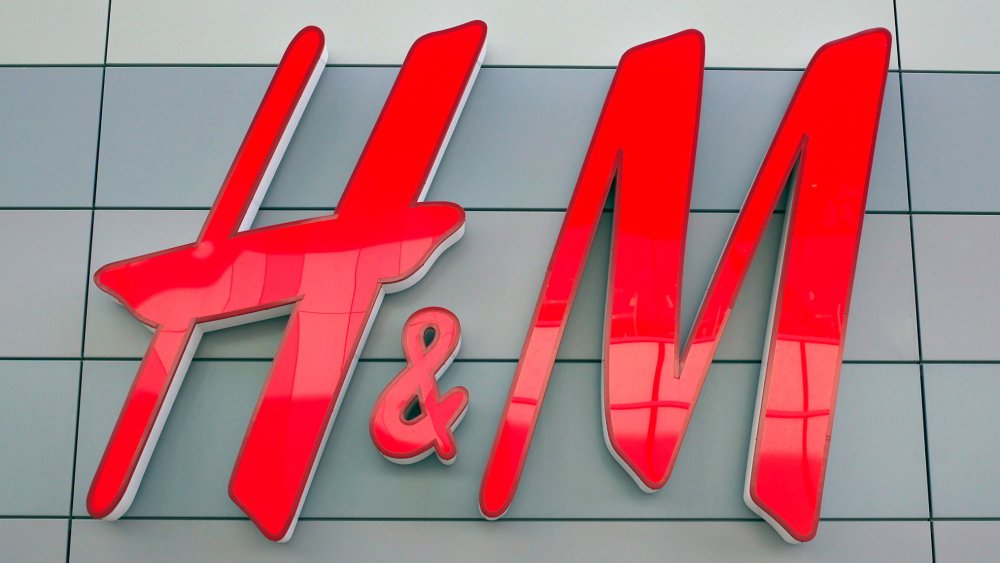 Shutterstock
You've likely heard of H&M, whether you're a regular customer or not. After all, the brand was partially responsible for Meghan Markle's stunning pregnancy style. H&M has grown by leaps and bounds since its modest conception as a single-store women's fashion business in Sweden in 1947. According to H&M's website, the store was originally named Hennes, which means "Hers" in Swedish. Upon becoming a chain — and later acquiring a retailer named Mauritz Widforss and then introducing men's and children's apparel in 1968 — the Hennes name changed to Hennes & Mauritz. It was abbreviated to H&M in the '70s, and the company, which CEOWORLD Magazine considers to be "one of the biggest names in the world of fashion retail," was introduced to the United States in 2000. 
If you have been shopping at H&M's retail or online stores for years, you'll be forgiven for thinking you know all there is to know about the brand. And you might be surprised to learn that there are some little-known facts about H&M that make a world of difference to your shopping experience and your bank account. Keep reading to find out about everything you need to know before you next set foot into (or shop online at) H&M.
This is why there seems to be new clothing every time you visit H&M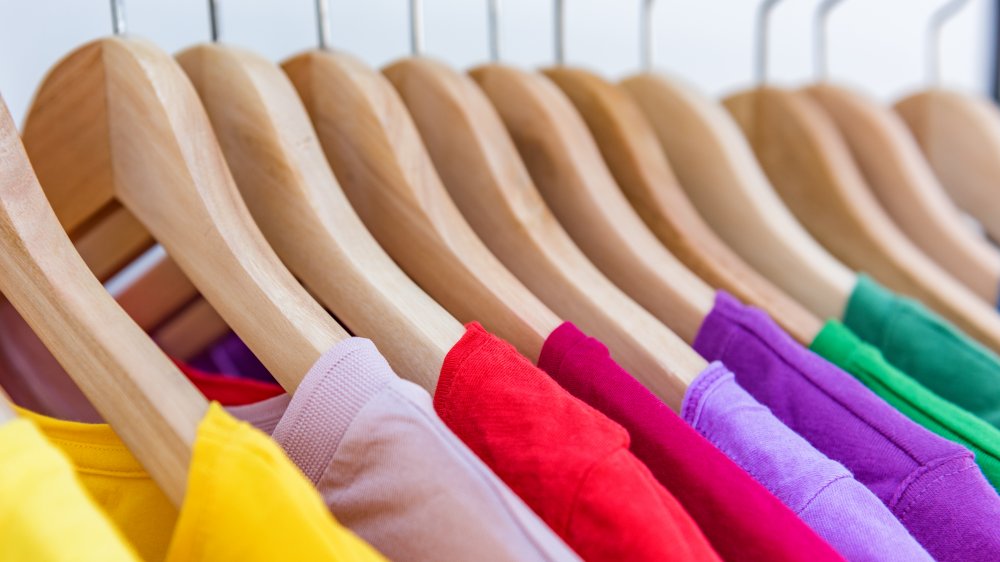 Shutterstock
There's a reason why it seems like there is new clothing available in store every time you visit H&M. While some popular brands might take several months to design and produce their clothing lines, H&M gets this done much faster — sometimes in just two weeks, according to Business Insider.
The publication reported that this is due to a four-pronged approach. First, the brand hires more than a hundred designers who monitor fashion trends and design garments accordingly. "Inspiration comes from a number of sources, but the catwalk shows of well known designers, the media, and competitor [assortments] all play an important part in forming future collections," Morgan Stanley analysts noted, as shared by Business Insider. Next, a team of "designers, buyers and pattern-makers" determine stock, depending on its proposed demand and suitability for each market. The brand's high-fashion garments are made sparingly to increase demand and reduce the chance of leftover stock. After this, H&M's suppliers create the products. Finally, the products are "shipped to one of H&M's distribution centers around the world, before making a final journey to stores."
While we love the hustle, could this fast pace be the reason women's clothing is so thin compared to men's?
Some brands you love actually sit under the H&M Group umbrella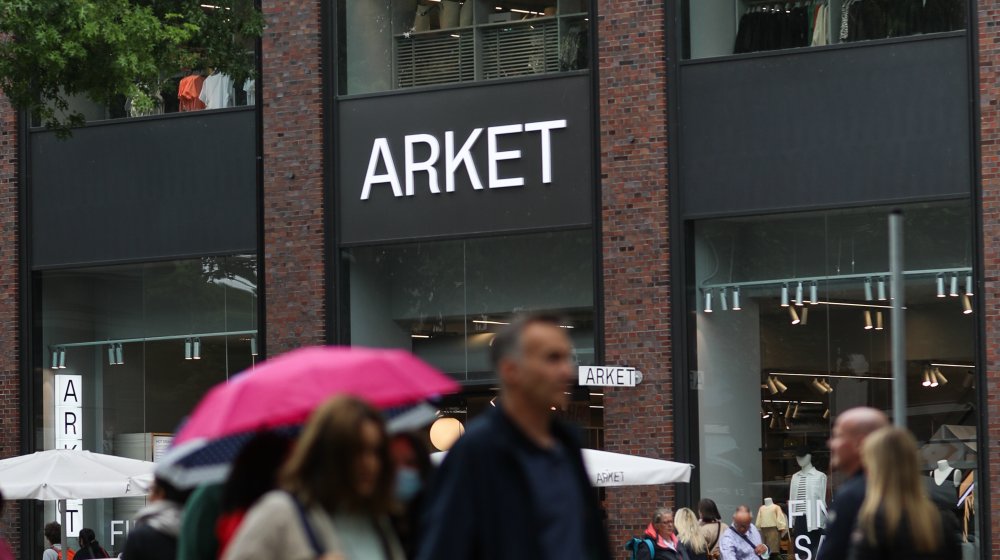 Jeremy Moeller/Getty Images
Did you know that several brands are owned by H&M Group? The company's website lists eight affiliated brands. The most well-known is H&M, the fashion brand we know and love. Those who appreciate homeware are likely familiar with the company's "design-driven interior brand" H&M HOME, which was launched as an online brand in 2009, and is available in select H&M stores. The brand also boasts a number of standalone stores dedicated to glorious homeware and interior styling products.
Some of the company's lesser-known brands are just as noteworthy. ARKET focuses on high-quality, durable "essential products for men, women, children and the home." Weekday sells garments inspired by "youth culture and street style." COS reimagines essentials for its shoppers while collaborating with artists, Monki "mixes Scandinavian cool with creative street style" to offer fashionable clothing at great prices, and Afound offers popular fashion brands at reduced prices. H&M Group also owns the brand & Other Stories, made for lovers of footwear and accessories.
H&M is big on sustainability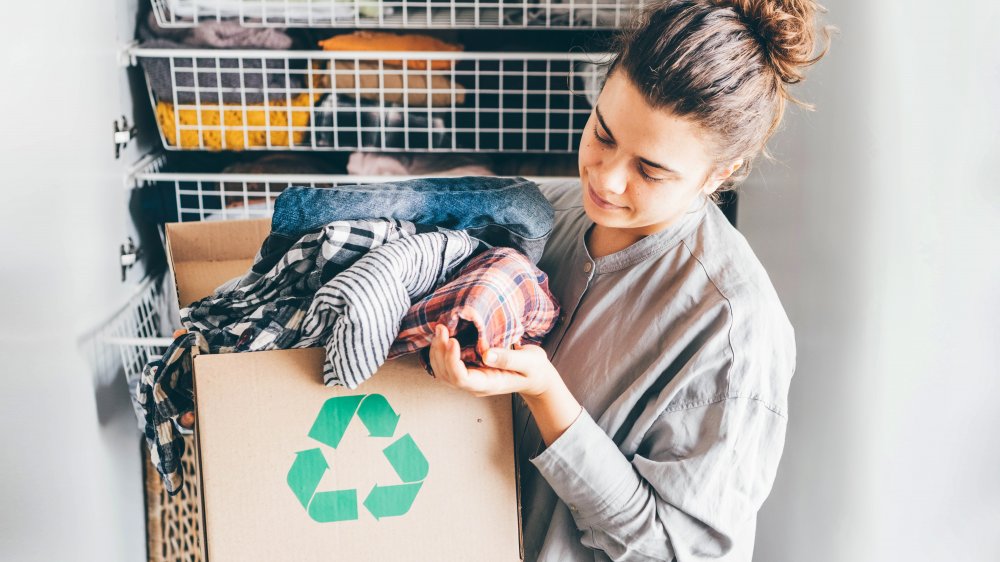 Shutterstock
If you consider sustainability to be a driving factor when it comes to personal clothing purchases, you can rest easy knowing H&M takes sustainability incredibly seriously. The brand's website illustrates the way it uses its "influence to support positive transformation in the fashion industry — driving innovation, collaborating with others, pushing for greater transparency and rewarding sustainable actions." The brand aims to engrain sustainability in every aspect of the business.
H&M also takes pride in using "only recycled or other sustainably sourced materials" when creating garments, making climate-conscious decisions, and championing fair working conditions. Impressively, H&M aims to use 100 percent renewable electricity by the year 2030 and to "achieve a climate positive value chain — one that creates an overall positive impact on the climate" by 2040. H&M can most definitely be placed on your list of sustainable retailers to support when updating your wardrobe.
You can find out about H&M sales and specials by doing this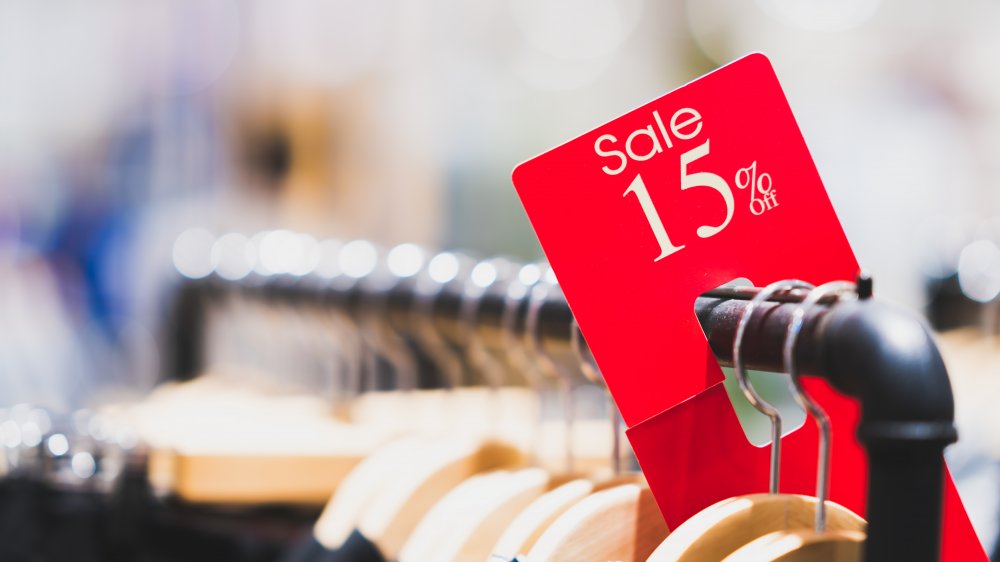 Shutterstock
If you visit H&M often to scout for discounts, you may suspect there's probably a better way to find out about sales at H&M stores, and you're right. Like most tech-savvy brands, H&M has an app that is downloadable via the App Store and Google Play. If you've been burned by a disappointing app before and are reluctant to download another, don't be, as H&M's app is worth having at the tip of your fingers.
Knoxville News Sentinel reported that there are some major perks offered through H&M's app that are not available in store. These may be "exclusive deals and coupons including free shipping and percent-off coupons." If you turn on push notifications, you will like be alerted about the latest deals in real time too. If you'd like an extra discount, sign up for H&M's newsletter — this will land you with a 20 percent discount on a single item, as well as free shipping.
This H&M program helps you snag a 15 percent discount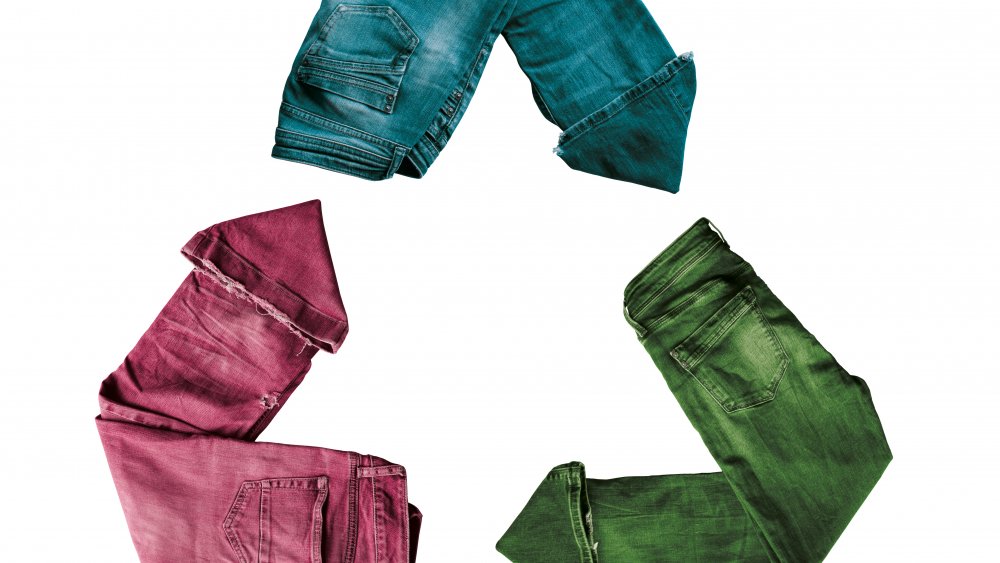 Shutterstock
H&M has taken an extra step towards creating a sustainable global fashion culture through a garment collection program. Best of all, those who get involved and contribute to H&M's fashion recycling efforts are rewarded with discounts for future purchases.
Here's how the program works. Customers are encouraged to drop off garments and other textiles they no longer want. These items can be from any brand, and H&M does not have requirements with regards to the condition of the items. For each bag of pre-loved garments and textiles donated, a 15 percent off discount voucher is given for the contribution made to H&M's sustainability journey. The donated items are then sent to one of the brand's recycling plants, where they are sorted according to condition. Items that are in good condition are sold as second-hand goods. Items that are not in wearable condition are repurposed into products such as cleaning cloths. Items that are not suitable to be resold or reused are recycled in a sustainable fashion. 
Keep this program in mind next time you clean out your wardrobe, and be rewarded for recycling your unwanted garments. But before you make a decision on where to bring your old shirts, you should first learn about the places you should and shouldn't donate your clothes.
H&M collaborates with high-profile designers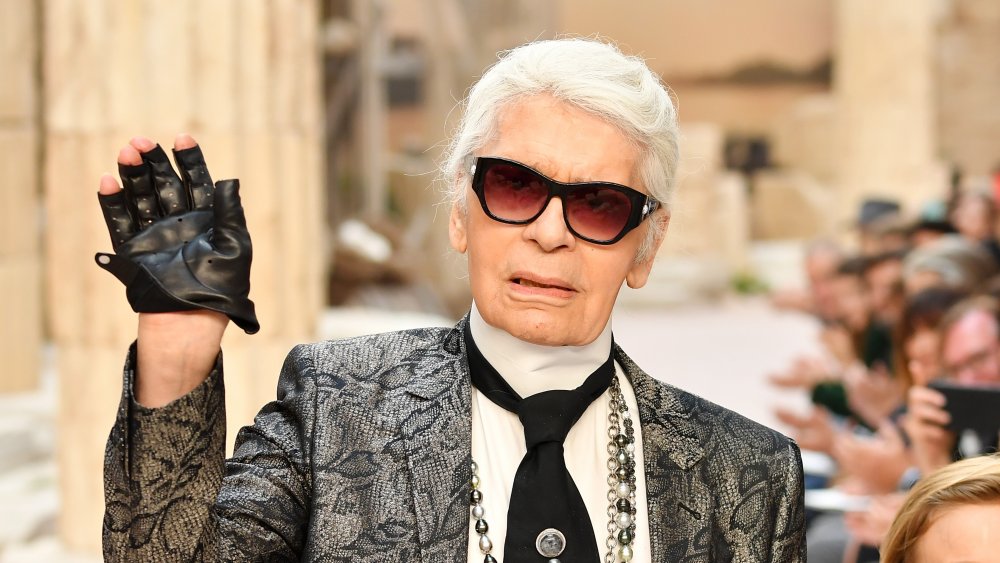 Pascal Le Segretain/Getty Images
If you're lusting after high-fashion designer clothing but can't quite afford the hefty price tag attached, shopping at H&M might get you a little closer to that designer wardrobe you crave for just a fraction of the price. According to Stylight, H&M joined forces with Chanel creative director Karl Lagerfeld in 2004. Though his designs usually come with a steep price tag, garments from his collaboration with H&M, which were all female-focused, reportedly cost an affordable $102.33 per item on average and were made available in 19 countries.
Since then, H&M has collaborated with different high-fashion designers. Big names to have worked on exclusive lines for H&M so far include Stella McCartney, Roberto Cavalli, Jimmy Choo, Versace, Alexander Wang, Balmain, Kenzo, and Moschino. H&M generally announces collaborations on their website and social media, so keep your eyes peeled to snatch up some designer goodies at a great price.
You can purchase online exclusives on H&M's website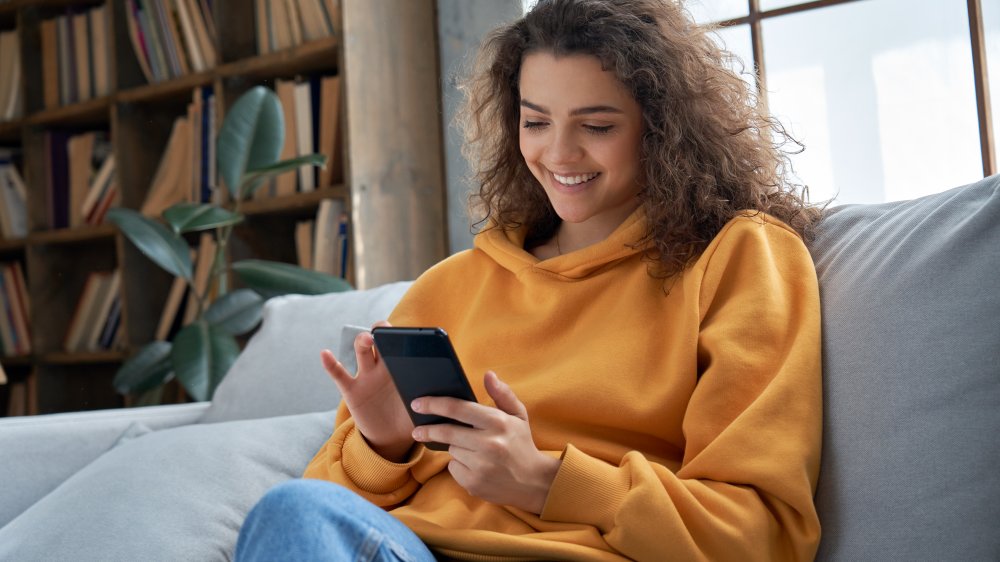 Shutterstock
Homeware lovers, rejoice! H&M's homeware brand made a game-changing move. H&M HOME added to their already amazing offerings by introducing online-only exclusives. According to Livingetc, this includes "some curated finds from smaller brands."
H&M HOME's exclusive curated online collection includes fashionable lighting options by houseof, including floor lamps, chandeliers inspired by a bygone era, and plenty of pendant and wall lights. You will also find a gorgeous collection of prints, frames, and posters by Abstract House, as well as The Fine Bedding Company products for those who are passionate about reducing their impact on the environment one duvet at a time. According to Livingetc, H&M has shared that they "will now start offering a curated selection of products from external brands on [their] website." This could mean even more small brands will make an appearance on H&M HOME's online store.
H&M allows returns within 30 days of purchase, as long as you meet certain criteria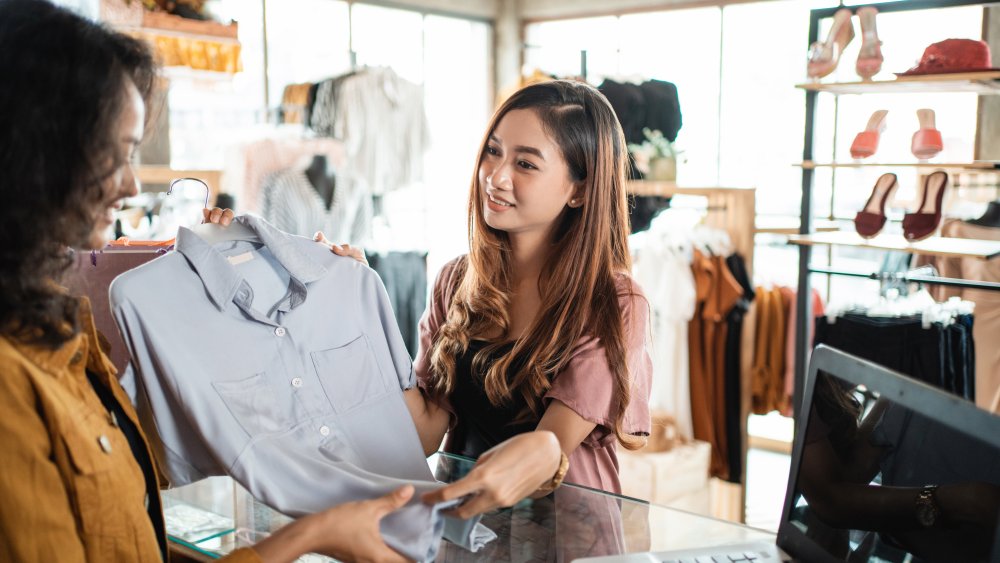 Shutterstock
No matter how much you love your new purchases, needing to exchange or return an item or two is sometimes unavoidable. Not all stores offer a pain-free returns process, but H&M most certainly does.
H&M's return and exchange policy states that they offer complementary return and exchange facilities within their stores. To be eligible, customers must present the items, along with a receipt, within 30 days post-purchase. If you're hoping to return or exchange swimwear, you must ensure the hygienic seal is still intact. Underwear unfortunately cannot be exchanged or refunded, presumably due to hygiene concerns. 
Once the 30-day returns period has lapsed, customers are only able to exchange items at the present selling price. Online purchases can be returned using the pre-paid return label enclosed in the parcel. H&M will generally deduct a return fee of $5.99 from your refund. H&M HOME items that were bought online can only be returned and exchanged by mail.
H&M clothing sizes changed for this reason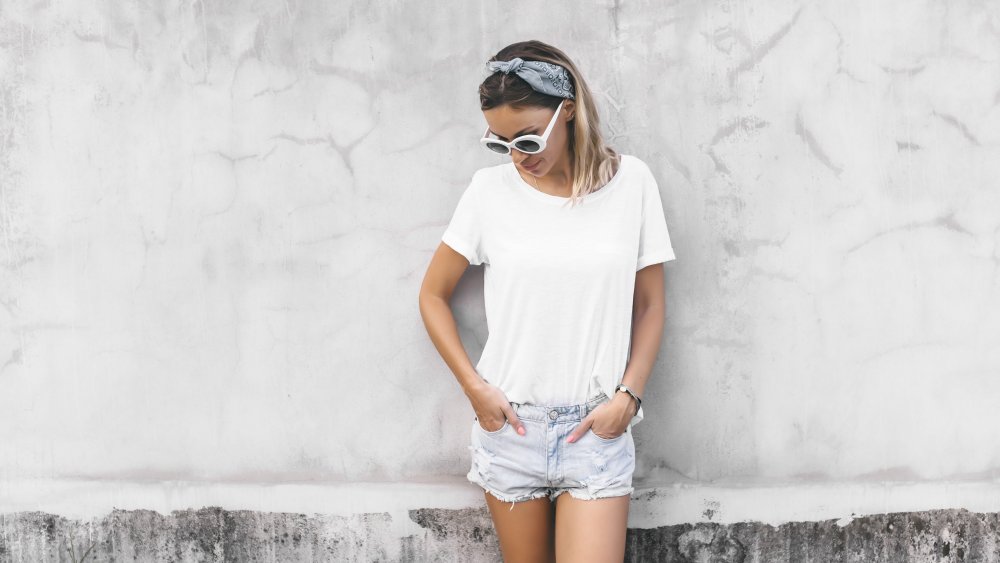 Shutterstock
If you purchase H&M clothing regularly, you may have noticed the brand's Ladies sizes are now a little different from how they were in the past. H&M altered their Ladies sizes in light of feedback they received. They are now more similar to regular U.S. measurements — this means that if you are a certain size at most U.S. stores, that size will likely be appropriate for you at H&M too.
H&M's website has detailed instructions for measuring your body to help you determine the size that fits you best. They recommend placing a measuring tape over your chest while wearing a well-fitted bra to determine your chest size. If trying to determine your bra size, H&M recommends measuring the area just under the bust. Your waist measurements should be taken at the slimmest point, and your bottom should be measured at the fullest point. Inseam measurements should be taken from the highest point of the inside of your leg and continue to the the point where your foot meets the floor. The website also details additional measurement requirements for items such as footwear, maternity clothing, accessories, and petite-sized clothing.
This how you find out if that H&M outfit you've been eyeing is in stock at your local store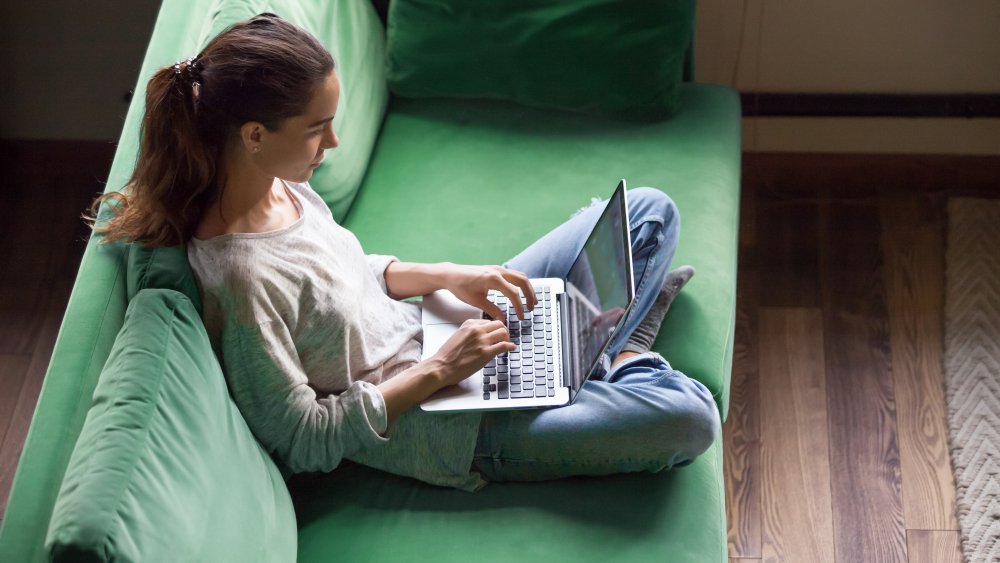 Shutterstock
Fashion enthusiasts likely know the pain of finding the perfect outfit online, heading to your local store to try it on (read this before trying on clothes at a store), and then realizing your size is sold out. The good news is that there's an easy way to find out if that outfit you have been eyeing is in stock at the H&M stores near your home and if your exact size is available too.
To find out, you must first either download H&M's app or head to their website. Next find your garment (or accessory) of choice. You will likely see a "find in-store" option just below the color options. If its text is gray, this means the item is not available in stores or is sold out. If the text is clickable, select it and then use the search function to check the item's availability in your area. The list of stores presented will also include sizes available, store addresses, and store hours. Highly sought-after styles and sizes can sell out quickly, so it would be wise to head to the store to make your purchase as soon as possible.
H&M recommends washing clothes in this way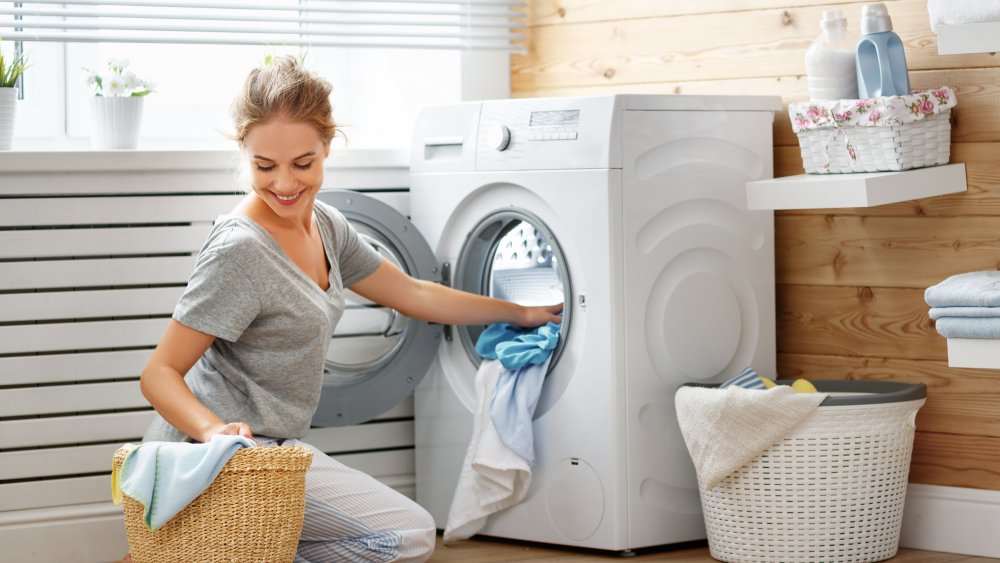 Shutterstock
When investing in good quality, sustainable garments, it's important to adhere to washing instructions if you want your clothing items to stand the test of time. While determining the correct washing procedures can sometimes take research and a bit of guesswork, H&M garments have washing and care instructions attached. H&M's website also details washing and care instructions for their garments, categorized according to the materials used.
The brand recommends taking extra care when washing garments with delicate details, closing Velcro and zippers prior to washing, and using laundry bags for delicate items. The website offers instructions to dry chunky knits on flat surfaces, iron linen and viscose garments with steam to revive their original shape, and use washing liquid made specifically for delicate materials when washing silk and wools. Importantly, H&M mentions that leather and suede garments, footwear, and accessories are best cleaned by professionals, and the down in down jackets needs to totally dry before being stored away or re-worn post-washing.
The H&M membership program comes with some pretty great perks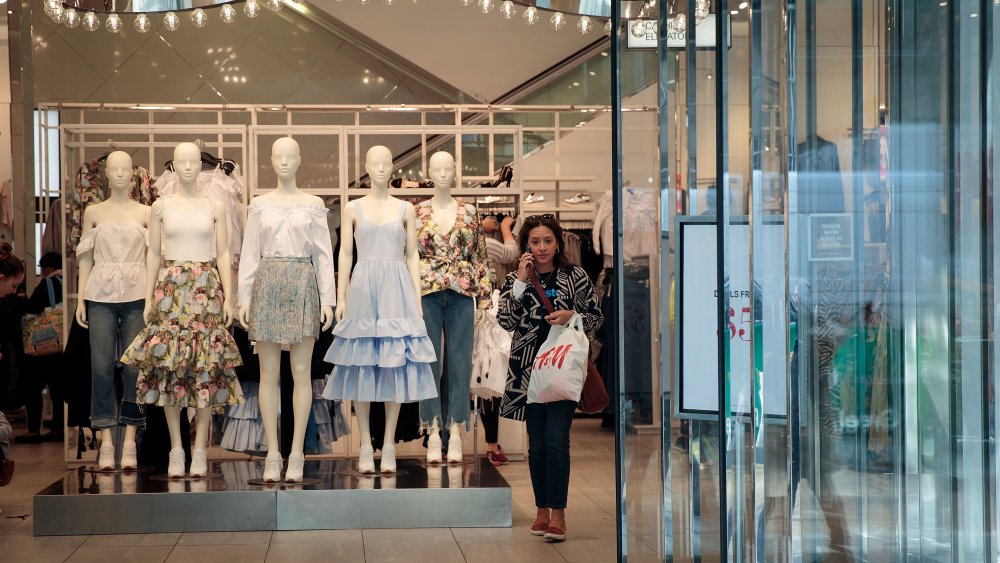 Drew Angerer/Getty Images
Joining membership programs can be a great way to save money and keep abreast of the latest sales, deals, and releases. H&M's membership program offers all of this and so much more. 
Joining the H&M program is quite straight-forward and, perhaps best of all, free. All you have to do is sign up via the H&M app or website. Once accepted, you will receive a 10 percent off voucher and then subsequently earn points every time you shop in store or online. You can earn further points by updating your profile. You will earn $5 in rewards with every 200 points you accumulate, which can amount to substantial savings every year if you shop at H&M regularly. Members are often presented offers through the My Account section of the app or website. H&M shopping enthusiasts will be delighted to know that the more you shop, the more perks you will unlock. 
Once you accumulate 500 points, you will start noticing new benefits, exclusive invitations, and priority access to sought-after collections. Further benefits of membership include complementary returns for online purchases and special offers around the time of your birthday.
H&M has started selling other brands in their stores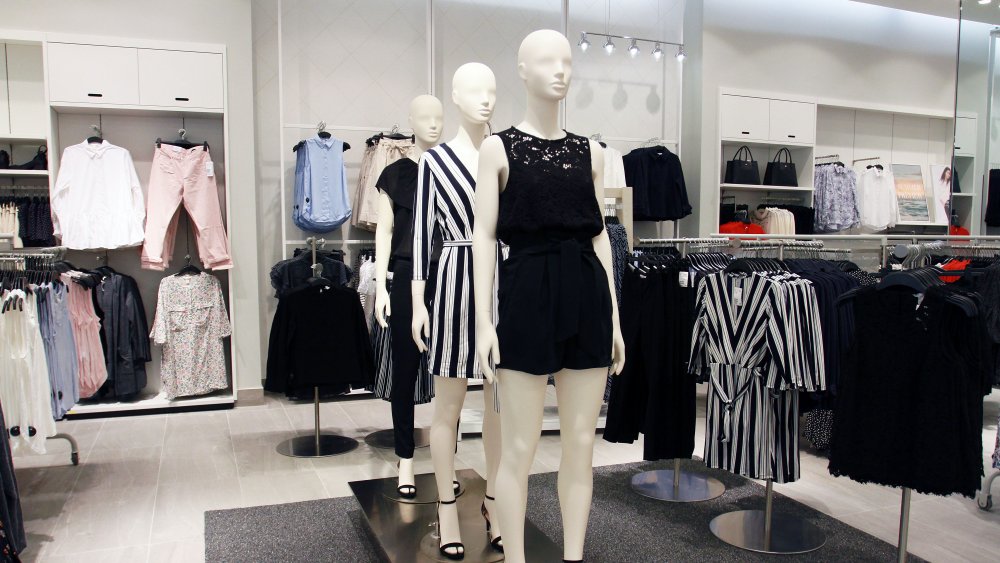 Gladys Vega/Getty Images
Though H&M only sold self-branded garments and accessories for a very long time, they announced that they would be stocking outside brands as a test in September 2019. According to Business Insider, this plan was unveiled "in a bid to attract new shoppers." Business Insider hypothesized that this decision might have been made in attempt to compete with "multi-brand online retailers" beloved by the online shopping community, including ASOS. The publication reported that H&M's profits had been dropping for several years due to a decline in sales at its brick-and-mortar stores. 
"The H&M brand will now develop our offer of external brands. The purpose is to complement our offer with external brands to add excitement and energy and we see great opportunities for growth and to find new customers," H&M announced, as reported by Business Insider. Perhaps it's time to keep an eye out for external brands that may show up at H&M retail stores.
Browse all of H&M's high-end clothing in one place online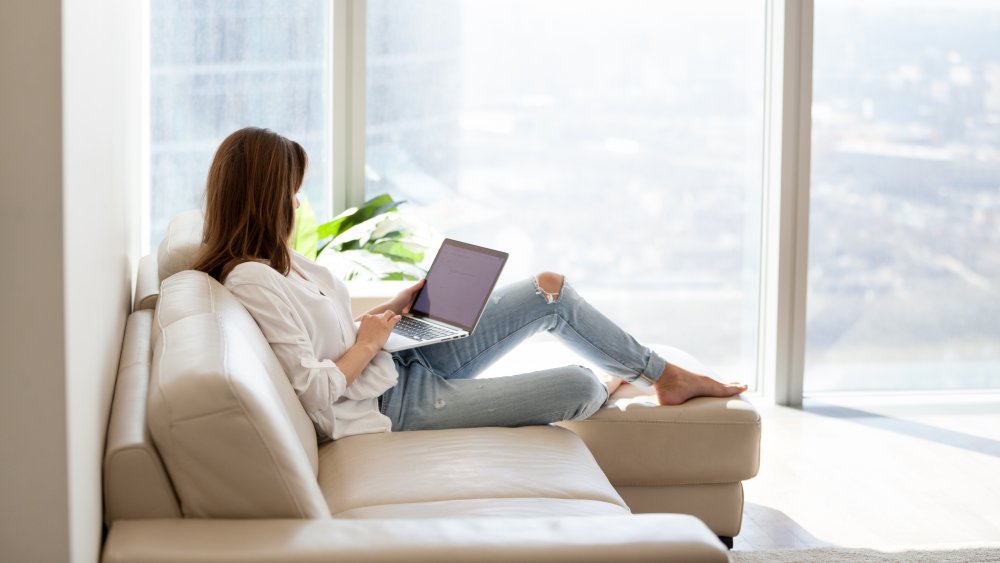 Shutterstock
H&M's versatility can be quite impressive, especially when considering their affordable high-end and on-trend clothing lines. The only downside to the sheer amount of styles and designs is sorting through all the clothing available in store and scrolling their website for lengthy periods of time to find items that suit your personal style and needs. Who What Wear shared a nifty hack to help shoppers overcome this problem. The publication recommends checking out the "Trend" section.
You can find "Trending Now" pages of the site by hovering over the "Women," "Divided," "Men," and "Kids" tabs at the top of H&M's website, clicking on what types of clothes you're after. It includes a great selection of the latest styles. Now that you know how to find the brand's best on-trend, fashion-forward seasonal items, you can peruse them at your leisure prior to heading in store to try out and purchase your favorites.