What Katy Perry's Tucked Is Really About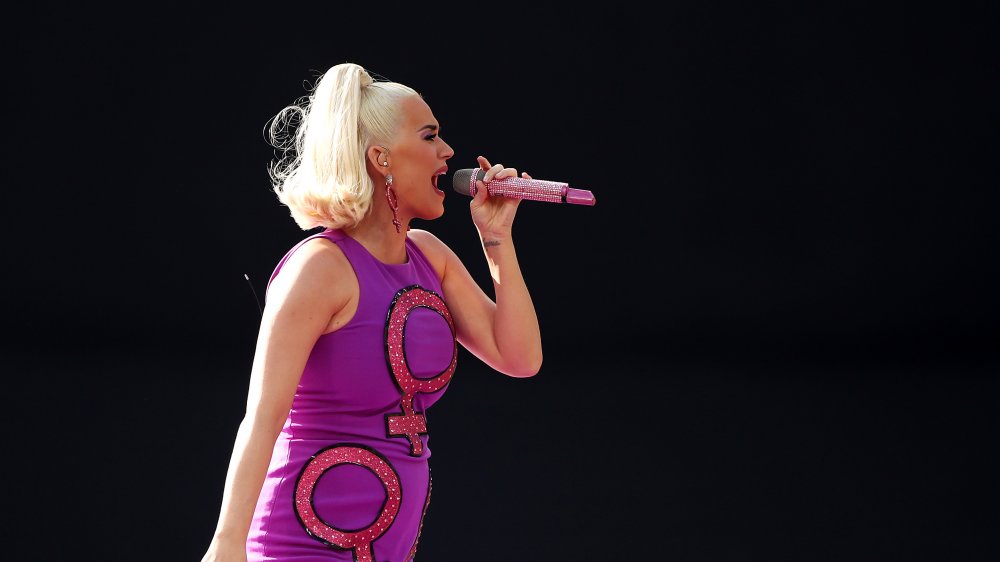 Cameron Spencer/Getty Images
Social media is undecided. Could Katy Perry's Tucked (the ninth track on her new album, Smile) be about Russell Brand? Or perhaps she's singing about John Mayer when she sings, accompanied by disco funk beats, "I keep you tucked away inside my head, where I can find you anytime I want to, baby." Katy Perry and Russel Brand got engaged on New Years 2009. Perry found out that Brand was divorcing her by New Year's 2011 via text message (via Capital FM  and W). Quick on the rebound, Perry was dating Mayer by 2012. Although they broke up in 2015, two years later, Mayer wrote a song about her, "Still Feel Like Your Man" (via Capital FM). Perry has separately admitted that Mayer was the best of her partners in the sack (via Elite Daily).  
So ... maybe Mayer? Or, dare we say it, maybe the happily married Katy Perry isn't currently, as her song goes, "on an island," "in a mansion," or "in a back seat ... sweet escape" with any of her former flames. By all accounts, she's happily engaged to Orlando Bloom, and probably too busy welcoming the birth of her daughter, Daisy Dove Bloom, to be reminiscing over stale heartbreak.
Katy Perry's Tucked is really about resilience
Katy Perry may, certainly, have drawn inspiration from past relationships fails while singing "Tucked." We'd suggest, however, that Perry's really just reminding all of us of our own self-worth when she sings the song. As Perry told NPR in an interview about her new album, Smile, her "hope is just to provide an example of resilience, maybe, during this tough time through my own experience and to talk about it very unashamedly." Perry continued, "the conversation on mental wellness is so necessary right now. Let's talk about it." 
So yes, Perry has probably hidden memories of ex-lovers inside her head, where she could fantasize safely about them, knowing, as the "Tucked" lyrics go, that "in reality, we're a mistake." But, on a bigger level, she's also giving us a coping mechanism that we can use when we're going through the same things. And, she's reminding us that there are ways to get over a relationship that doesn't suit, ways that don't involve running back to someone who isn't right.