Natalia Barulich: What You Should Know About Maluma's Ex-Girlfriend
Before you tune in to watch Maluma's much-anticipated VMA performance on Sunday night, you might want to brush up on the details of the girl who stole his heart for all of 2018 and most of 2019: Natalia Barulich. The pair met in 2017 on the set of Maluma's steamy music video, Felices los 4, in which Barulich was featured. Although they didn't start dating right away, the Colombian superstar told Hola! that it was love at first sight for him. According to Oprah, Maluma confirmed in a Telemundo interview in January of 2018 that he and Barulich were a couple, and in April of 2018, Natalia made it Instagram-official with a boomerang of the two kissing, captioned "My everything. Te amo."
Maluma and Barulich proceeded to jet-set around the world, looking beautiful, and posting cute couple photos along the way. In September 2019, Maluma gave Natalia a shout out during his concert at The Forum, saying in Spanish to the crowd, "I want to thank my girlfriend. I love you baby ..." One month later, in October or 2019, the couple broke up. So, who is the girl that was the object of Maluma's affection for so long? Read on to find out.
Natalia Barulich is a model with a passion for music
Aside from a role in Maluma's music video, this Cuban-Croation bombshell has some serious street cred in the modeling world. According to E!, Barulich has been featured in ads for Guess, much like other famous beauties Jennifer Lopez and Camila Cabello. Her Instagram reveals more of her impressive career as a cover girl; her face has graced the front of several international magazines including Shape, Maxim, Elle, and Esquire. But, she's not all just good looks. Barulich was actually a former professional ballerina and has a passion for music, too.
According to Celeb Mix, in 2017 Barulich and her friend Esther Anaya, a classically trained violinist, formed the DJ group Atmsphre, managed by former American Idol judge Randy Jackson. Their music features a unique blend of classical violin mixed with dance beats. In a video showcasing a day in the life of the DJ duo on Barulich's YouTube channel, she explained, "I grew up singing, acting, and dancing in musical theater, I was in choir ever since I was like five or six years old. I always loved music, and I loved dance music from a very young age." 
Perhaps she'll give Maluma a run for his money in the music world someday? In December of 2019, following their breakup, she told People en Espanol, "Each week I'm in the studio working on new songs." We wonder if the relationship, and its allegedly contentious nature, served as any inspiration?
Natalia Barulich described her love with Maluma as toxic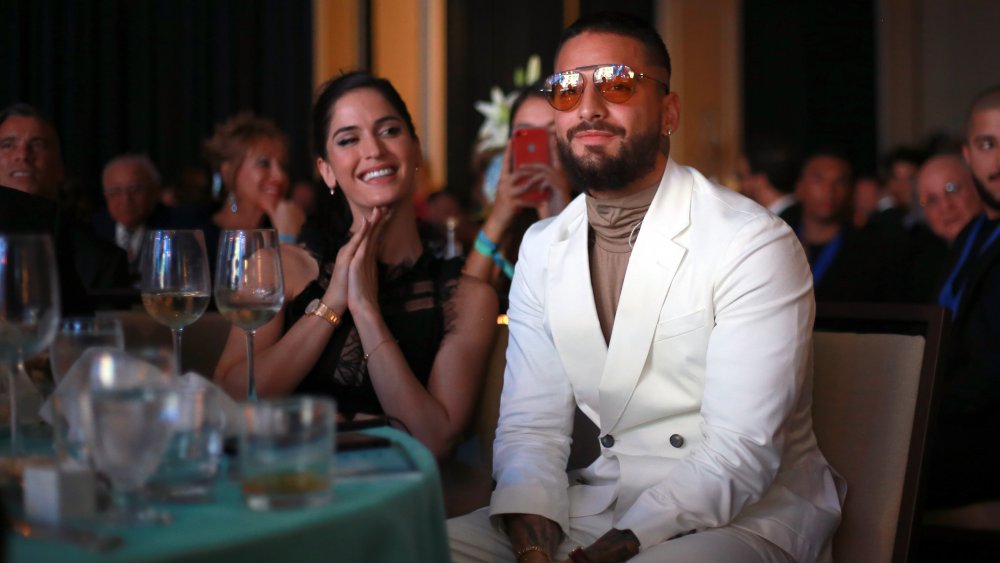 Gladys Vega/Getty Images
In June of this year, several months after Barulich and Maluma's love affair ended, she appeared on the Evolve podcast, hosted by Danny Morel (via YouTube). The title of her episode was Finding Your Breakthrough After a Breakup and although she never referred to Maluma by name on the podcast, Hola! and other sources reported Barulich's discussion with Morel was 100 percent about the Latin superstar and their supposedly toxic romance. She shared how she didn't feel cared about in the relationship and that she felt was always a second priority rather than being put first. Barulich also revealed the moment she knew she was in a "messed up relationship" was when she'd expressed dislike for particular actions or behaviors from her partner, and he allegedly responded by saying her disapproval made him "want to do it even more." Barulich went on to say her "soul was drained in this relationship."
Maluma does not seem to have commented on Barulich's statements, but we hope the two have found their own happiness. In February, Hola! reported Barulich is dating Brazilian soccer player, Neymar. Meanwhile, according to Page Six, Maluma's latest single Hawái portrays a toxic relationship and contains some pretty blatant references to his ex and her new relationship. If nothing else, at least the demise of Barulich and Maluma's relationship resulted in some pretty great music.