BTS Just Solidified Their Place In Award Show History
It wasn't enough for K-pop group BTS to be compared to the Beatles. This time, they've made music history at the VMAs by becoming the first Korean act to be a part of all of America's top music awards ceremonies, including the Billboard Music Awards, the American Music Awards, the Grammys, and now the VMAs (via Twitter). 
BTS became the first Korean pop group ever to appear at a US awards show in 2017 at the BBMAs, when they performed "DNA" from Love Yourself: Her. They returned to the BBMA to perform the song again in 2018, and came back for a third time in 2019 to perform "Boy With Luv" with Halsey (via Time). And while they first debuted at the American Music Awards in 2017, the group really made an impact in 2019, when they were recognized as Favorite Duo or Group Pop/Rock (first for an Asian group), Favorite Social Artist, and Tour of the Year (via Variety). 
The group might not have been nominated for a Grammy, they were there earlier this year as the first Korean artists invited to perform live during the ceremony. As Forbes later pointed out, BTS fans had plenty to say about why the group was left out of the nominees list, and they used social media to talk about it. 
BTS fans are savoring the group's history-making moment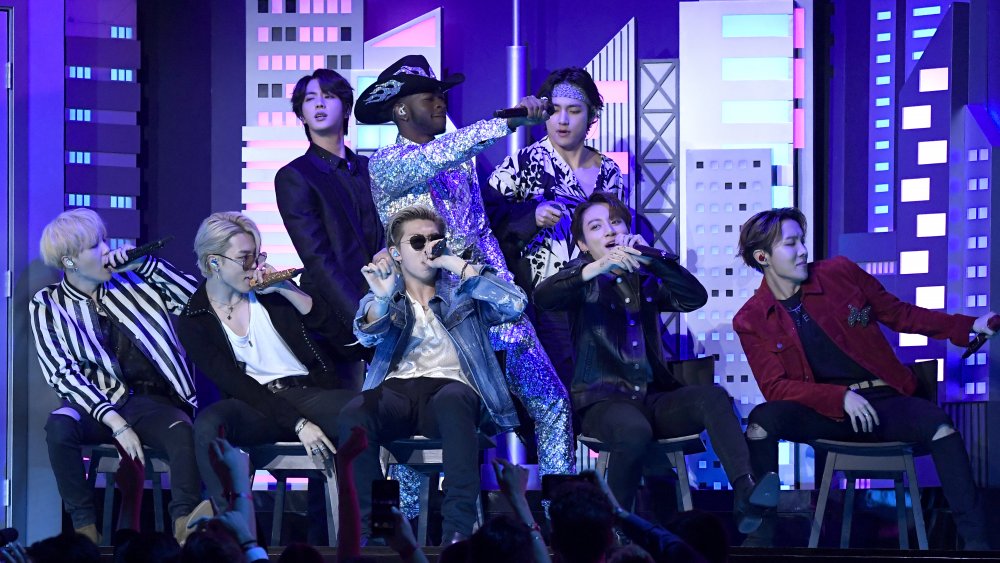 Kevork Djansezian/Getty Images
As ever, the group's loyal fans, who call themselves the Army, which stands for Adorable Representative M.C. for Youth (via Showbiz CheatSheet), once again took to social media to congratulate their music idols for the four-peat. "BTS won Best Kpop AND Best Pop in the same night. The same night they became the first Korean act to have performed on all four major American music awards shows. The US music industry is better because of them," one fan tweeted. Another said: "Remember when Yoongi jumped of joy when Bang PD told them they were going to perform at the AMAs. And how nervous they were during the performance, they were literally shaking. They've accomplished so much and I can't wait to what's in store." Another fan tweeted: "KInda funny, really. They won best k-pop and best pop. MTV struggled so much to put them in a box that I think they only nominated them for best pop thinking they won't win. Clapback! I can hear Yoongi singing "this category's not big enough to hold us."