Why Everyone's Talking About Lady Gaga's Acceptance Speech
Kevin Winter/mtv Vmas 2020/Getty Images
Twitter is crying "legend," "goddess," and "what is she wearing is that the end of the world?" ... and with good reason. Lady Gaga, who blew everyone away in her extraordinary array of undeniably cool masks, won VMA awards in the Artist of the Year, Song of the Year, Best Collaboration, Best Cinematography categories. She also picked up the first-ever Tricon award, recognizing an artist with outstanding accomplishments over three disciplines. 
If there was a separate award for acceptance speeches, we'd give that one to her, too. "I've been making music since I was a little girl and even though I had really, really big dreams, I truly never could have imagined that she day I would be given an award like this that honored me for so many of my passions," Gaga began her speech, upon accepting the Tricon award (via Twitter). She hooked us from the get-go. But Gaga's speech is going viral not because of her humility, but because she had a message directly for us, her virtual audience. 
Why Lady Gaga's acceptance speech was so powerful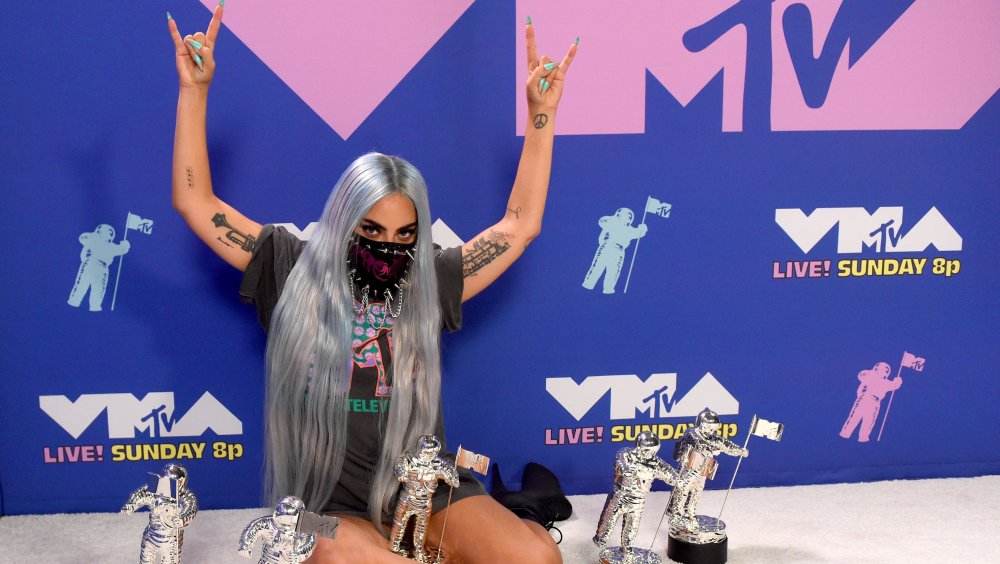 Kevin Winter/mtv Vmas 2020/Getty Images
Lady Gaga's not one to pass up an opportunity to make a statement, fashion or otherwise. And she hit this speech right on the nose. Yes, she talked about her own personal growth and journey, but Gaga was not triumphant, she was modest and relatable. More importantly, she took time in her two-minute acceptance speech to reach through the TV screen and get real with her audience.
"I wish for you to think now of three things that define who you are and take a moment to reward yourself for your bravery," Gaga began. She continued, "This has not been an easy year for a lot of people, but what I see in the world is a massive triumph of courage." And if you didn't feel that way already, maybe her words inspire you to. "I know the renaissance is coming and the wrath of pop culture will inspire you and the rage of art will empower you as it responds to hardship with its generosity and love. This is what I believe," said Gaga. 
Her ending was just as graceful as her beginning and her middle, "I love you, stay safe, speak your mind, and I might sound like a broken record, but wear a mask its a sign of respect."