The BTS Mistake At The VMAs That Fans Can't Get Over
If you're a member of Korean boyband BTS you'd know that there are seven members, and that their names are RM, Jin, Suga, J-Hope, Jimin, V, and Jungkook. That their fan group is officially known as the BTS A.R.M.Y. or Adorable Representative MC for Youth (via K Profiles), of about 48 million members, based on the number of unique social media users that have mentioned BTS online between January 2013 and December 2019 (via Brand Watch). So if millions of BTS ARMY members were tuned in to the VMAs to watch the the group perform their English song "Dynamite" live for the first time, the same ARMY would have also noticed that a graphic mistakenly left out two group members, Jin and V (aka Taehyung), and doubled up members Jungkook and Jimin instead. 
Suffice it to say the ARMY wasn't happy and took to Twitter to call out the error, with the original poster tweeting: "UM WHY IS THERE 2 JUNGKOOKS AND 2 JIMINS???????" along with the erroneous graphic. One Twitter user called out producers for not spotting the error, saying "I- how does that even happen. they don't look that much alike that you can't tell that you've got the same person there twice even if you've never seen them before" (via Twitter).
This is not the first time BTS' Army has cried foul over the VMAs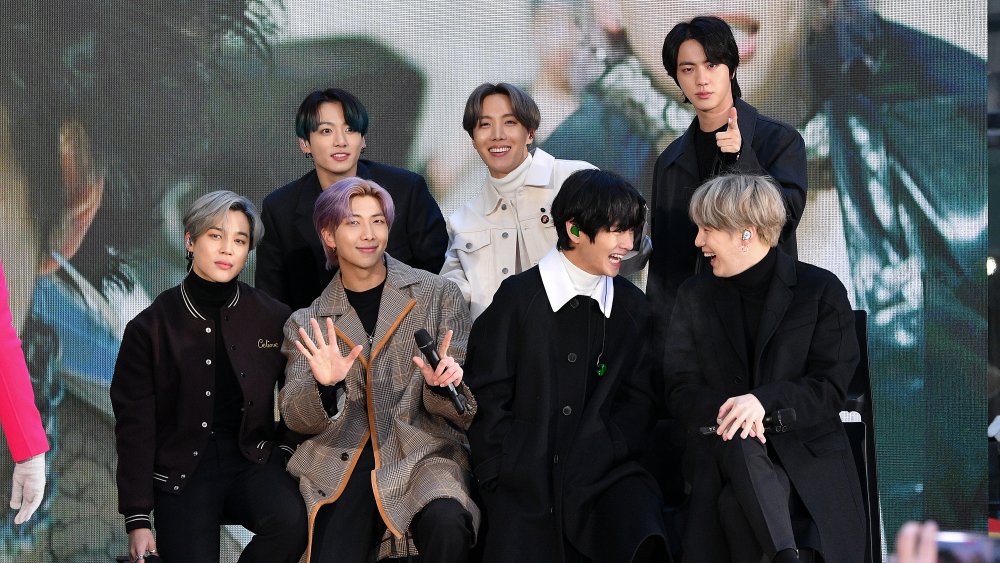 Dia Dipasupil/Getty Images
The graphic error took a bit of shine off the fact that BTS picked up three VMAs including Best Pop and Best K-Pop for "On," as well as a nod for Best Group (via Variety).
This is not the first time the ARMY has raised the battle cry against MTV and the VMAs. In 2019, BTS was nominated for Best Collaboration, Best K-pop, Best Art Direction, and Best Choreography — without being nominated for Best Video of the Year. The formidable ARMY also used Twitter to voice their unhappiness then, with one member tweeting: "bts outsold,,,, EVERY SINGLE,,, artist in the artist of the year category but the vmas didn't wanna see that so they made a whole new category just to not acknowledge the power and influence bts has had over the whole industry throughout 2019. a JOKE". Last year's Best Video category featured Billie Eilish, Lil Nas X, 21 Savage and the Jonas Brothers as contenders. The Army was also furious about the fact that BTS only garnered VMA mentions in four categories, while Ariana Grande and Taylor Swift had bagged 10 nominations each (via BBC). 
We hope MTV has an explanation for their graphic, which seems to weigh heavily on the minds on fans, after what should have been a VMA to celebrate for the BTS universe.