Lady Gaga's Face Masks Were The Boldest Fashion Statement At The VMAs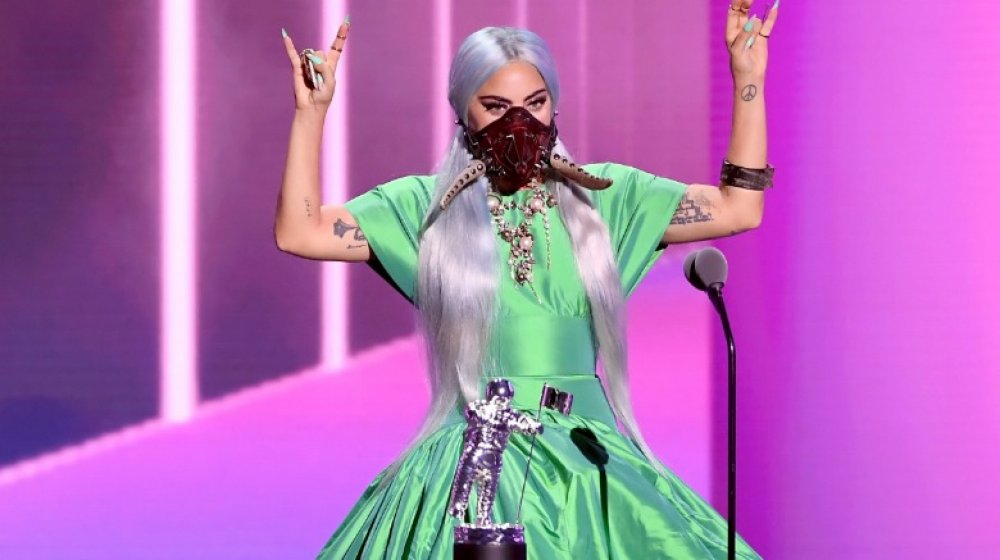 Kevin Winter/MTV VMAs 202/Getty Images
As amazing as MTV's 2020 VMAs performances were, Lady Gaga's face masks may have stolen the entire show. Thank the fashion gods that she won five times because each acceptance speech was yet another opportunity for us to ogle her incredible face gear. Those of us who have been bored with our mask options lately have new inspiration, depending on just how adventurous you're willing to get. Everything from tusks to a sleek, shimmery mask graced Gaga's face tonight. Take a scroll and see which you think made the boldest statement.
Gaga's metal pink mask set the tone for the night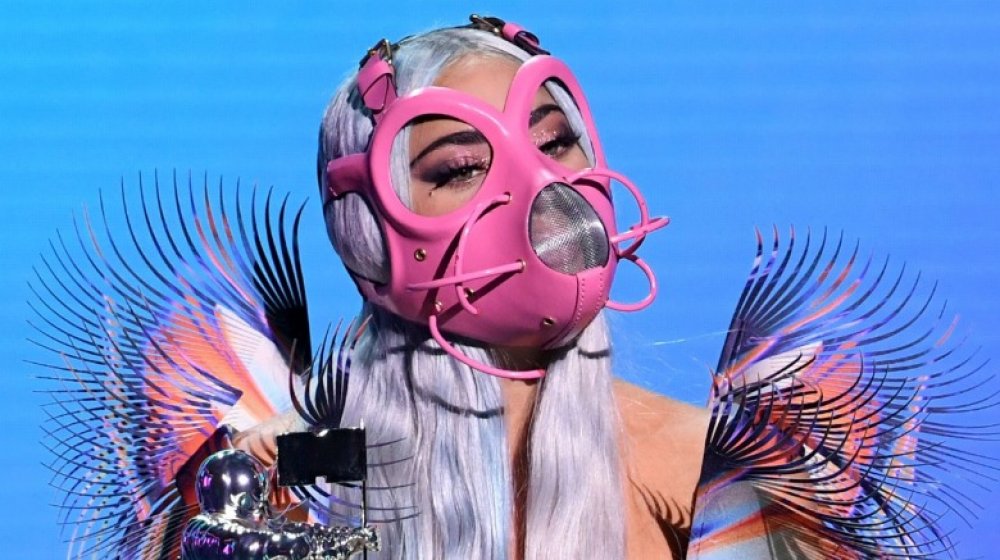 Kevin Winter/MTV VMAs 202/Getty Images
Lady Gaga's mask parade kicked off with her acceptance of the Best Collaboration award for her work with Ariana Grande on "Rain On Me." Gaga came out with a bang in a bright pink metal mask that shielded her entire jaw, framed her eyes, and was secured in place with pink leather straps. A silver mesh cut out over her mouth provided some contrast and the whole effect was striking yet somehow pretty. Very Lady Gaga.
Then, Lady Gaga donned tusks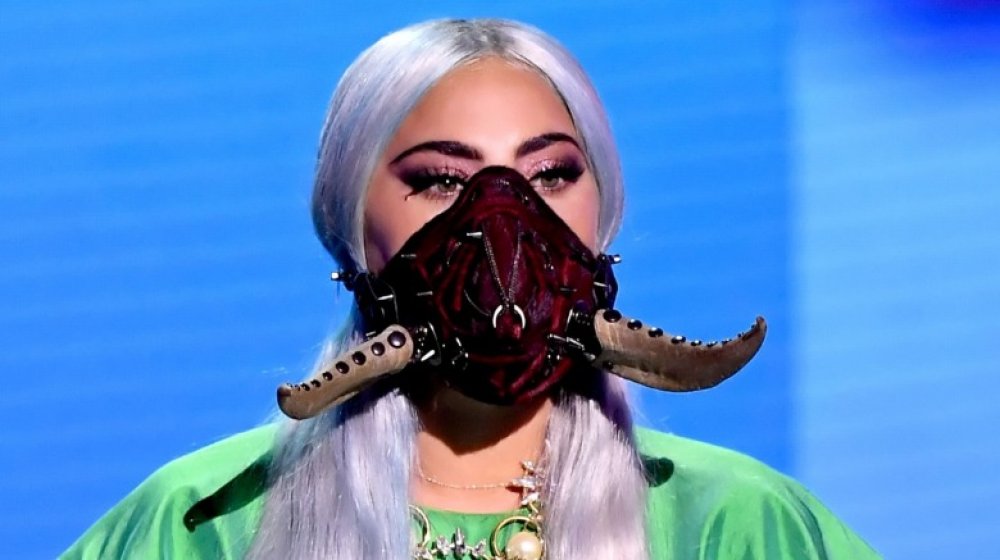 Kevin Winter/MTV VMAs 202/Getty Images
Look number two was lewk, for sure. Lady Gaga marched on stage to accept her award for Song of the Year wearing a wine-colored, leathery mask covered in spikes. Metal-studded tusks protruded from each side of Gaga's mouth, leaving most of us to wonder, What's happening here?" before we slowly reversed judgement and thought, "Wait, that's kind of amazing." Only in 2020 and only on Lady Gaga could we be convinced to love a spiky, tusked face mask.
Next mask lit Lady Gaga's mouth up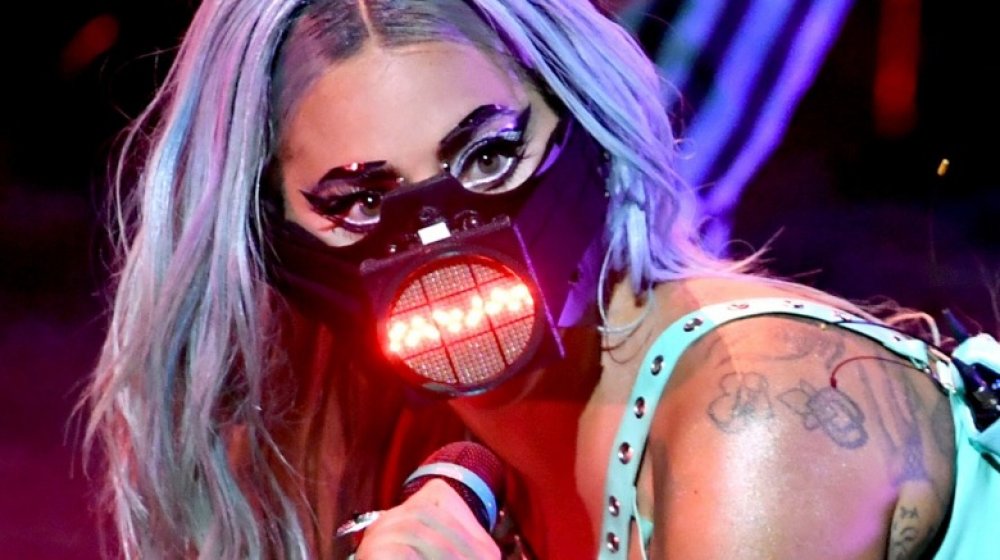 Kevin Winter/MTV VMAs 202/Getty Images
Next up came Gaga's performance. Throughout each song, Lady Gaga sported a black mask with a digital LED display screen that came to life with animated lights moving to the sounds of her vocals. As if Lady Gaga needs anything to accentuate those pipes, right? But the theatrics adorning the star's face added to the show and, sorry to say it, kind of upstaged Ariana Grande's plain black face mask. To be fair, most masks look boring compared to a computerized light show on your face.
Gaga's mask theatrics took a breather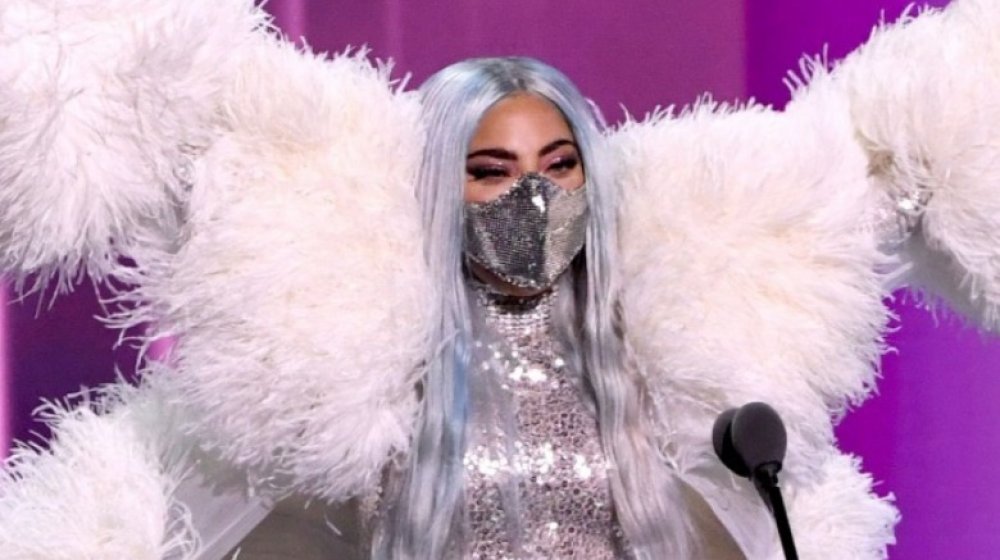 Kevin Winter/MTV VMAs 202/Getty Images
When Lady Gaga was awarded Artist of the Year, she took to the mic in her most understated look of the night, which, for the normal person would be considered our "dressy mask-wear," if there is such a thing. This piece was shaped like a standard mask and was made from a silver sequined fabric resembling a disco ball. It was showy but sleek. Until about 15 minutes later, that is, when Gaga turned it up a notch.
Finally, Lady Gaga went out on top with her last face mask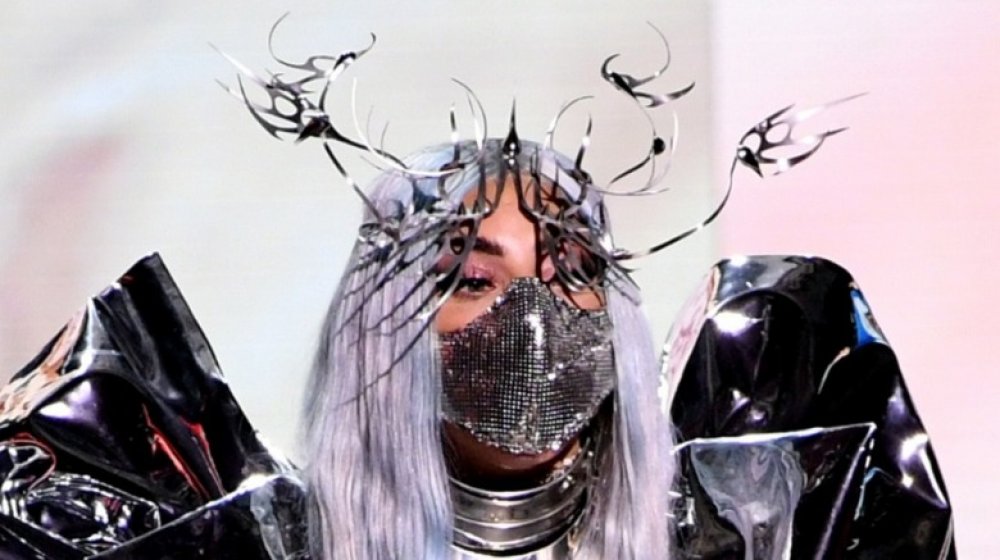 Kevin Winter/MTV VMAs 202/Getty Images
Maybe Lady Gaga thought her fourth look of the night was too tame because in her fifth appearance on stage to accept her Tricon Award, she brought back the disco mask and then some. This look was everything we expect from Lady Gaga. To the silver sequined mask, she'd added a silver headband with metal ornaments protruding all around that resembled a wild, thorny crown. Ultimately, a mask-crown combination proved completely appropriate for the night that Queen Gaga reigned supreme.