Inside Niecy Nash's Relationship With Her Wife
It didn't seem like Niecy Nash could possibly be any more beloved, and then she shocked the world by getting married and coming out in the same moment. The comedic actress, best known for her roles in Claws, Reno 911, and as the inimitable Denise Hemphill on Scream Queens, has found love again with musician Jessica Betts. She took to Instagram to share the wonderful news, while Betts also shared her own sweet message for her new bride on her own Instagram.
According to TMZ, Nash filed for divorce from electrical engineer Jay Tucker last October. The couple released a joint statement at the time, noting, "We feel fortunate for the love we share — present tense." The couple was happily married for eight years, with the actress making their separation official just a few days after they celebrated their anniversary. Their stunning wedding, which was attended by 200 guests, was even broadcast on TLC.
Niecy Nash is taking her new wife's last name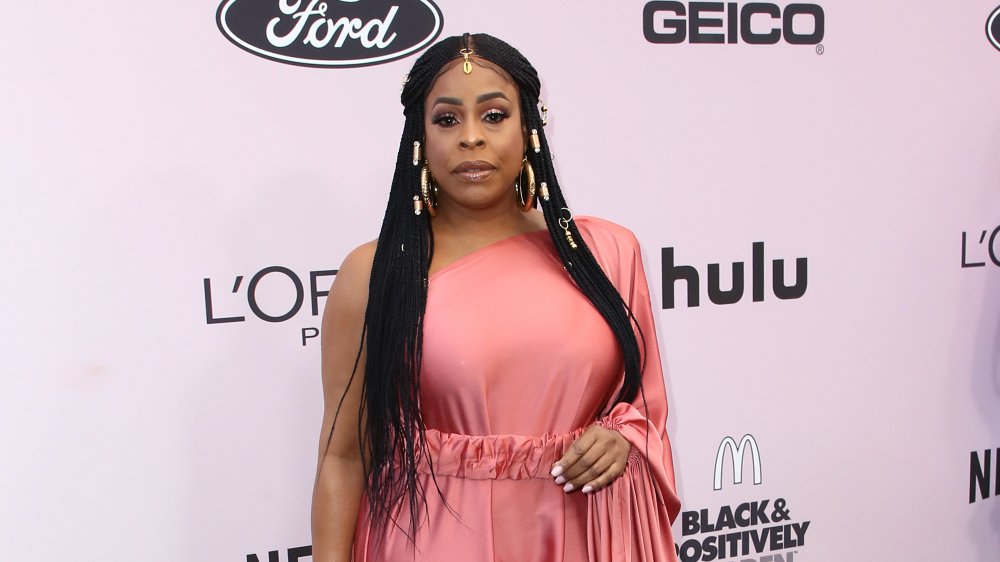 David Livingston/Getty Images
Now, just a few months later, Nash has found a new life partner in Betts, whose name she's taking judging by the Claws star's Instagram post. "Mrs. Carol Denise Betts," she wrote alongside a photo of the two walking down the aisle. Nash's real name is Carol Denise, according to Today. The long time ally of the LGBTQ community included #LoveWins and a pride rainbow, while she previously acknowledged her big coming out moment with a "#Plot Twist" post earlier in the week.
Rock and soul musician Betts wore a classic all-white suit for the big day, comprising of prim trousers, a long-sleeved shirt, and matching vest, along with a dark green tie and diamond earrings. Nash, meanwhile, was equally classic in a gorgeous, white, floor-length bridal gown. The two looked ecstatic walking down the aisle hand in hand, Nash holding her bouquet high. The ceremony took place outside, under a tree covered in flowers. Several high-profile LGTBQ actors, including Modern Family's Jesse Tyler Ferguson and American Horror Story's Sarah Paulson shared in the happy couple's joy on Instagram.
It's been a long road for Niecy Nash and Jessica Betts
Matt Winkelmeyer / Larry French / bet / Getty Images
Although Nash's wedding may come as a shock to many, as People notes, the two ladies have been friends for a long time. In 2016, Betts posted a clip of the Scream Queens star sharing how much she loved her music. "Jessica Betts is an artist that feeds your soul. Get into it. I love you, Jessica!" she gushed. Betts noted in the video that she'd asked friends to help with the project, describing Nash as "such an inspiration."
Just a couple years later, the two appeared in a video together on the set of Claws, where Nash described Betts as her "homegirl." Later that same year, they shared another clip of them singing Betts' song "Catch Me." "This woman of God, I'm honored and blessed in her presence. She's anointed an appointed," noted of the singer-songwriter at the time. Betts also shouted out Nash on her birthday in February, sharing a photo from a sexy shoot the actress did to celebrate turning 50.