The Bachelorette Doesn't Really Remember All The Contestants' Names. Here's The Trick
Dating is hard. Dating a houseful of men is even tougher. How does the Bachelorette do it? Not only does she have to juggle dating multiple people at once, but she has to remember their names. It sounds like a difficult task, especially during the first rose ceremony of the season. How does the Bachelorette remember who's who?
The simple answer is that she doesn't.
Former Bachelorette contestant Chris Randone, who was part of Becca Kufrin's Bachelorette season, revealed to Us Weekly what really goes down during the first rose ceremony. "They come out and [Becca] only said three names at a time, and then she goes back in and then comes back out," he said. "Three names at a time. And it's like, stop production, start, stop, start... She doesn't name off every single person right away. She'll come out, [name] three [men], go back in, five minutes later, come back out, [name] three."
What else is faked on The Bachelorette?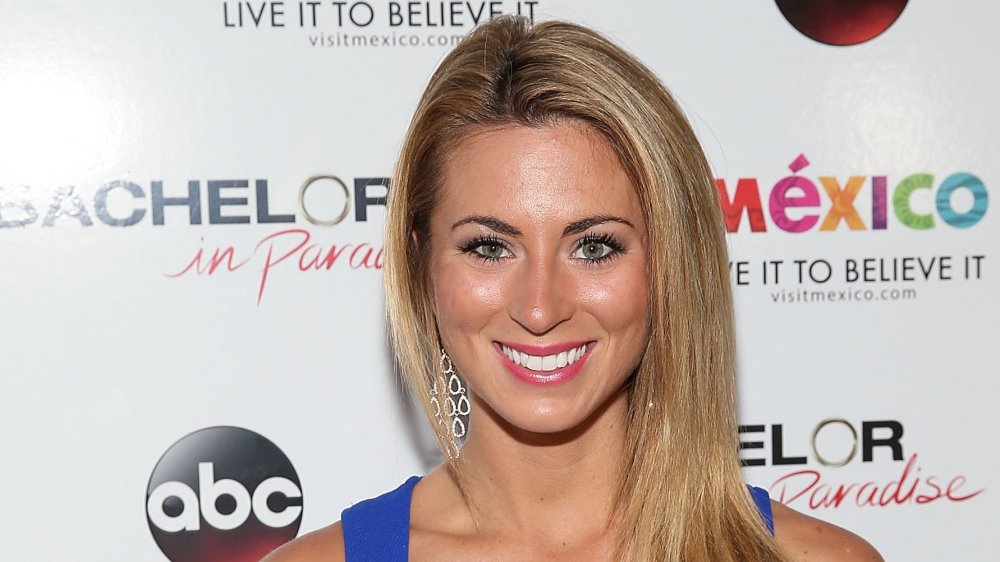 Jesse Grant/Getty Images
While this technically means the first rose ceremony is at least partially scripted, we can't blame Bachelorettes for needing some help remembering names.
The Bachelorette appearing to have an incredible memory isn't the only thing that's faked for the cameras in the Bachelor franchise, though. Former Bachelor and Bachelorette stars have said that, while the show isn't exactly scripted, many of the scenes we see play out are due to prompting from the producers. Tenley Molzahn, a Bachelor contestant on Jake Pavelka's season, told the New York Post what that was like for her on the show. "A producer asked me if there was something memorable I wanted to tell [Jake], and because my name is so unique, I opted to play off that," she said. "I did a list of '10 things to know about Tenley,' with the final item being that I was a good kisser. I was encouraged to be the first kiss, and I was the first kiss. I surrendered myself to the producers."
Catherine Giudici, who ended up marrying her Bachelor, Sean Lowe, said the prompting from the producers isn't pushy, though. When asked in an Instagram Q&A if the producers make people act in a particular way, she responded (via Life & Style), "Nope! They can ask questions and maybe guide you in an answer, but you are completely your own person and responsible for what you say and do."