This Is How To Keep Your Spray Tan From Fading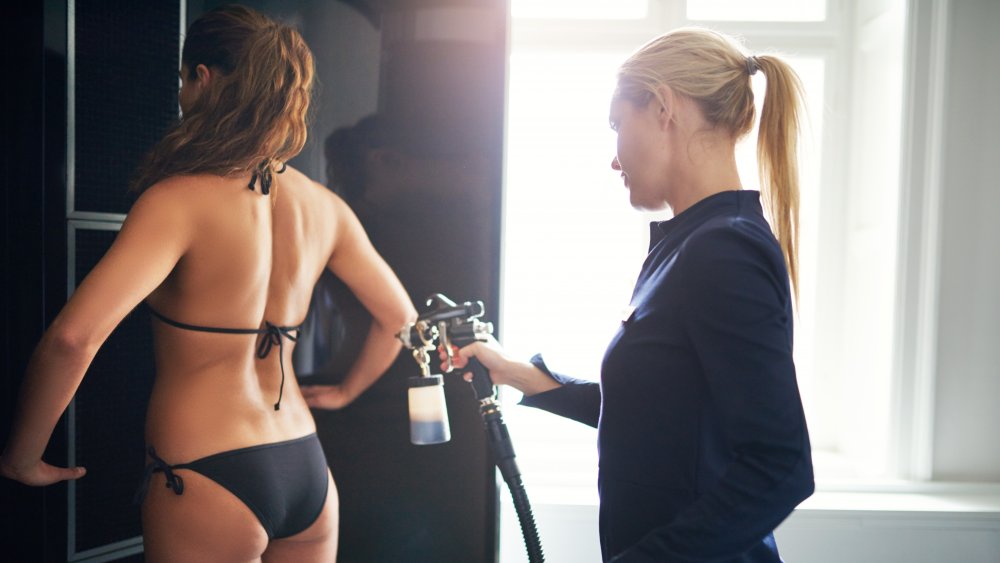 Shutterstock
After a summer spent with a perfect tan, it can be hard to let the bronze go. So, if you're looking into keeping your natural glow throughout the colder months, a spray tan can be a smart option. The problem? It never lasts as long as you'd like. Luckily, there are some smart ways to extend the life of your spray tan.
Celebrity spray tanner Jules Von Hep notes that the key to a lasting spray tan comes from your prep work — particularly your exfoliation routine (via Marie Claire). Dry skin fails to absorb pigment evenly, which can lead to streaks and blotches. So you want to do a gentle exfoliation for good, even absorption — but avoid going overboard. Von Hep added: "If you're using a retinol, or any face or body products that have AHAs in them, like glycolic, lactic, and citric acids, avoid them for at least 24 hours before your spray tan." That's because these types of products actually exfoliate on a deeper lever and can lead to quicker fading of the spray-tan pigment. 
Also smart: Shaving the night before can even out the palette for the pigment, giving your skin the perfect surface to absorb the tan (via Elle).
Moisturize to keep your spray tan from fading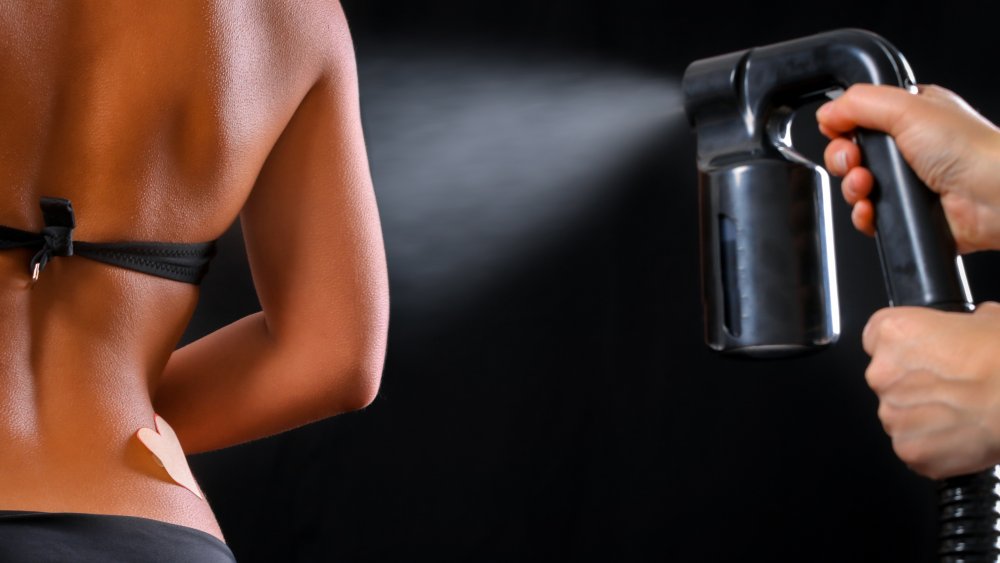 Shutterstock
Prolonging your spray tan starts with a good amount of prep work on the front end. After you've exfoliated and shaved, make sure your skin is moisturized, but without using oil. According to Von Hep, "Oils act as a barrier on your skin that will prevent the tanner from evenly absorbing, so if you use an oil-filled exfoliator or moisturizer before you tan, you're basically guaranteed to have problems." Courtney Claghorn, founder of Sugar + Bronzed, says, "Turn to [ingredients] such as fractionated coconut oil and jojoba oil" (via Elle). She shares that, "applying these products immediately post-shower, while your skin is still damp, is the ideal way to lock in moisture." This helps to prevent your tan from fading in patches and ensures that it doesn't fade quickly. 
The final step involves using a self-tanner after your appointment to minimize any unevenness and keep a certain level of color to your skin. Von Hep recommends mixing a few drops of self-tanner with your lotion to prolong your glow (via Marie Claire). 
Giving you a sun-kissed look long after Labor Day, your spray tan can last just as long as the real thing with the right prep work.