Inside Miranda Lambert And Gwen Stefani's Relationship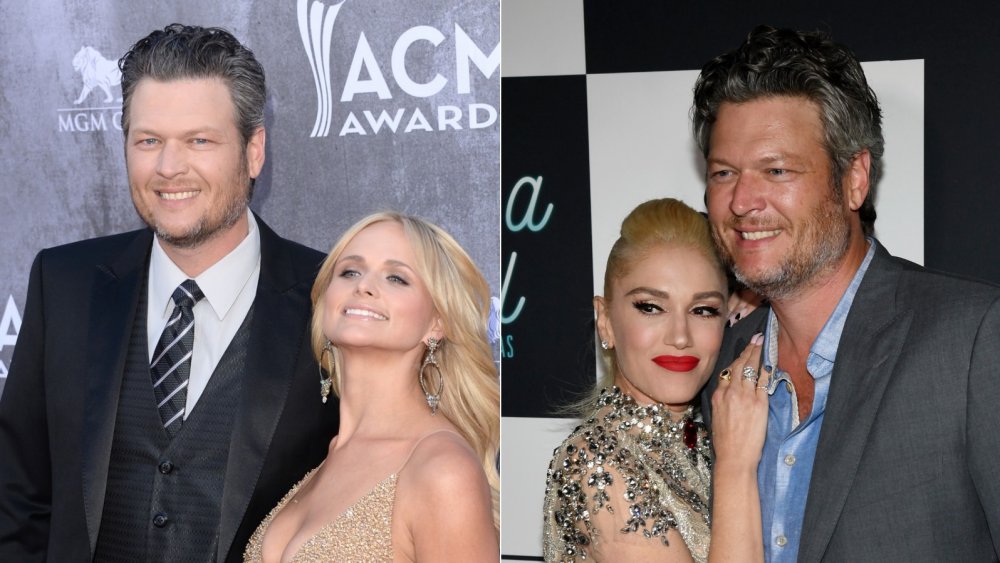 Jason Davis, Ethan Miller/Getty Images
Remember when Blake Shelton and Miranda Lambert gave the country music world stomach butterflies, singing Bare Skin Rug? "Now I ain't afraid to be lonely," Shelton sang to Lambert, "but I still wanna learn about love, I'm a hillbilly child raised in the wild, come lay down on my bare skin rug." They were a pair, we thought, meant to last.
But at the 2020 Academy of Country Music Awards, it's Blake Shelton and Gwen Stefani who are all geared up to perform their new single, "Happy Anywhere" (via Instagram). What's the song about? "I could be #HappyAnywhere with YOU..." gushed Shelton to his girlfriend, Stefani on Instagram. The power couple is still busy soaking up the success of their country music chart-topper, "Nobody But You," in which a lovestruck Shelton serenades an equally besotted Stefani, "don't wanna live without you, I don't wanna even breathe, I don't wanna dream about you, wanna wake up with you next to me." The lyrics are a level more infatuated then "Bare Skin Rug," don't you think? 
Shelton's ex-wife, the country music goddess Miranda Lambert, is up for three nominations at the 2020 ACM Awards: Female Artist of the Year, Album of the Year, and Music Event of the Year (via Newsbreak). Lambert, in other words, will be in the audience watching Stefani harmonize with her ex. How do Stefani and Lambert feel about each other, really? 
Blake Shelton and Gwen Stefani's romance didn't take Miranda Lambert by surprise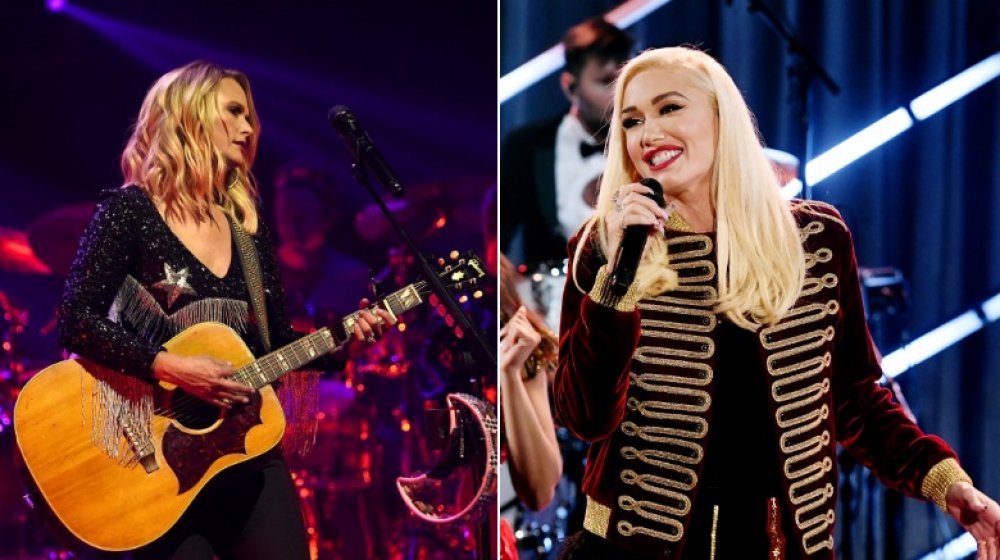 Kevin Mazur, Kevin Winter/Getty Images
Blake Shelton and Miranda Lambert got cozy while Shelton was still married to his first wife (via Rolling Stone). Given this, it's easy to suspect Shelton may have done more than just giggle with Gwen Stefani when the pair first met on The Voice in 2014 — while they were both married to other people. The media has since insinuated that Stefani's Instagram pic of the two together in November 2014 indicated more than just a friendship (via Billboard). 
Both Stefani and Shelton ended their respective marriages during the summer of 2015. By the following November, a source confirmed to US Weekly that Stefani and Shelton were officially dating. As a source told E!, Miranda "was not surprised to hear of the romance between Blake and Gwen ... they were always pretty flirty." Another source told Us Weekly that Lambert had "had her suspicions," but insisting that the country music queen didn't care, and that Lambert was "divorced and he [Shelton] can date who he wants." 
The truth is, Lambert never admitted to having hard feelings towards Stefani at the time. Twitter exchanges between Lambert and Shelton in the aftermath of their divorce are surprisingly friendly, seeming to confirm that Lambert, may, indeed, have moved on (via E!). While neither Lambert nor Stefani has ever publicly commented about their feelings towards each other, Lambert's music is full of hints. 
Does Miranda Lambert throws shade at Gwen Stefani and Blake Shelton through music?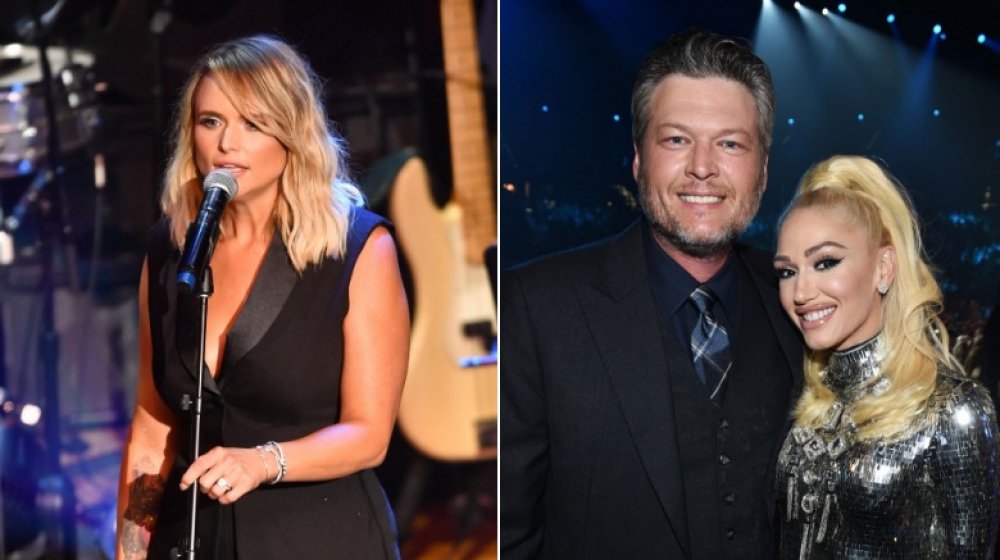 Jason Davis, John Shearer/acma2019/Getty Images
In the aftermath of her divorce, Miranda Lambert was notoriously closed-mouthed. Instead of interviewing, she let her music speak for her (via Country Rebel). "It was hell putting it on paper, putting my words on paper," said Lambert, afterward, explaining her decision to keep quiet. "I didn't want to rehash." 
Her 2016 album, The Weight of These Wings, gives plenty of insight into Lambert's post-divorce distress. With what Billboard calls "quivering vulnerability and raw emotion," Lambert sang of heartbreak's aftershocks and gave fans reason to speculate she wasn't really over Shelton. Fans wondered whether the track "Six Degrees of Separation" was about Blake Shelton. In it, Lambert sang, "I'm out of your reach geographically, you still find a way to get a hold on me." 
By the 2019 ACM Awards, Miranda Lambert was happily married to NYPD officer, Brendan McLoughlin. That didn't stop her from changing lyrics of her hit, "Little Red Wagon," when she performed it live at the 2019 ACM Awards. The original lyrics go "I live in Oklahoma" (which she used to, with Shelton). Lambert, however, sang, "I got the hell out of Oklahoma" (via Country Music Nation). Shelton and Stefani were in attendance, and there were unsubstantiated rumors that Lambert insulted Stefani during the show, commenting that Stefani was"built on botox and filler" (via Celebrity Insider). The media speculated whether she was purposefully stirring up drama (via Tulsa World). If she was, it seems that the 2020 ACMs is Gwen Stefani's turn to bite back.