Why Blake And Gwen's ACM Performance Could Hold A Hidden Message For Miranda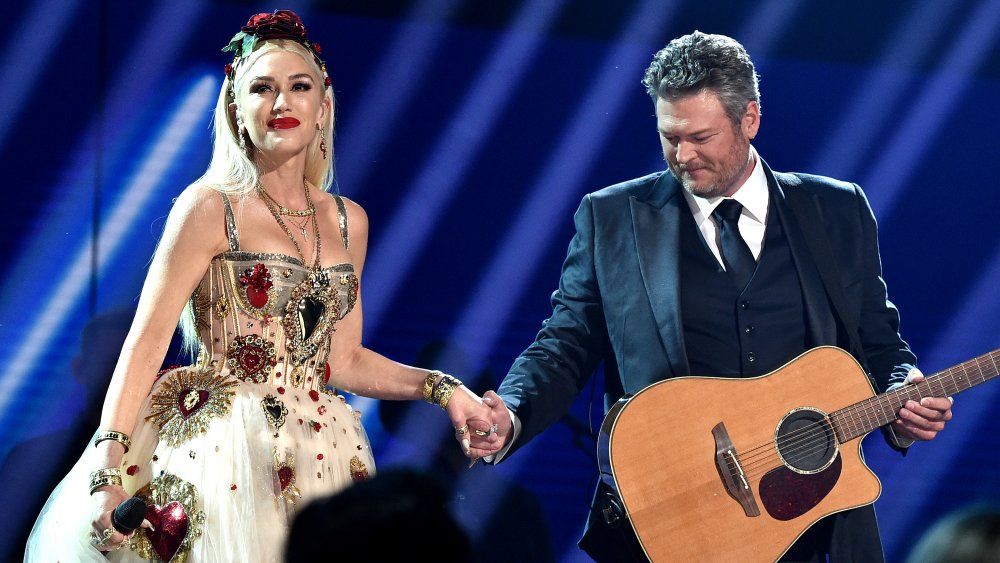 John Shearer/Getty Images
Even four years after Blake Shelton and Miranda Lambert's divorce, polls were still circulating the internet, side-by-side with clips of the king and queen of country when they were still together, asking whether Blake Shelton and Gwen Stefani (aka "Gwake") were "the real deal" (via Country Living). Shelton, Lambert, and Stefani have, by and large, refused to talk publicly about the divorce. Barring a series of sarcastic tweets with musical innuendos, they've let their music speak for them (via Country Living). 
Lambert's 2016 album, Weight of These Wings, which won Album of the Year at the ACM Music Awards, was Lambert's self-described "therapy session" (via USA Today). How many songs were about Gwake? Refinery 29  named "Ugly Lights," "You Wouldn't Know Me," "Smoking Jacket", "Pushin' Time," "Use My Heart", "Tin Man", "Things That Break", "Well-Rested", "Dear Old Sun", and "Six Degrees of Separation."  
Then, there's Shelton's 2016 track, "She's Got A Way With Words," a song that rips on an ex-lover. Shelton sings, "Little words like 'I' and 'do,' 'lying,' 'cheating,' 'screwed.' Yeah, all the words I thought I knew, they got a brand-new meaning now" (via The Washington Post). And let's not forget Stefani's 2016 crack at Lambert in "Rare," her love song to Shelton (via Mic). "Only a stupid girl would let you go," she sang. Was it really coincidence that Blake "loved" the song (via Twitter)? 
Did Miranda take a shot at Blake and Stefani at the 2019 ACM Awards?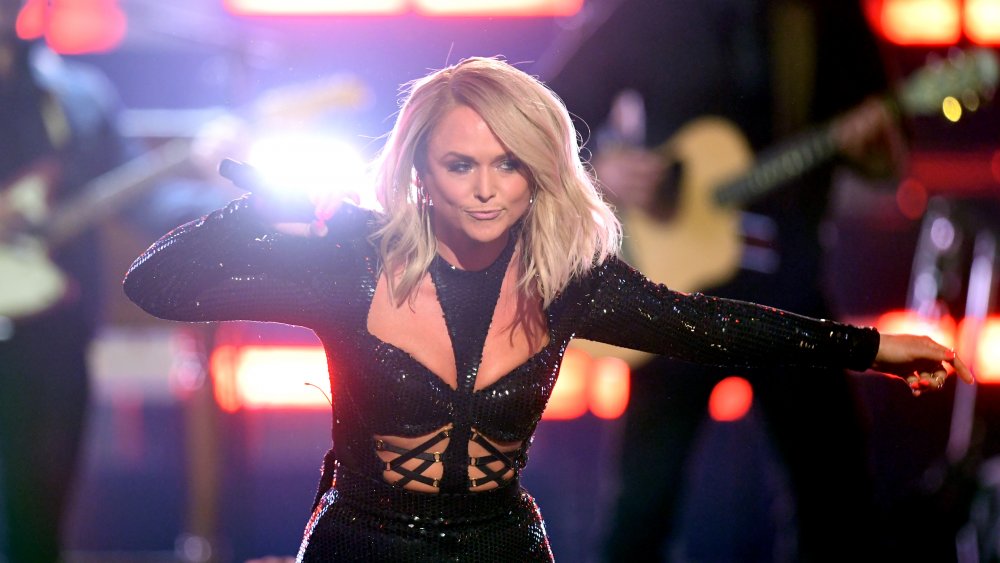 Kevin Winter/Getty Images
At the 2019 ACM Awards, Miranda Lambert performed in front of an audience including Blake Shelton and Gwen Stefani. It was hardly an accident, noted Country Music Nation, that Lambert finished her performance with a rendition of her hit "Little Red Wagon," significantly changing its lyrics. Instead of singing "I live in Oklahoma" Lambert belted out, "I got the hell out of Oklahoma." Twitter rubbed the insult in (via Cosmopolitan). It was a clear reference to her divorce from Shelton and its dramatic aftermath.
For those of you who haven't been following the Gwake-Lambert love triangle, Lambert had gotten "the hell out of Oklahoma" in 2015. Before Lambert and Shelton's divorce, the married couple owned a ranch near the Oklahoma-Texas border. Lambert had even opened The Pink Pistol Boutique in Tishomingo, Oklahoma, a shop that closed unexpectedly when Lambert left (via Tulsa World). 
But that's not all. Also coming out of the 2019 ACM Awards were juicy, although unsubstantiated, rumors that Lambert went out of her way to slander Stefani during the awards ceremony, suggesting that Stefani's looks were "produced by the best doctors money could buy," and that she was "built on botox and filler" (via Celebrity Insider). 
What are Blake and Gwen trying to say to Miranda at the 2020 ACMs?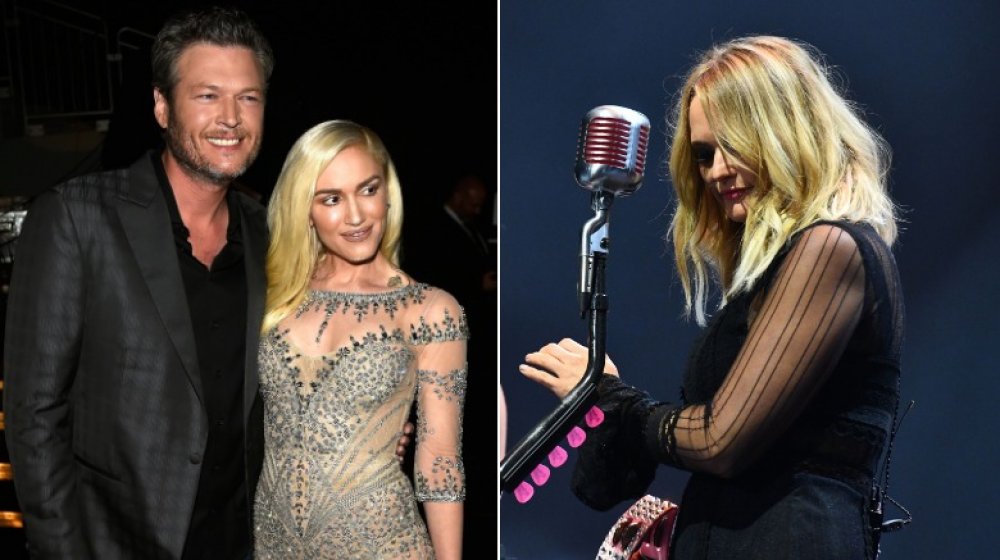 Frazer Harrison/bbma2016, Scott Dudelson/Getty Images
The 2020 ACM Awards are likely Blake and Gwen's turn to bite back. This time, they'll be performing, and Miranda Lambert will be in the audience. Lambert's up for another three awards, including Album of the Year for Wild Card (via News Break). And yes, there's a track in Wild Card that directly references Shelton. That would be "Track Record" (via Hollywood Life). Also worth mentioning?  Lambert named the album partially after a new tattoo on her arm, the queen of hearts, which is to remind her to "be the queen of my heart," she says (via AZ Central). Lambert, of course, has since remarried, so interpret that one as you will. 
As it turns out, Shelton and Stefani will be performing their most recent love ballad, "Happy Anywhere" (via Instagram). It's a country music version of a Disney, happy-ever-afters-do-exist movie. And (significantly, since Lambert's jab at Shelton at the 2019 ACM awards was location-based), "Happy Anywhere" is also rooted in the significance of space. "Any map dot location, you're always my destination, you're the only thing that I'm chained to, could be happy anywhere, I could be happy anywhere with you," croon Shelton and Stefani together (via YouTube). Are the happy couple planning purposefully to gloat in their bliss in front of Lambert? The ACM 2020 scene is set for more Gwake drama.