What We Know About Gabby Barrett And Dolly Parton's Relationship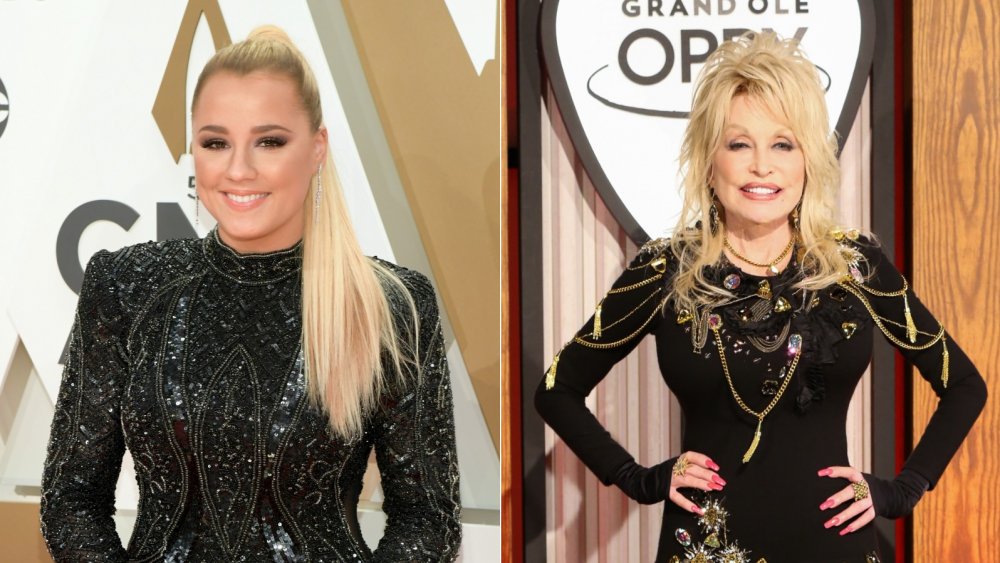 Jason Kempin, Terry Wyatt/Getty Images
When Gabby Barrett's daughter is born, she'll play Dolly Parton to her (via Music Mayhem Magazine). Maybe she'll rock her to sleep with "Jolene", a track that Barrett's been covering since she was a pre-teen, to Parton's approval. "You've done one of the best versions I've ever heard singing Jolene ... I really mean that, too," Parton told Barrett (via Amazon Music). Or, maybe, Barrett will croon "I Will Always Love You," to her newborn. It's a song that she's also recently covered for Amazon Original. 
Barrett professes to have "studied, looked into, and loved" everything about Parton. While gushing about her childhood idol, Barnett explained her enthusiasm for "I Will Always Love You." "The thing about this song ... is that [Parton's] music is timeless; it comes straight from her heart," Barrett said (via CMT News). Then again, maybe she'll play her newborn a track featuring Parton and herself performing together. The seeds of a potential future collaboration between the two were planted in their September 2020 conversation. 
Parton and Barnett clearly admire each other. That's hardly surprising. Beyond their platinum locks and shared love of country music, they have a lot in common: roots in gospel, early marriages, and undeniable success in a cutthroat industry. (Barrett is nominated for the "New Female Artist of the Year" award as the 2020 ACMs). So when the two met each other, virtually, for the first time in September, Parton had a lot of advice for Barrett as she kicks off her career. 
The intimate advice Dolly Parton gave to Gabby Barrett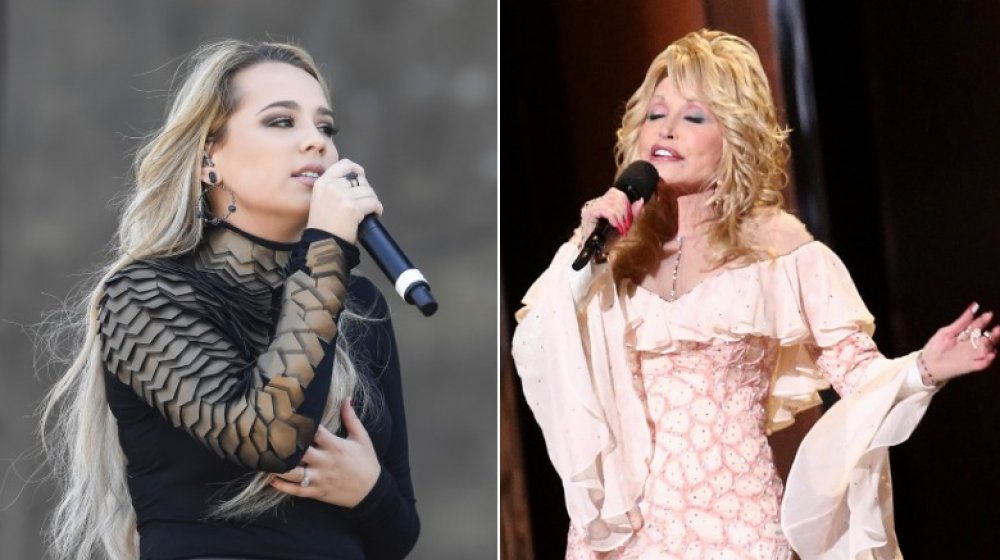 Steve Jennings, Terry Wyatt/Getty Images
Dolly Parton imparted good business advice on Barrett, saying, "When it comes down to the things that really matter to you most. You can't make a split-second decision just because it sounds exciting." Parton was explaining her heartbreaking decision not to give Elvis half the publishing rights to "I Will Always Love You." Elvis, as a result, didn't sing Parton's hit song. "I think that's absolutely amazing," Barrett said of Parton's decision. "I feel like in the music industry it's so hard to find people that actually stand their ground with ... what they believe in." 
But perhaps the most heartfelt advice that Parton gave Barrett was about how to make her young marriage to Cade Foehner, who she met on American Idol, last. Parton, who has been married for 54 years, told Barrett that she values healthy time spent apart from her husband. "We don't do the same thing so it gives us different stuff to talk about. He doesn't get involved in my business, and I don't in his, so we have our own little world that we create for ourselves." 
How do they weather the ups and downs? "We get a little pissy now and then," said Parton "but we'll just kind of walk off... and let that die down ... Marriage is a business, too, and you got to look at it like that. You got to make the right decisions for all the little things that come up."