How To Use Lemon Juice To Clean Your White Shoes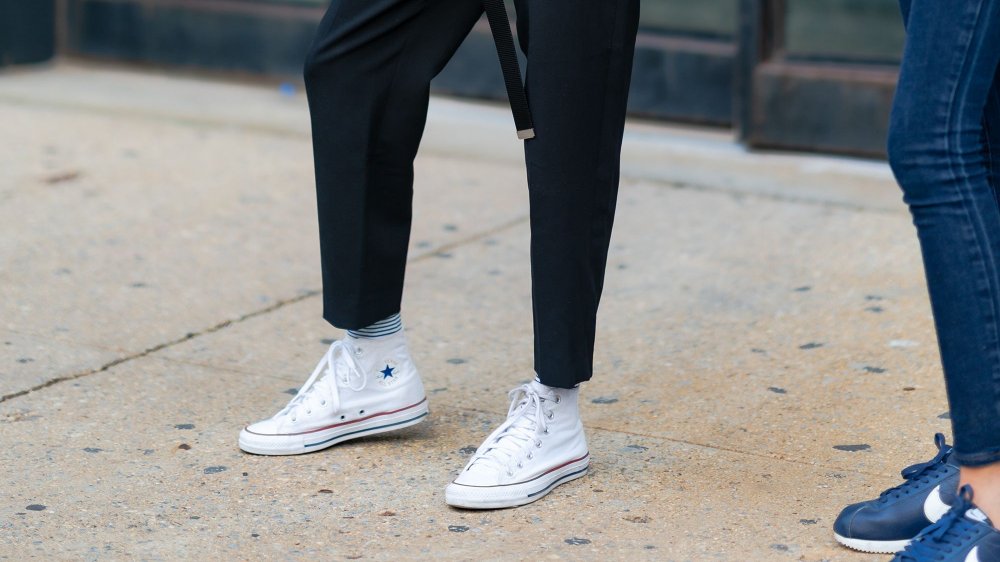 Gotham/Getty Images
White sneakers were the "shoe silhouette that reigned supreme" in 2017, according to the experts at Who What Wear. They are the fashion accessory that has been seen on the hottest runways and on the feet of the biggest celebrities and fashionistas, per Harpers Bazaar. Kendall Jenner wears them while walking her dog, paired with all white, tight-fitting ankle jeans, a white jean coat, and a white crop top (via Instagram). Gigi Hadid wears them, accented in reddish-orange, and paired with a matching blood-orange suit (complete with a fashionably oversized blazer). It's her "Parisian business" look, she writes on Instagram.  Even Taylor Swift's been known to sport them on the tennis court (via Instagram). 
White sneakers  — unlike black socks, which never get dirty and should never be paired with white sneakers — do. And when they get scruffy, they lose their clean, bright, fashion-forward appeal that's turned them into a style must-have almost on par with the little black dress. Don't sweat it. If your white sneakers are looking a little roughed up, all you'll need is a smidgen of lemon juice and a little bit of time to nurse them back to health. 
Clean your white shoes with lemon juice in minutes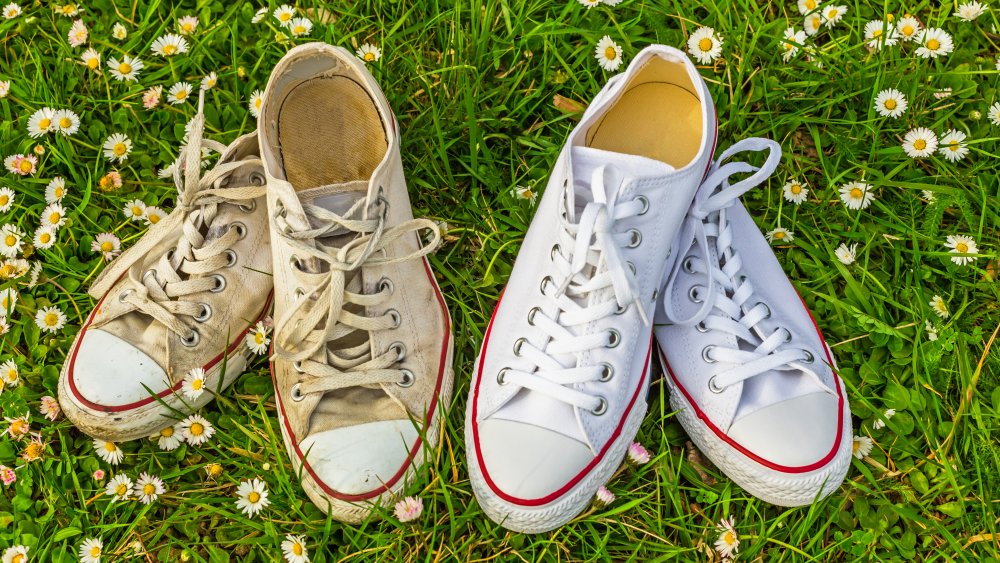 Shutterstock
You might already use lemon juice to lighten your hair in the summer. Or, maybe you use the acid in lemon juice to break down limescale and rust that's built up in your sinks and shower (via Kitchn). If you do, you're already harnessing lemon juice's acidic, lightening properties. It works just as well on your white sneakers or other shoes — and it's a breeze to do. 
All you need to begin your sneakers transformation from contrite to white is to mix two tablespoons of freshly squeezed lemon juice with one cup of water, according to Limoneira. Then, dip a toothbrush into your lemon juice-water solution, and start scrubbing it into your shoe. When you've thoroughly scrubbed, rinse your shoes with water. That's it.  Let them dry, preferably in the sun, to boost lemon juice's bleaching properties. If you're desperate for extra cleaning power, How to Clean Things suggests that you can mix in a capful of bleach to your lemon-juice, water solution.