This Is Why Meat Prices Keep Getting Cheaper
Shutterstock
Lately, grocery stores have boasted some disturbingly empty meat aisles, in yet another example of how the COVID-19 pandemic has affected our lives, perhaps permanently. As CNBC explained earlier this year, the virus spread lightning-fast throughout meatpacking plants, where workers typically stand side by side for hours-long shifts while preparing meat. After several plants shuttered, production slowed or was even brought to a complete halt, and the supply chain was significantly affected as a result.
Farmers had plenty of animals, but no one to buy them. Plants didn't have the requisite manpower to keep up with demand. So, grocery shoppers were left to stroll through mostly empty aisles, with what was available priced incredibly high. We're eating at home more than ever thanks to restaurant closures so it's great to see that, finally, meat is more freely available once again. More tellingly, it's suddenly priced much lower than expected, too.
Meat prices are even lower than before the pandemic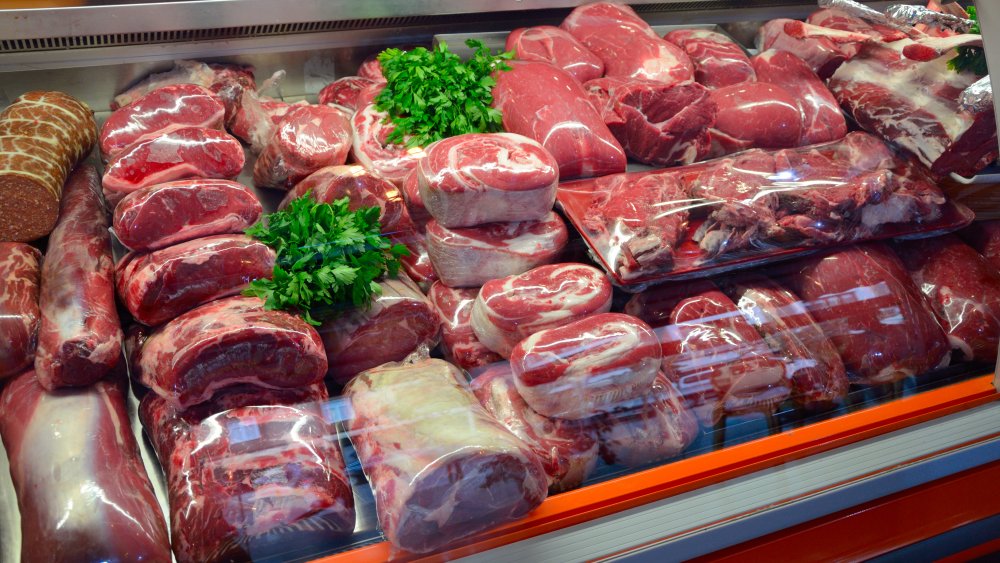 Shutterstock
According to The Wall Street Journal, meat prices are at a record low for 2020. Grocery stores are slashing prices on ground beef, while producers are offering discounts on the likes of ribs and steak, which has a trickle-down effect. In fact, certain meat prices are even lower than they were prior to the pandemic. The first week of September saw prices for prime rib steak drop by 11 percent. New York strip steaks, meanwhile, were down by 8 percent, and beef brisket was down by almost 20 percent, compared to January prices. 
Credit for the reductions goes to a lower demand, as people found alternatives to beef, and increased supply as plants get back up to speed after the initial shutdowns. What's more, cattle that spent more time on farms gained fat, causing a surge in supplies of beef graded at the USDA's highest level.
Chicken prices are down, too, primarily because there are fewer exports to places like China. Chicken leg quarter, in particular, is down a whopping 40 percent compared to last year. Chicken wings are also cheaper than they were before the pandemic hit. 
Demand for plant-based proteins has soared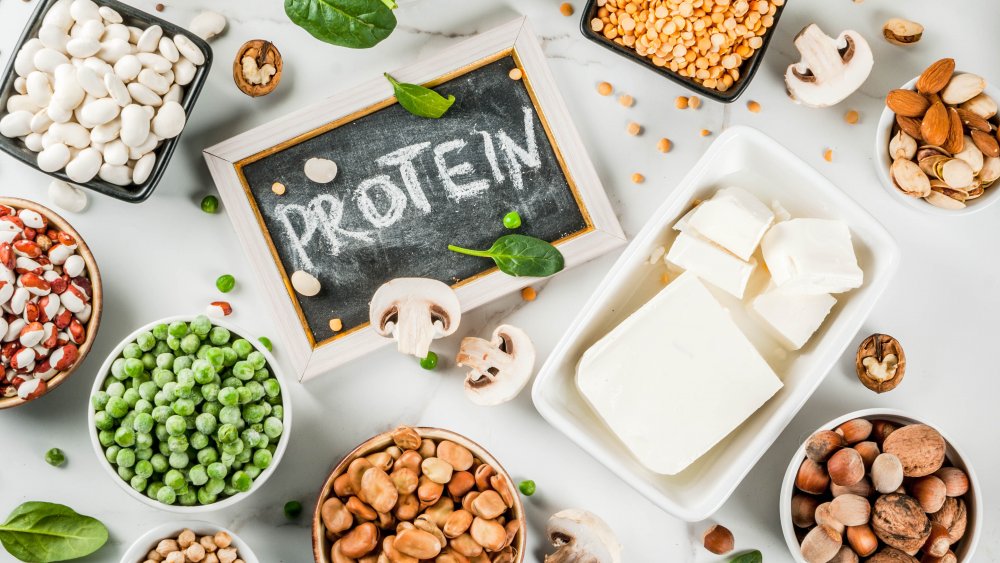 Shutterstock
According to a 2018 analysis, customers buy more beef when they feel richer (via Cattlemen's Beef Board). US beef consumption dropped 10 percent between 2007 and 2011, returning to pre-recession levels by 2015 and staying steady ever since. As WAMU notes, however, the pandemic has people questioning their relationship with meat. When COVID-19 first hit, tofu was flying off the shelves, per The Washington Post. Jay Toscano, executive vice president for tofu producer Pulmuone, revealed a 20 percent growth in sales in 2020 alone.
Demand for plant-based alternatives has surged over the past few years in general, according to Quartz. But this year has seen a major boom. The New York Times reports that sales of plant-based substitutes spiked by a massive 35 percent from April to May 2020 alone, when meat prices were through the roof and consumers were stuck at home trying to brainstorm new meals to cook for themselves. Beyond Meat, proprietors of the Beyond Burger, also recorded a huge spike in sales around the same time.