Chrissy Teigen Shares A Heartbreaking Pregnancy Update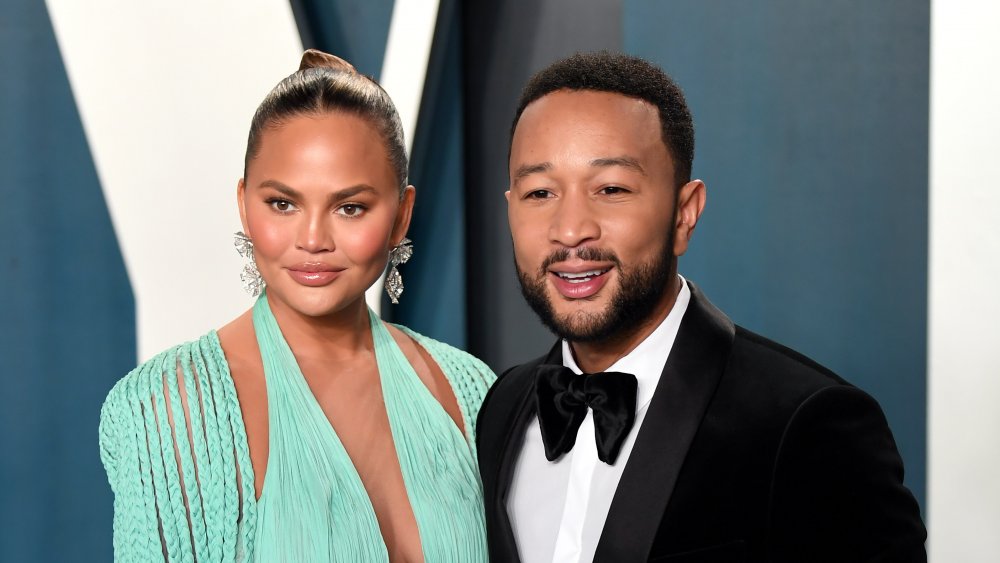 Karwai Tang/Getty Images
We've all been using the anecdote that 2020 just keeps going too far, too hard, too much, but aside from the internet hyperbole, this year really does keep reminding us that nothing is certain with very real displays of heartbreak and trauma.
Chrissy Teigen, who subtly announced her pregnancy in husband John Legend's "Wild" music video drop in mid-August, announced officially on August 13 that she was expecting baby number three. Since then, in classic Chrissy Teigen style, the multi-hyphenate model-host-author-entrepreneur has been keeping us apprised of all the goings on with her third pregnancy. In recent weeks, she's been posting from bed, letting fans know that while she was indeed prescribed an order of bed rest due to her weak placenta, the baby — who she let slip was a little boy — was doing just fine. 
But on Sunday, September 27, Teigen was hospitalized and explained on her Instagram stories (via Cosmopolitan): "I was always, always bleeding. I'm about halfway through pregnancy and the blood has been going on for like a month. Every time I would go to the bathroom it would be blood, honestly just laying there would be blood... but today the big difference was that it was kind of like if you were to just turn a faucet on low and just leave it there... It's so weird because I feel really good. I'm usually at my happiest pregnant, mood-wise. And I feel happier than I do not pregnant. That's why it's so hard for me to come to terms with... It was at the point today where it was just like never stopping bleeding. And that's obviously very bad."
On Wednesday night she shared the devastating news the she had lost the baby.
Chrissy Teigen describes 'the kind of pain we've never felt before'
In her Instagram post on Wednesday night, accompanied by a heartbreaking series of images from the hospital, Chrissy Teigen described the emotion she and John Legend were feeling, as well as what had led to this turn of events, saying, "We are shocked and in the kind of deep pain you only hear about, the kind of pain we've never felt before. We were never able to stop the bleeding and give our baby the fluids he needed, despite bags and bags of blood transfusions. It just wasn't enough."
Unlike with her first two children, the couple had already settled on a name for baby number three. Teigen explained, "We never decide on our babies' names until the last possible moment after they're born, just before we leave the hospital. But we, for some reason, had started to call this little guy in my belly Jack. So he will always be Jack to us. Jack worked so hard to be a part of our little family, and he will be, forever."
In a heart-rending conclusion to her post, she said, "To our Jack — I'm so sorry that the first few moments of your life were met with so many complications, that we couldn't give you the home you needed to survive. We will always love you... On this darkest of days, we will grieve, we will cry our eyes out. But we will hug and love each other harder and get through it."
Teigen and Legend are parents to Luna, 4, and Miles, 2.