The Untold Truth Of The Masters Of Flip Stars' Music Careers
Fans of Masters of Flip know ex-couple and HGTV personalities Dave and Kortney Wilson are home renovation experts. The two were flipping homes long before the series debuted in 2015, and with their new venture, Making it Home with Kortney and Dave, they are turning their attention to family homes in need of a little more TLC. As House Beautiful reports, the premise of their latest show can be gleaned from the title: The Masters of Flip alumni help families make their living spaces feel more like homes (within a strict budget, of course).
The Wilsons are HGTV stars in the same vein as Chip and Joanna Gaines or Renovation Island's Bryan and Sarah Baeumler. However, unlike their contemporaries on the all-conquering home renovation network, both Dave and Kortney had an entirely separate goal in life before the world of flipping houses became their passion — and it had nothing to do with property.
Music brought Dave and Kortney Wilson together initially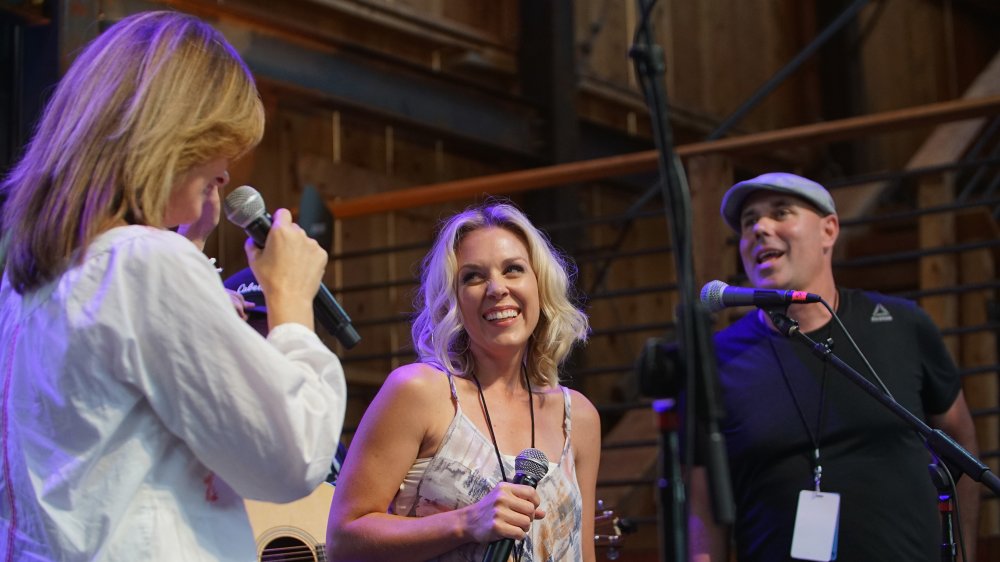 Anna Webber/Getty Images
The Wilsons actually met while both were pursuing music careers. As Fame 10 notes, at the time, Kortney had relocated to Nashville while Dave was living across the pond in London. He was in Tennessee for a two-week writing vacation when they crossed paths, meeting through a mutual friend and totally hitting it off. Dave never went back to London, choosing instead to stay in the country music capital with Kortney. As she told the National Post, Kortney knew Dave was the one almost immediately, revealing, "I called my parents a month later to tell them I'd fallen in love."
Luckily, the feeling was mutual, as Dave recalled, "And I called my band and said I'm not coming back to London." They moved in together, got married, and three children soon followed. As HGTV Canada points out, Dave was actually on his way to becoming a real-deal country music star. He signed a solo record deal with Lyric Street Records in Nashville and even toured for a while. 
Dave and Kortney Wilson's shared passion still drives the Masters of Flip stars
They might not play professionally anymore, but HGTV Canada confirms Dave and Kortney Wilson are quite fond of a night out on the town doing karaoke. Their passion for music continues on and, in fact, settling in Nashville was primarily based around their shared interest. As Kortney explained in an interview with The Tennessean, "We are so in love with this town and passionate about the opportunity we have to transform homes here." Of course, that's not why they ended up Music City. "What initially drew us to Nashville was the incredible and diverse music scene, since we are musicians, too," she shared.
Although home renovation and house flipping ended up being their bread and butter, the Wilsons didn't see it as a setback. As Kortney explained, "Ultimately, renovating a home is like writing a song — there's a beginning and an end and then you enjoy it."