MyPillow Guy Turns Heads With His COVID-19 Advice For Trump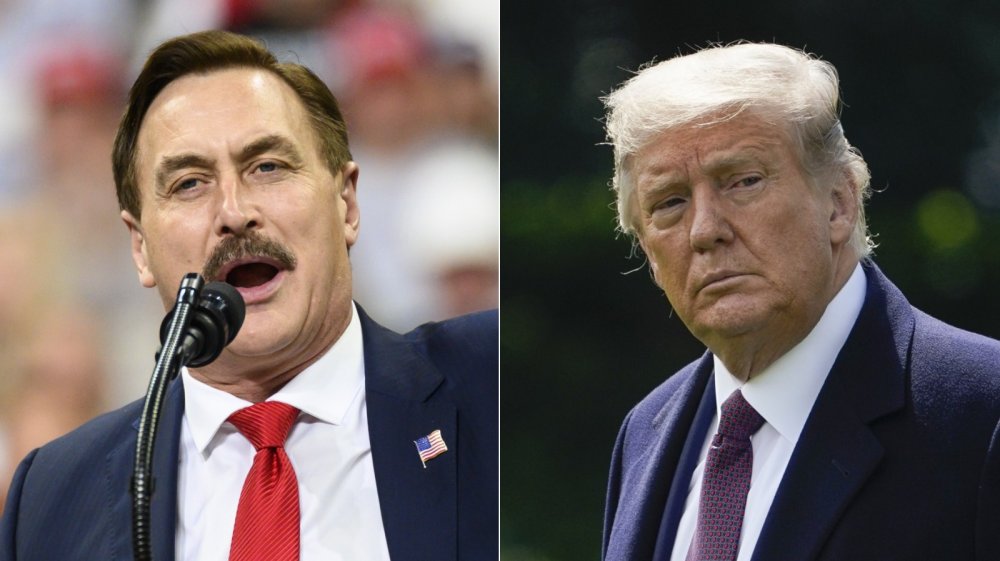 Stephen Maturen, Drew Angerer/Getty Images
Before August of this year, Mike Lindell aka MyPillow Guy was known for peddling his cure-all pillows. But that was before he appeared on national television, and before CNN's Anderson Cooper called him a snake oil salesman and asked him how he slept at night, over his claims that oleandrin was a cure for COVID-19. Lindell told Cooper he heard about the drug from a friend, before bringing it to Housing and Urban Development Secretary Ben Carson who called it the "real deal" (via USA Today). He now owns a stake in the company that sells the extract as a cure (via HuffPost).
But in the wake of President Trump's announcement that he and First Lade Melania Trump tested positive for coronavirus, Mike Lindell is now using Twitter to urge the president to try oleandrin as a cure for COVID-19 saying: "It does work @realDonaldTrump... 100% effective!" Lindell's message carried a retweet from conservative author David J Harris who also urged the president to try the unproven drug, saying: "You will prevail! And prove to America that Covid can be beat!!! Now's the time for @realMikeLindell's cure! Take it @realDonaldTrump and tell the world it works!!!"
Twitter roasted Mike Lindell for his shout out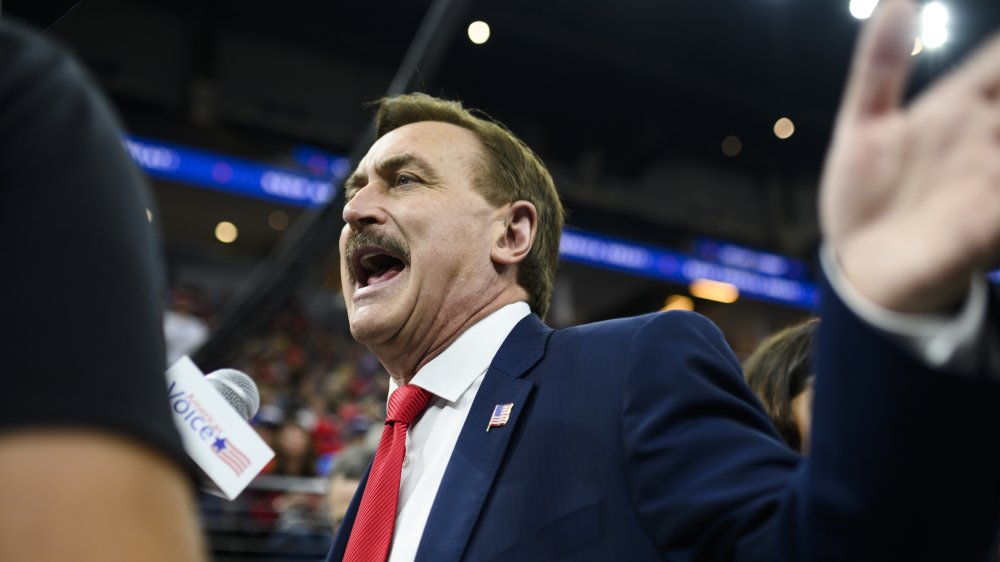 Stephen Maturen/Getty Images
To be clear, oleandrin comes from the oleander flower, which biologists have classified as a highly toxic plant poison. The extract is taken from the nerium oleander, which is a very poisonous plant which, if eaten, can cause irregular heart rates. It can be lethal to both animals and people (via The Conversation).
Mike Lindell's shoutout triggered both curiosity and derision in the Twitterverse. While a few asked Lindell to tell them more about the extract, others were less polite. One user called out Lindell's lack of science behind the cure, saying: "So unproven cures are the result of sleeping with a @MyPillowUSA? Can you also tell the [world] what other cures your dreams may have created? Asking for a friend. #misinformation" Another tweeted: "The my pillow guy telling the president to take his snake oil supplements to cure his coronavirus infection... 2020" A third addressed Lindell directly saying: "what a joke, no proof, self serving snake oil salesman. I wish it was a cure! Also pillows suck as sadly I have two...they were replaced cause they suck."
The White House has yet to confirm any treatment that Trump might need due to his COVID-19 diagnosis, but we suspect oleandrin won't be on the list of approved meds. Then again, 2020 has brought about stranger things, so who knows.