The Truth About Biden Beauty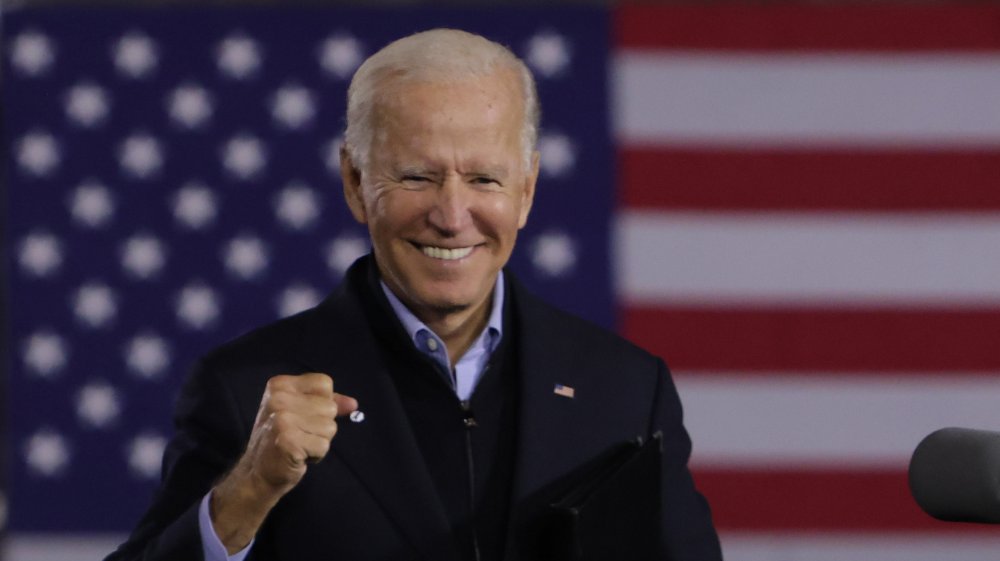 Alex Wong/Getty Images
Beauty products can be used for a lot things, like enhancing natural beauty or making the process of applying cosmetics easier. But what about using a makeup brand to promote voting in the election? Well, apparently that's exactly what Biden Beauty is aiming to do. The unique idea was created by a group of people in the cosmetic industry to help support Joe Biden and Kamala Harris. While the group who started the line kept their identities under wraps at first, following the launch, TMZ confirmed David Yi and the Very Good Light team are behind it.
In an interview, an anonymous spokesperson for the brand told Fashionista they know how powerful and influential the beauty community is and they want to use it for good. "We're seeing that young people — from millennials to Gen Z — have the power to change the course of history," they explained. "But if we look at how they vote from 2018's primary, we're not showing up. We're not utilizing our civic duties in the right way. We hope to change that."
What products does Biden Beauty offer?
The main beauty product offered on the line's site (via StyleCaster) is the Biden Beat Makeup Sponge, which is a $20 blue sponge that's typically used for the application of coverup. The brand also sells a $46 Biden hoodie, a $15 tote bag that says "America is beautiful," and an $8 package of Biden buttons and stickers. Though the cosmetic group is not officially tied to the Biden/Harris campaign, 100 percent of the proceeds raised by the products will be donated to the Democratic National Committee. 
The group told Fashionista they are hoping its products will help bring inspiration into the voting process. "Our Biden Beat beauty sponges are dual-sized, look like delicious blue gnocchi that we wouldn't recommend eating — just face beating," the Biden Beauty insider said. "They're bouncy, effective and the best sponges on the market. The best part is: You get a face beat while beating out Trump."
What does Biden's campaign think about the beauty brand?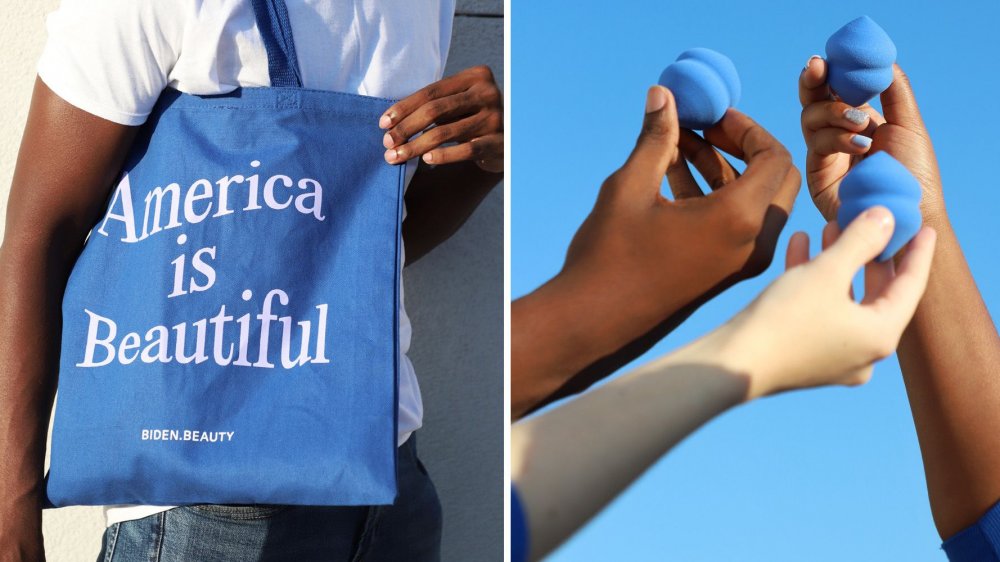 Biden Beauty
Biden Beauty's spokesperson told Fashionista that the Biden campaign is aware of their brand because they sent its products to the team. "Both of them are such good sports and know promoting the idea that America is beautiful is essential to bringing us all together," they explained. "After all, when we vote, we are powerful. Voting works, people, so let's put our best faces forward, and get going!"
The cosmetic company said they ultimately hope to spread the message that America is beautiful because of its diversity. "From all backgrounds, sexualities, gender identities, abilities, religions, ethnicities and more, this country is robust thanks to folx who bring uniqueness to it," they said. "We hope to inspire young and older to put their best face forwards, to feel beautiful, powerful, radiant and get to the polls." To learn more about Biden Beauty, you can visit its site at BidenBeauty.com. To register to vote in your state you can do that at Vote.gov.