Nancy Pelosi's Reaction To Trump's COVID-19 Diagnosis Is Turning Heads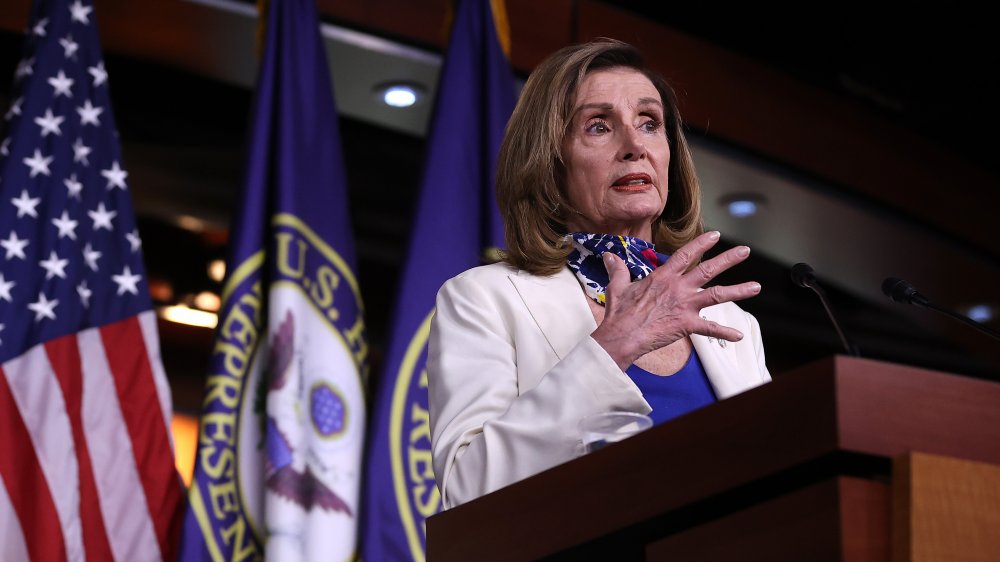 Chip Somodevilla/Getty Images
In an "October surprise" worthy of a House of Cards plot twist, President Donald Trump confirmed his and First Lady Melania Trump's positive COVID-19 diagnosis via Twitter early Friday morning, prompting a flurry of reactions from world leaders including Canadian Prime Minister Justin Trudeau, German Chancellor Angela Merkel, Russian President Vladimir Putin, and U.K. Prime Minister Boris Johnson, who recovered from COVID-19 earlier this year (via Vox). However, it's the response of a domestic leader that's really turning heads.
According to The New York Times, Speaker of the House Nancy Pelosi — who is second to Vice President Mike Pence in the line of succession should Trump become incapacitated — said in an interview that while she was praying for the president, she hoped that his diagnosis would be a "learning experience" for the country given that the president consistently eschewed precautions against COVID-19 in favor of projecting strength.
What Nancy Pelosi said that was so controversial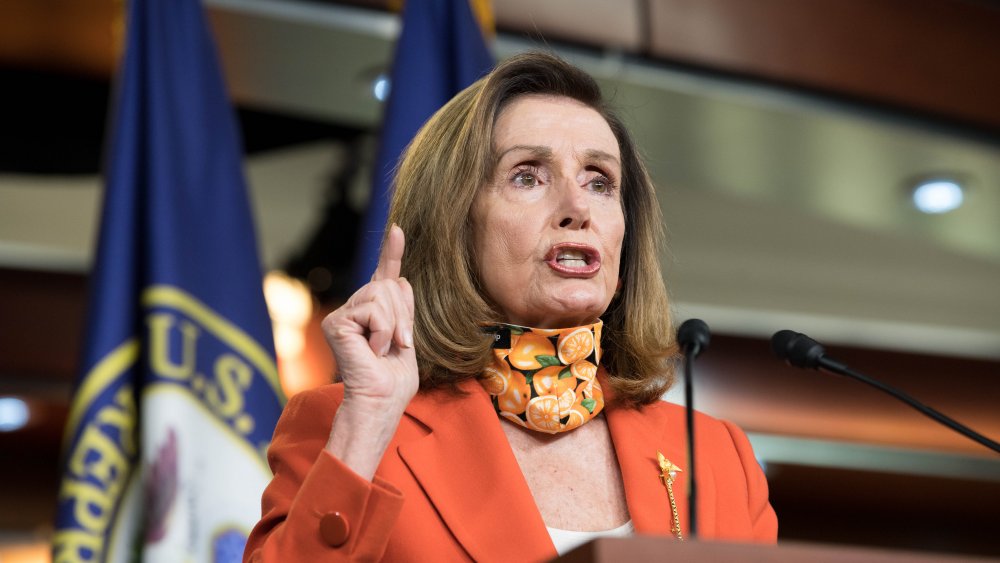 Liz Lynch/Getty Images
"This is tragic," Nancy Pelosi acknowledged in an interview with MSNBC. "It's very sad, but it also is something that, again, going into crowds, unmasked and all the rest, was sort of a brazen invitation for something like this to happen." Pelosi, who has not spoken with the president in several months (via New York Post), added: "Sad that it did but nonetheless hopeful that it will be a transition to a saner approach to what this virus is all about."
Silver lining aside, Trump was seen wearing a mask as he boarded Marine One on his way to Walter Reed Medical Center due to his worsening condition (via CNN). "This kind of changes the dynamic because here they see the reality of what we have been saying all along — this is a vicious virus," said Pelosi, referring to the prospect of striking a bipartisan economic relief bill (via The Washington Post). "We always have to find a path — that is our responsibility to do so — and I believe that we will."