Here's What The Internet Thinks Was Edited Out Of Trump's Video
President Trump has released a four-minute statement recorded at the Walter Reed National Military Medical Center, where he was admitted after announcing his COVID-19 diagnosis to the world on Friday (via Twitter). But it's what was left out of the short clip that has social media buzzing and many questioning exactly what edits have been made to the statement — and, more importantly, why? 
Likely, the leader of the free world wanted to impress upon the American people and the globe that he is feeling strong and is confidently in control of the country. However, there remain concerns regarding the current state of Trump's health and what it means in terms of his ability to lead and govern effectively (via Business Insider). Earlier in the day, White House physician Sean Conley held a briefing regarding President Trump's condition and neglected to answer certain key questions, including the president's temperature, what his lung condition is, and if he has received any supplemental oxygen. Without complete information, social media suspects something more may be afoot.
The internet thinks Trump's team edited out a cough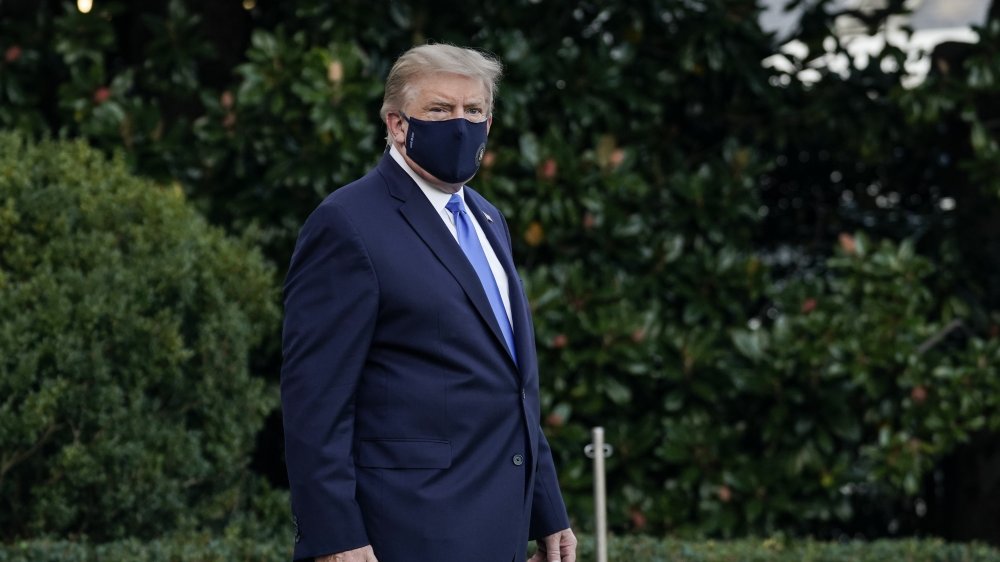 Drew Angerer/Getty Images
Following the release of Trump's statement, one social media user was convinced that a less-than-accurate picture of the president's health was being presented, noting, "Trump coughed here after the word 'therapeutics' and it was edited out using the morph cut feature in @AdobePremiereCC" (via Twitter). Another tweeted, "Good grief! Proof of life / doing well video and they botch it with the edit. WH is run by 8yr olds." And still another careful viewer responded, "I noticed that edit too. I thought he coughed. His voice is a bit raspy like someone that has been coughing and has post nasal drip." However, a fellow video watchdog was quick to comment, "Ok but in fairness Donnie's post-nasal is drippin pretty much 24/7."
We do not know if the video was edited or not. However, given all of the events of 2020 so far, we do know that anything is possible.