Why Trump's Iowa Rally Song Choice Has People Seeing Red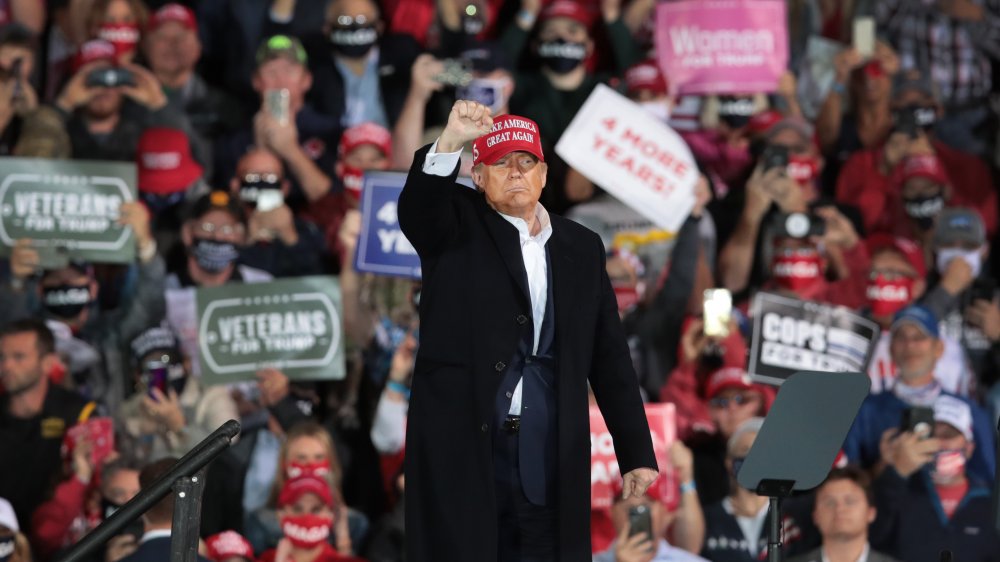 Scott Olson/Getty Images
And the campaign circus just keeps getting weirder and weirder ... So we had a disaster of a presidential debate, followed by a not-at-all-funny scare when our nation's leader was hospitalized with a potentially deadly virus. While the hospital stay did not last long, people are still very concerned about the president's health, especially as he continues to double down on campaign rallies and other possible super-spreader events. Trump says he feels just fine, yet his voice is sounding kind of rough, and he doesn't look too good either. It seems as if he may be taking some pretty big risks with his health, since with COVID-19, it's best not to assume you're out of the woods too early.
Still, when it comes to Trump, he's going to do what he's going to do ... and public opinion is going to be pretty divided, as it has been throughout his entire presidency. The latest controversy comes out of Iowa, a state that the Des Moines Register reports currently has about twice as many new COVID-19 cases as the national average. They've recently seen both their 100,000th positive diagnosis and their 1,500th death from the virus. On Wednesday night, Trump held a rally in the state, an event at which few attendees appeared to be wearing masks, and as TMZ reports, the new campaign song blasting out of speakers was a shockingly inappropriate choice: "In the Air Tonight."
The Trump campaign's song choice shows epic bad taste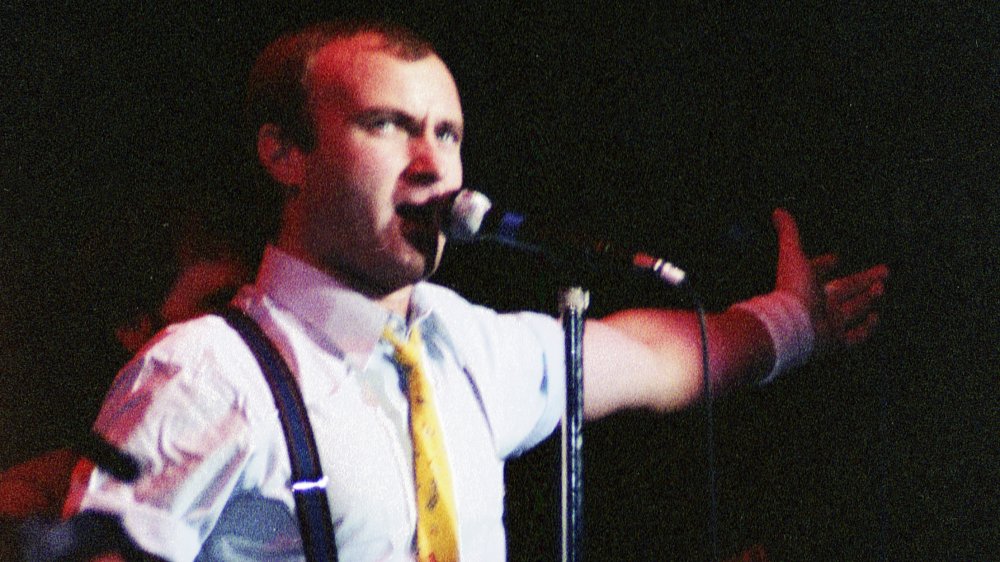 Bill Tompkins/Getty Images
As the lyrics to the Phil Collins hit (via AZLyrics) ask, "Can you feel it coming in the air tonight?" Well yes, we can. "It," meaning COVID-19, has been "in the air" all year, and we really don't need a reminder. What's more, this song, as TMZ points out, already sounds fairly ominous, and that whole bit with the "if you told me you were drowning I would not lend a hand" also has "make your own metaphor" written all over it. Twitter comments on the TMZ article ranged from "seems ironic" to "Sick and Twisted," but everyone recognized the obvious OMG factor.
Plus, there's the little issue of how Phil Collins might feel about such a use (or misuse) of his music. As one commenter pointed out, "I don't think Mr. Collins will be happy about this, not that it has ever stopped Don from playing the music of artists that hate his guts." Collins has apparently yet to weigh in, although his lawyers sure have, issuing a cease and desist order (via Consequence of Sound). Collins is no Trump fan, however, telling Billboard shortly before the 2016 election that he thinks The Donald is "a big accident waiting to happen."
Well, let's just hope that "accident" doesn't involve thousands more Iowans coming down with COVID-19 after that rally. No matter what side of the political aisle we're on, surely we can all agree that the pandemic itself is the real enemy