Here's Why 'Bye Tiffany' Is Trending On Twitter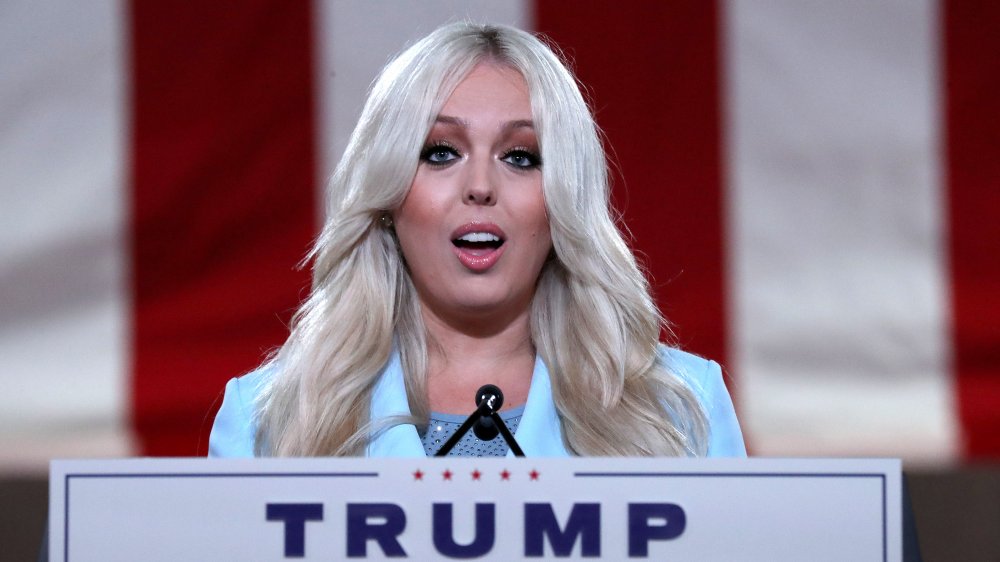 Chip Somodevilla/Getty Images
Tiffany Trump usually flies under the radar, especially compared to her older siblings, Ivanka, Eric, and Donald, Jr. However, Trump made headlines this week as she celebrated her 27th birthday in Miami (via Page Six). Trump skipped from hot spot to hot spot with eight of her closest friends, including boyfriend Michael Boulos. The birthday girl started her night with a sushi dinner at Komodo, before moving onto restaurant and party spot Kiki on the River, where Trump added a sailor's hat to her little black dress and enjoyed a champagne toast with sparklers and American flags. Trump took photos with friends in between sipping Dom Perignon.
In any other year, Trump's gallivanting would be par for the course; a wealthy heiress enjoying lavish birthday celebrations isn't exactly a shocker. But this is 2020, and apparently Trump missed the news about the COVID-19 pandemic. Her carelessness has people seeing red.
Tiffany Trump's birthday celebrations spawn #byeTiffany
It didn't take long for people to notice that Tiffany Trump's birthday outfit was missing an important accessory: a mask. In social media stories, there were clearly crowds of people behind Trump. No obvious social distancing measures were taken.
Twitter users reposted the photos of Trump's maskless celebration, remembering important life moments which they missed in order to observe safety regulations. One user wrote, "I missed my son's 27th birthday because of Covid-19. I have not seen him since February. We have never been separated for this long." Another complained, "My daughter and her husband had to cancel their honeymoon. Nephew had to cancel his Bar Mitzvah party. My wife celebrated her birthday over zoom."
Trump's father, President Donald Trump, has famously gone back and forth with his support of wearing masks (via NBC). While Tiffany Trump might not have an active role in the Trump administration, it's clear that she and her father both believe in taking COVID-19 safety precautions only when it's convenient.