Curvaceous Couture: The Truth About The Nation's First Plus-Size Designer Bridal Shop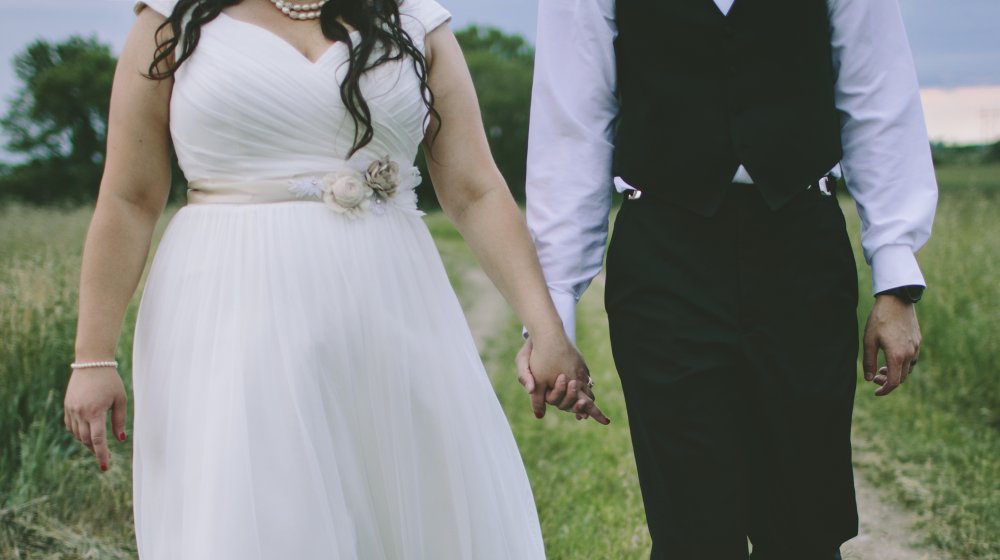 Shutterstock
Believe it or not, the notion of a plus-sized designer bridal shop is a relatively radical one, clearly indicated by the fact that this niche sector of America's fashion world simply hasn't existed — until now. Curvaceous Couture believes in giving full-figured brides a positive and beautiful dress shopping experience. "Every woman deserves a joyful and fulfilling experience when shopping for her wedding dress," the company explains. "But the curvier bride too often faces disheartening challenges. Not Anymore!"
Located in the Baltimore-Washington metropolitan area, Curvaceous Couture is "the first designer bridal boutique to feature a complete collection of full-figured and one-of-a-kind wedding gowns from all over the world in sizes 16-32W." They believe that "treating everyone like family" is key to creating a close-knit and supportive community. And while they want brides of every size to feel beautiful on their special day, they focus their attention on a community of plus-size brides that they believe are often overlooked.
The company was founded as a result of the owners' own struggles finding plus size dresses
Sisters Yukia and Yuneisia Walker are the co-founders of Curvaceous Couture, or CCBC, and their passion for their company comes from their own experiences as curvy women interested in high fashion. Yukia admits that she was "laughed out" of salons for requesting a size 16 wedding dress for herself. "Stores didn't have much bigger than a size 10 for me to try on," she tells Vows Magazine. Despite an unpleasant shopping experience, the unhappy bride-to-be ended up buying her dress from the department store chain Filene's Basement. Yukia remembers, "they were squeezing me into dresses, throwing dresses around my neck and asking if I liked them" (via NPR).
Nearly two years later, with unhappy dress shopping memories in her head and a slew of similar anecdotes from other curvy friends, Yukia called up Yuneisia. "I have an idea," she told her sister. "There's a Grand Canyon-sized gap in the marketplace, nothing compelling or couture for the plus-sized, curvy bride. We can do this."
The Walker sisters have a TLC show
Needless to say, the sisters' company has been nothing short of an incredible success. Such a success, in fact, that their work helping curvy brides has been turned into its very own series on TLC. Curvy Brides documents the Walker sisters' journey in helping every plus-sized bride find their dream wedding dress, and have the best time doing it.
Something that the sisters pride themselves in is that the plus-sized dresses haven't compromised the quality or brands that they have to offer. According to their website, their bridal lines in stock include Allure Bridal, Madison James, Eddy K, and dozens more, and as well as the Curvaceous Couture Private Collection. They also make custom wedding dresses as well as dresses for the mother of the bride, bridesmaids, or even proms.
"Every time I see a bride get the experience I didn't get on my wedding day," Yukia tells NPR, "I know we're doing something special here."