Here's Who The Mandalorian's Sasha Banks Is Married To In Real Life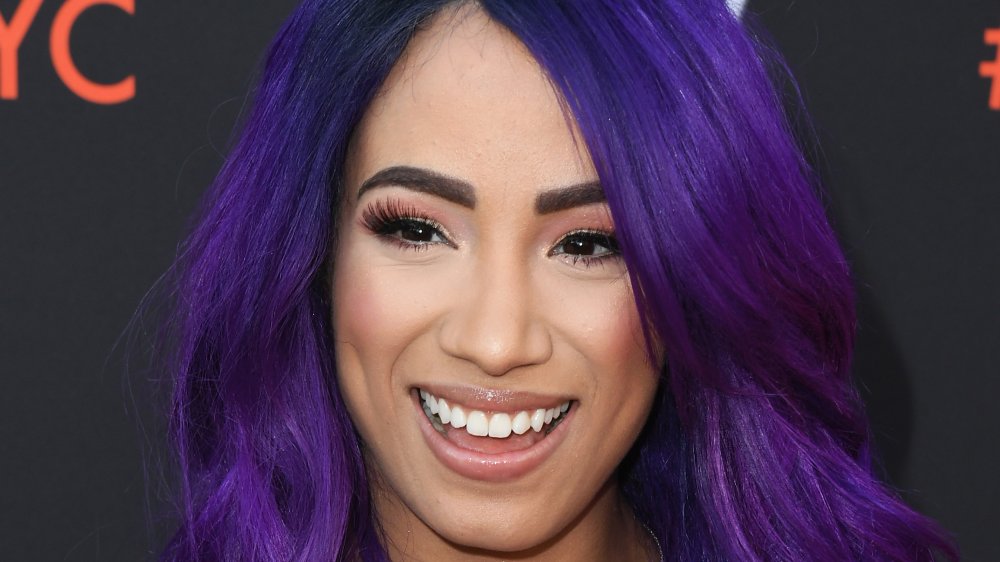 Jon Kopaloff/Getty Images
Mercedes Varnado, more commonly known as Sasha Banks, is a WWE Superstar, trailblazer, and actress, featuring in the second season of Disney's The Mandalorian. Although Banks has zero chance of courting as much attention as Baby Yoda, her move into acting is notable. Known in WWE as "The Boss," the wrestling phenomenon casually shatters glass ceilings, challenges racist attitudes, and masters everything she turns her attention to.
As The Undefeated, who argue Banks is the Beyoncé of wrestling, advises, she was the first woman to headline WWE Network events, to have a match voted by WWE fans as Match of the Year, to headline Monday Night Raw and win the women's title for the first time in over a decade, and she was the first woman to headline a PPV event. Considering how much of a barnstormer she is, it's good to know Banks is supported by a husband who is fully aware of her worth.
Sasha Banks' husband has her back (literally)
According to Essentially Sports, Banks is married to Sarath Ton, a WWE costume designer and former wrestler in his own right. He was previously known as Kid Mikaze and fought utilizing a blended, unique style including martial arts. During his short WWE tenure, Ton wrestled under the name Rutherford Hayes. However, he was injured during a match and hasn't competed since. Thankfully, Banks' husband is just as skilled in creating costumes as he was in the ring, maybe even more so.
He even designed Banks' iconic "Boss" ensemble, advising in a documentary interview, "I've been making her gear since she first started [wrestling]. Literally, just when I first met her, I knew she needed gear. I let her know, like, 'Hey, I got you.'" Likewise, Banks confirmed to the Miami Herald, "He knows what I want. He envisions it. I just tell him, 'I want to look the best, the greatest. Just do your thing,' and he always makes me look amazing."
Theirs is a match made in wrestling heaven
The couple got married on August 4, 2016, according to Essentially Sports. They keep their relationship private, with Banks posting mostly wrestling-related content on Instagram while Ton shares plenty of shots of his lady looking fabulous but very few of them together. In August 2020, he posted a pic of Banks lounging beach-side, writing, "#wcw I'm a lucky guy." One constant between the two accounts, however, is their adorable Corgi, Ryu Maivia Ton, who also has his own account.
In an interview with WWE, Banks acknowledged how nice it is to work and travel with her hubby rather than being separated constantly like most other wrestlers. "I'm really fortunate. It's really crazy because we met in wrestling so we both started in the independents together and we worked for the same company down there. Then when I got signed to WWE he quit his job and moved to Tampa with me," she reminisced. Clearly, their bond has only strengthened in the years since.