Kanye's Birthday Gift To Kim Is Causing Quite A Stir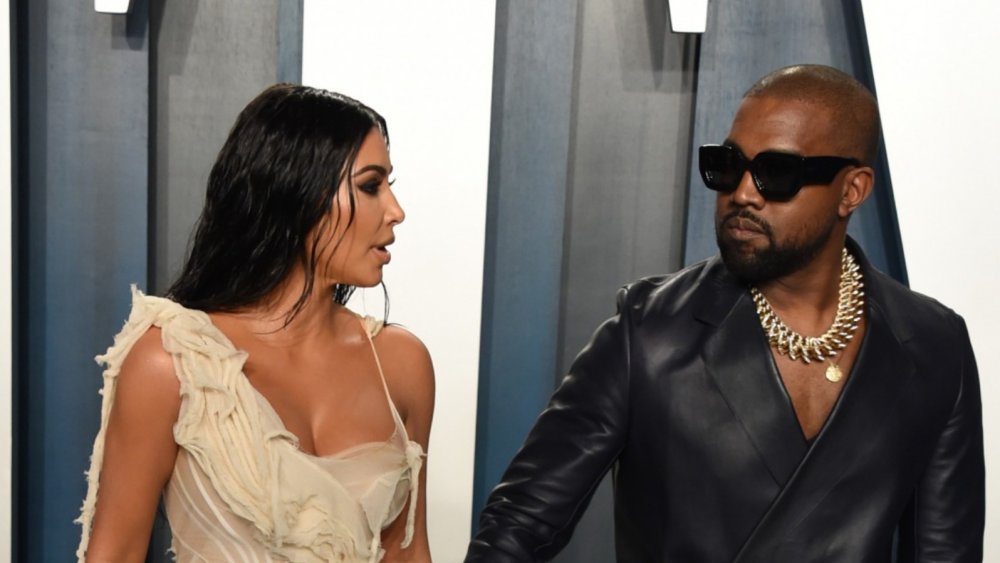 George Pimentele/Getty Images
Kim Kardashian recently celebrated her 40th birthday in true billionaire style by whisking 30 of her closest friends and family members off to a private island for some fun in the sun. If taking an island vacation in the middle of a pandemic didn't just make Kim the new poster child for "privileged" then her birthday gift from Kanye surely will.
According to TMZ, Kanye presented his wife with a 3-D hologram of her late father, Robert Kardashian. Kim shared a video of the hologram, which Refinery29 estimates to cost at least a couple hundred thousand dollars, on her Instagram, calling it a "Hologram from Heaven". In the video, Robert Kardashian appears, dressed in a khaki suit, and tells Kim, "Happy birthday, Kimberly. Look at you. You're 40 and all grown up. You're beautiful, just like when you were a little girl." He went on to praise Kim's accomplishments as a mother and to commend her commitment to following in his footsteps as a lawyer.
TMZ reports that Kanye compiled the content for the hologram through a mix of old video and audio recordings of Robert Kardashian, collected before he passed away from cancer in 2003. No one is really surprised that Kanye managed to work a shout-out to himself into the message as well. Before signing off, Robert tells Kim, "You married the most, most, most, most, most genius man in the world, Kanye West."
Kim's hologram from heaven is attracting hate online
Kim referred to Kanye's birthday gift in her Instagram post as "the most thoughtful gift of a lifetime," but others seem to be finding it entirely insensitive, given the current state of the world (per Page Six). Deputy Director of BuzzFeed News David Mack tweeted, "Kim heard your feedback about boasting of her wealthy private island vacation during a pandemic where your loved ones are dying and said ok here is a hologram of my dead loved one that my wealthy husband bought me."
Comedian and former writer for The Daily Show, Travon Free, chimed in on that notion by tweeting, "230k people died but hey, enjoy this hologram of my dead dad because we're so rich we can recreate our dead family members," to which one user quipped, "That's the most, most, most, most narcissistic thing I've seen in a while, but right on brand." Given all the hate she's receiving, you might wonder if Kim regrets sharing her birthday gift on Instagram. But, considering Kim Kardashian makes a ton of money per post, we doubt the criticism is bothering her very much at all.