The Real Reason Eve Is Leaving The Talk
Gabe Ginsberg/Getty Images
After four seasons, rapper and actress, Eve, is leaving The Talk. According to People, Eve's last show will come out in December and she will remain in the UK with her husband, Maximillion Cooper. The two married in 2014 and Eve explained that she's focused on expanding her family relatively soon. She had previously been hosting from her home in London throughout the coronavirus pandemic and it limited her ability to get to the studio, as the outlet notes.
"It's been a crazy year, obviously for all of us and I'm so grateful that I'm able to stay here in London and do the show," she said on air. "But I can't see for me, the foreseeable future of traveling back at the moment, and have decided that at the end of December, this will probably be my last time on the show, in this capacity as a host" (via Variety). Following host Marie Osmond's departure this year, Eve insists that she has nothing but love for her costars, Sharon Osbourne, Sheryl Underwood, and Carrie Ann Inaba. 
"I have had the most beautiful experience. I've grown as a woman, as a person. I've said it once, I'll say it again, I never thought that being on a talk show would be this much of an opening of my spirit, soul, personality, everything. Sitting on stage with all you women has been the best thing ever. I truly love you," she said (via Variety).
Eve is stepping back from The Talk to focus on growing her family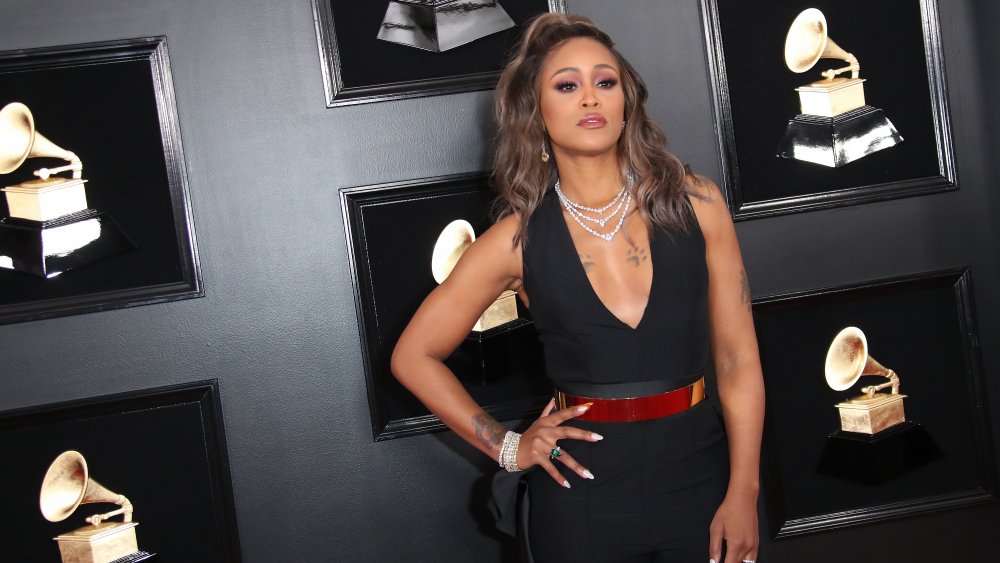 Dan Macmedan/Getty Images
As the United Kingdom prepares for another lockdown, it remains unclear how or when Eve would've been able to make taping sessions of the show, Yahoo! Sports reports. "We're on another lockdown from Thursday, and that's another reason, obviously staying home has been such a blessing because my husband and I got to know each other in a different way, a beautiful way," the singer explained. "So I want to be closer to him. I want to concentrate on expanding our family, being with my family."
The 41-year-old Grammy winner has been open about her pregnancy struggles in the past, sharing her story on the talk show. "I felt like I was broken. I felt like, oh well maybe I'm not good enough." Her husband has four children from a previous marriage and the pair aim to have a child of their own, USA Today reports.
Eve's co-hosts sung her praises and expressed their desire to play roles as "auntie" as her family grows. Only time will tell when that will be, but for now, The Talk is down one valuable voice.