The Search Term That Spiked On Election Night Has Nothing To Do With The Candidates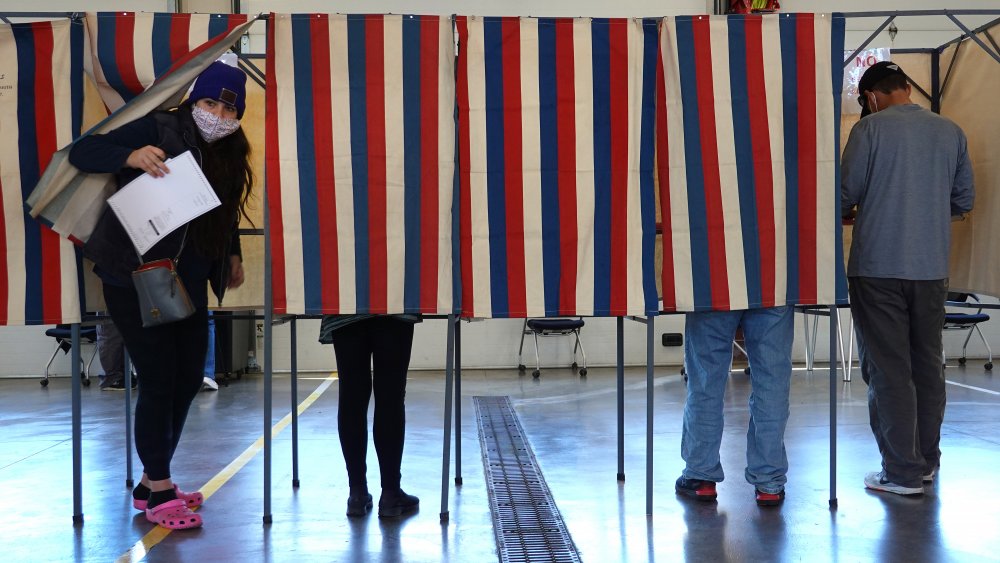 Scott Olson/Getty Images
With, per USA Today, more than 100 million ballots cast prior to polls opening on Tuesday, Nov. 3, and record numbers of voters showing up to vote in person, Foreign Policy is predicting that the United States will see its highest voter turn out since 1908. Celebrities from Lady Gaga to Cher are focusing their social media efforts on getting out the vote, the rest of us are using our time on election night engaged in dependable escapism. 
As of this writing, The Chicago Tribune reports that, in many key battleground states, the Biden-Trump race is still too early to call. While we deal with the uncertainty and consume inordinate amounts of pizza, Americans have opened Google to look not for election updates, but for something else. Yahoo Canada reports that as of 10 p.m. EST time on Election Day searches originating in the United States for "how to move to Canada" had risen by 700 percent when compared to the day before. It's not the first time we've considered jumping ship this year. 
This is when Americans start looking to move north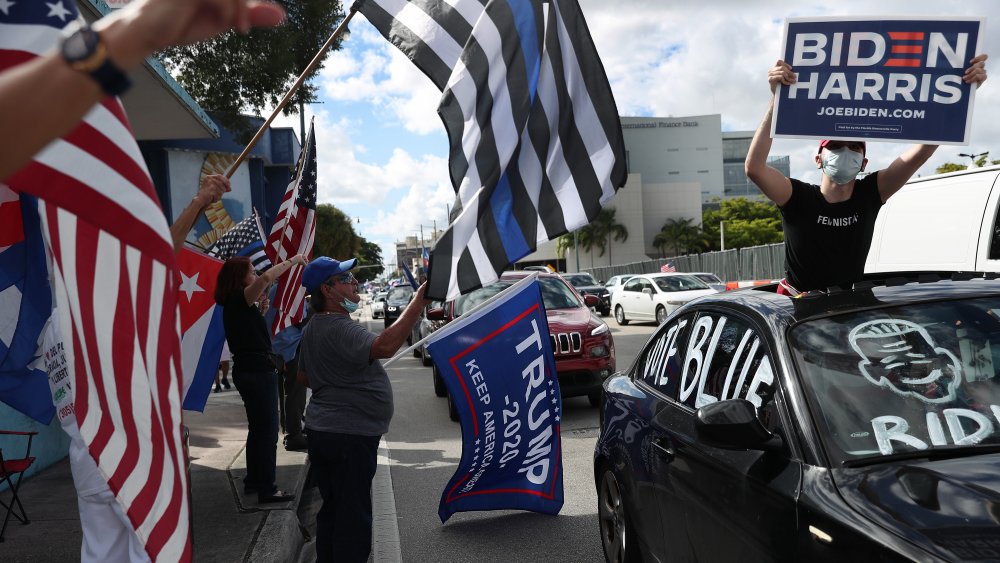 Joe Raedle/Getty Images
Remember after the first Trump-Biden presidential debate? In its aftermath, The Guardian reported a dramatic increase in U.S.-based searches for "How to apply for Canadian citizenship, "How to move to Canada," and  "How to move to Canada." As the news outlet observed then, it wasn't the first time that election-related news had prompted such a search. Searchers located in the United States also engaged in good-old Canada-related escapism after the 2004 election of George W. Bush and the 2016 election of Donald Trump. 
As CBC Canada points out, most of those who threatened to move north in the wake of Trump's 2016 upset failed to follow through. The one couple that they could track down who did didn't do so for political reasons. They did so because their healthcare bills in the States became too much to handle. Ironically, Jimmy and Kelly Nixon are split when it comes to their political allegiances. "We argue for nothing except politics," Kelly told the Canadian news outlet, "If Donald Trump gets elected, I will go into a deep depression and not speak to anybody ... I will be done with American politics as we speak."