The Truth About Trump's Spiritual Advisor Paula White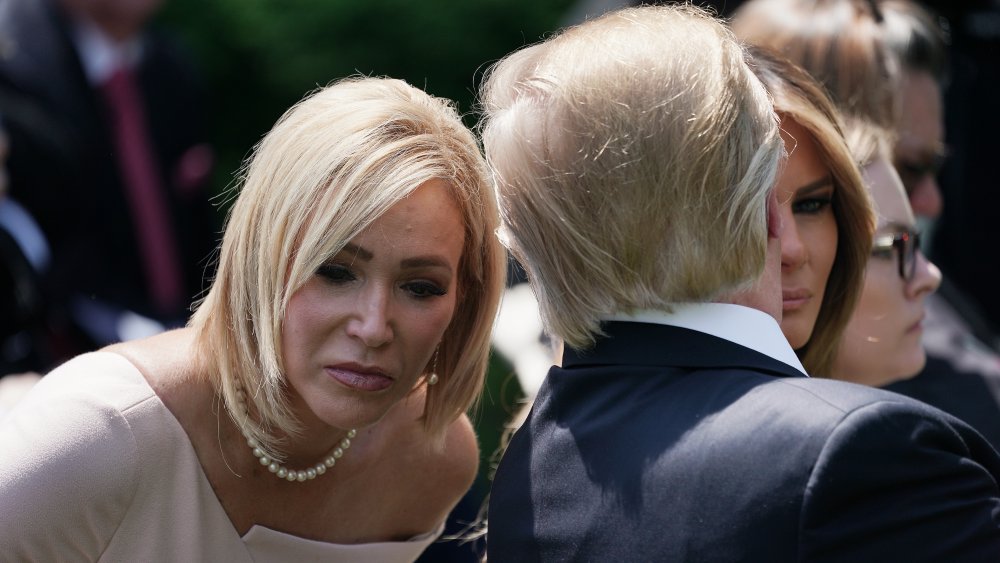 Chip Somodevilla/Getty Images
"They're coming here. In the name of Jesus," Paula White preached on November 4, per The Independent. "From South America, they're coming here ... From Africa ... Angelic forces. Angelic reinforcement." Trump's spiritual advisor, from a podium in Orlando's New Christian Destiny Center, was announcing the arrival of angels, come to the United States to aid in the re-election efforts of Donald Trump. 
It's not the first time that Trump's evangelist has sought the aid of spiritual forces to help in Trump's election efforts. White once told The Washington Post that Trump asked for her help before a possible 2012 election campaign. "I really want to hear from God," he supposedly told his spiritual adviser. White came to his aid, gathering a group of evangelical ministers in Trump Tower. "I don't feel it's the right timing," White advised Trump at the time. In 2015 she gave a green light. 
And according to Orlando Weekly, during the 2016 Republican National Convention, she led Donald Trump, Melania, and Barron in a four-hour prayer circle from Trump's hotel room. "Paula is a terrific woman and a wonderful friend to our entire family," Eric Trump told The Washington Post via email, "We are very grateful for her support and guidance." Always an informal part of the Trump administration, The New York Times reports that Paula White joined in an official capacity in 2019. Since, she has been acting as an official advisor to Trump's Faith and Opportunity Initiative.
Paula White lives an insanely lavish life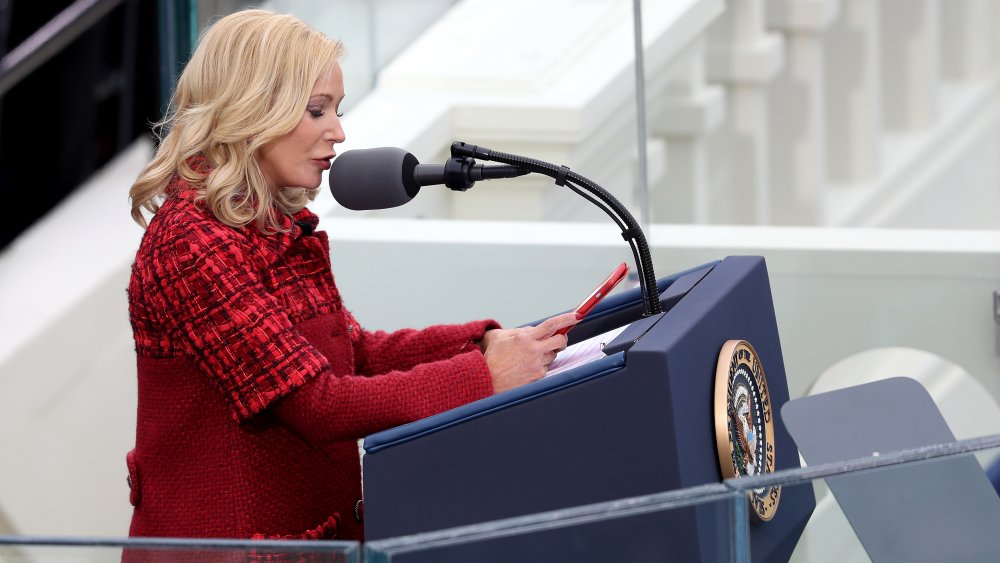 Joe Raedle/Getty Images
During White's election 2020 prayer marathon, she prayed passionately against the "demonic confederacies" working against Trump's presidency (via The Independent). White has long claimed that "demon lords" are out for the sitting president (via Foreign Policy). Her impassioned sermons against evil forces are part of what drew Donald Trump to her in the first place.
White told The Washington Post that Donald Trump called her up around 2001 and 2002 after listening to one of her sermons."You're fantastic; you've got the 'it' factor," he purportedly told her. After that, she started visiting him and his family in New York. During one such visit, she noted, "I walked in and said, 'I don't want your money, I don't want your fame, I want your soul.'"
If Trump, like White claims, has indeed given his heart to Jesus Christ at her behest, it's also hard to avoid the conclusion that Trump's influence has helped White achieve a lifestyle eerily similar to Trump's own. At one point, reports Orlando Weekly, before declaring bankruptcy, White and her ex-husband, Randy White, were making an impressive $40 million a year off of their broadcast ministry and from their shared, Without Walls International Church. Back then, she owned a $2.2 million home in Tampa Bay and a $3.5 million apartment in Trump Tower. Per Slate, White also owned a private jet before Without Walls went bankrupt, after defaulting on $29 million in loans.
The truth about Paula White's three marriages
Chip Somodevilla/Getty Images
White is currently married to Jonathan Cain, the keyboardist for the band Journey. Her first marriage was also to a musician, Dean Knight, who remembers White as "a little wild." Knight and White divorced after she met (and married) the associate pastor of the church she attended, Damascus Church of God, in Maryland. Randy and Paula White's relationship began to fall apart around the same time that Republican Senator Charles E. Grassley began investigating the pair's church, Without Walls, for misusing its parishioners' donations.
While the couple didn't survive the scandal, White's reputation did. She continues to preach the "prosperity gospel," (the idea that God wants believers to be financially and physically prosperous) from her New Christian Destiny Center. (According to The Washington Post, Trump sent White the center a $1,000 donation as a wedding gift.) White's continued success impresses professor of Christian history Kate Bowler, who told The New York Times, that White "has done what no one thought she could do." Per Bowler, White has "scrap[ed] out a place for an unpopular theology beside an unpopular president."