Why Stacey Abrams Is The Real Star Of The 2020 Election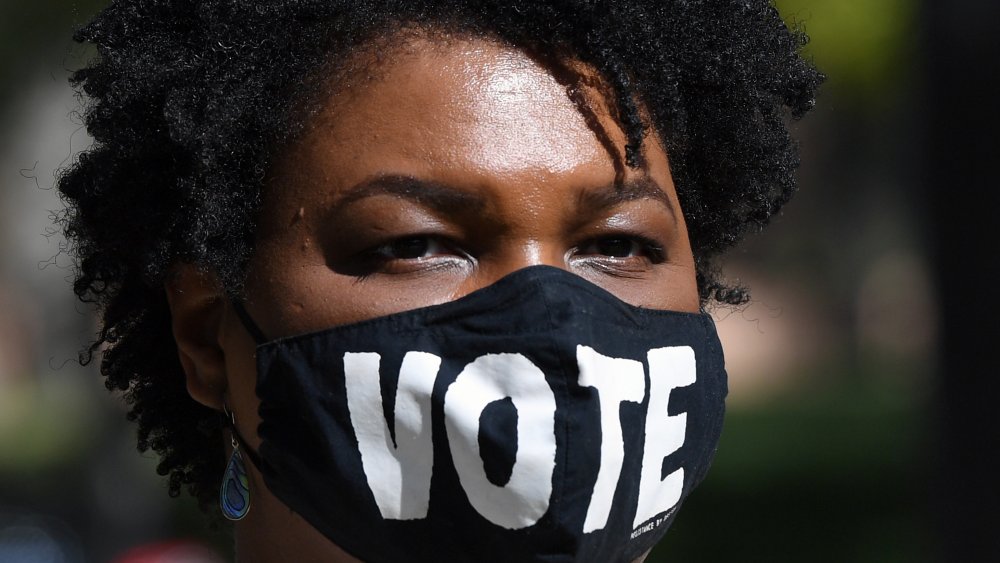 Ethan Miller/Getty Images
Stacey Abrams, who ran for governor of Georgia in 2018, is being hailed by Democrats and supporters of the Biden/Harris ticket as the unsung hero of the 2020 presidential race, which was declared won by former Vice President Joe Biden this afternoon, Nov. 7, 2020. You may not know her name if you live outside of the state of Georgia, but you should. After Republican Brian Kemp won the state's governor's race two years ago, a race mired in widespread irregularities and allegations of voter suppression, Abrams took it upon herself to mobilize an army of voters to break the long-held stronghold the Republican party has had on the state's politics, and begin to build a government that better represents the demographics of Georgia's diverse population. 
Her efforts focused mainly in metro Atlanta and in smaller predominantly Black cities and counties of the state. Her efforts may very well have helped Biden to receive the thousands of votes needed to scoot by Trump and flip the state, for the first time since 1992, blue (The Washington Post).
Abrams is being celebrated across the country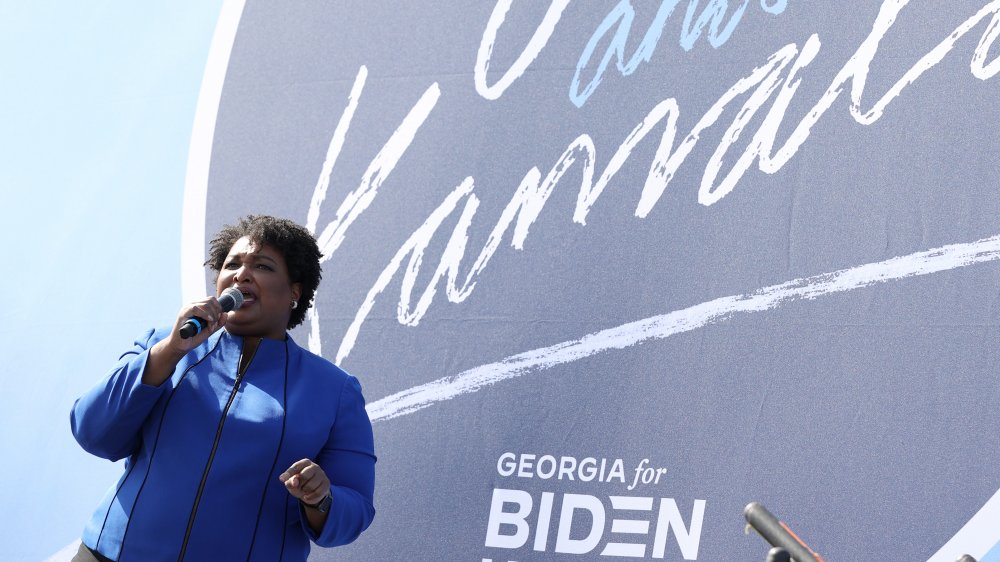 Justin Sullivan/Getty Images
Stacey Abrams would have been the first Black woman governor of Georgia had she won, but because of her work, the nation will now have its first POC woman Vice President. "It's not Black girl magic, it's Black woman Work," said Massachusetts Congresswoman Ayanna Pressley, who was herself re-elected this week. "[Abrams] alongside the coalition she has built [and] led, have been putting it in for our democracy" (Stylist). Author Roxane Gay agreed, saying Abrams "did an incredible thing...After losing her election due in large part to voter suppression, she continued to organize and work to ensure voting rights to the most disenfranchised people."
Just how much of an effect has Abram's work had? Roughly 800,000 voters registered in the state of Georgia between 2018 and the 2020 election, and half of them are people of color. And at the time of this writing, it is estimated that 93 percent of Black women voters in the U.S. voted for the Biden/Harris ticket; that is a higher proportion than any other demographic in the country.
Writer Maya Crockett leaves us with this powerful thought in her piece in Stylist: She calls Abrams "a political hero," but cautions, "She is not a superhero; she is a smart, determined, principled woman who has fought back tirelessly against injustice. We should all sing her praises. But white women in particular should be considering how we can be more like Stacey Abrams — not relying on women like her to save us." Over 52 percent of white women voted for Trump.