Jake Tapper Calls Out Kim Kardashian's Biden Victory Tweet With A Single Question Mark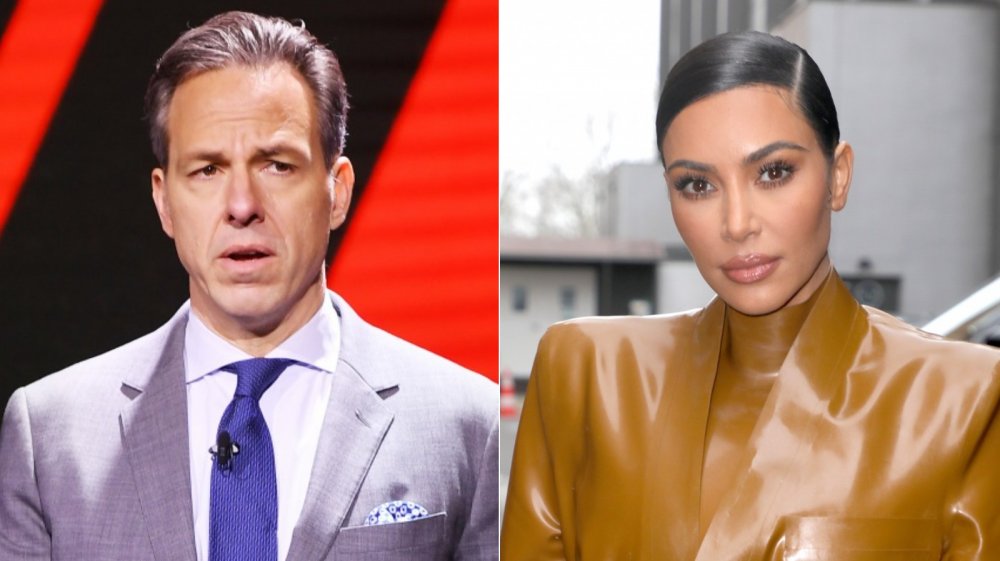 Dimitrios Kambouris, Pierre Suu/Getty Images
Plenty of celebrities have shared on social media how excited they are that Joe Biden and Kamala Harris headed to the White House, and among them was Kim Kardashian West who tweeted three blue hearts with a picture of the winning duo. It's a post that's left CNN anchor Jake Tapper confused; he replied with a single question mark.
His confusion could stem from the fact that Kardashian West's own husband (you may have heard of him) had a stunted presidential run himself this year. Kanye West managed to get on the ballot in 12 states, and according to Deadline, the singer's vote totals were at "exact count, as of 10:30 a.m. PT Wednesday, [...] 60,761."
Kardashian West never really campaigned or even much talked about her husband's presidential bid, but, according to ScreenRant, "Instead, she is just encouraging fans to vote on her incredibly popular social media pages without mentioning any specific name." So the now vocal public support after predominant silence during the election could be cause for puzzlement.
Kardashian West worked with Trump on criminal justice reform
Confusion could also come from photos of Kardashian West and outgoing president Trump this past year. The reality TV star, shapewear collection creator, and current law school student used her star power to help push for criminal justice reform. According to ABC News, "West has worked with the White House on criminal justice reform issues since 2018, when she appealed to the president directly to secure the commutation of Alice Marie Johnson, who served 21 years for a nonviolent drug offense, and has stayed in touch with the president's son-in-law and adviser Jared Kushner — who led the administration's push for prison reform legislation — ever since."
That said, looking back at Kardashian West's past support makes her Biden victory tweet pretty logical. According to Seventeen, Kim stated that she held "different beliefs" from Trump in an episode of Keeping Up With the Kardashians, and had actually endorsed Hillary Clinton when she ran for president in 2016. She also reposted a black and white "I Voted" Instagram picture on Election Day after the original version of her in a red shirt was interpreted by some to mean support for Trump.
No matter the case, it doesn't seem like there's too much love lost between Tapper and Kardashian. Back in April 2016, Tapper tweeted "Is Donald Trump the 'Kim Kardashian' candidate?" with a link to an analysis of then-candidate Trump — and the comparison wasn't a positive one.