Kamala Harris' Victory Speech Walkout Song Explained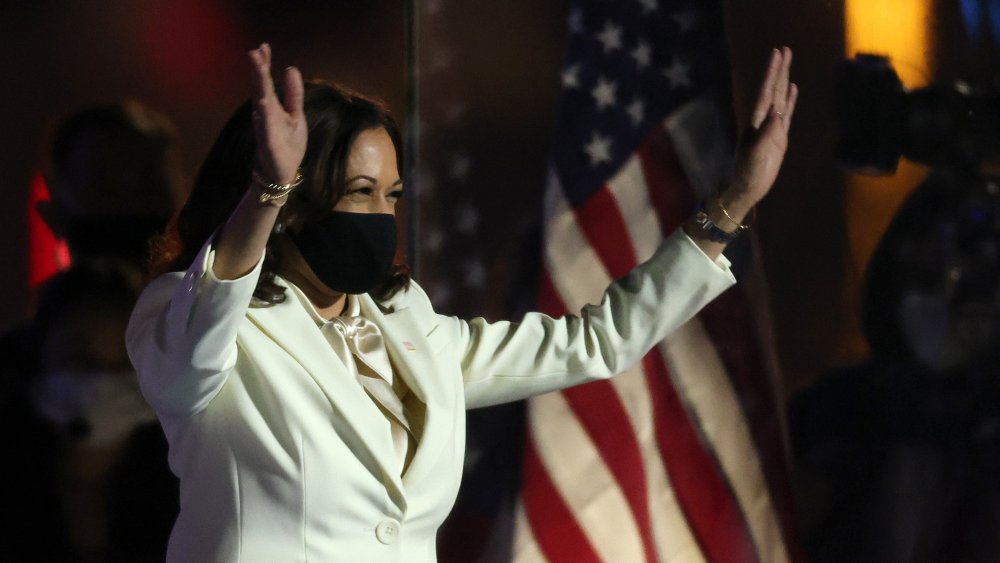 Win Mcnamee/Getty Images
Kamala Harris greeted ecstatic crowds in Wilmington, Delaware, beaming from ear to ear. "When the soul of America was at stake," she addressed the crowd. "You ushered in a new day for America." The vice-president-elect has never lost an election before, and there's a good argument to be made that with every election she's won she's broken a glass ceiling. But on November 7, 2020, Kamala Harris shattered it. She stood in front of cheering crowds as the first woman, and the first woman of color, getting ready to serve as vice president of the United States of America.
And while Harris didn't address her personal achievements from the get-go, she didn't have to. Her walkout song, "Work That" by Mary J. Blige, did it for her. It was the same song Kamala Harris walked off the stage of the Democratic National Convention to after becoming the first woman of color to be nominated to a major political party's presidential ticket in United States history (via HITC).  
Mary J. Blige's "Work That" is all about empowering women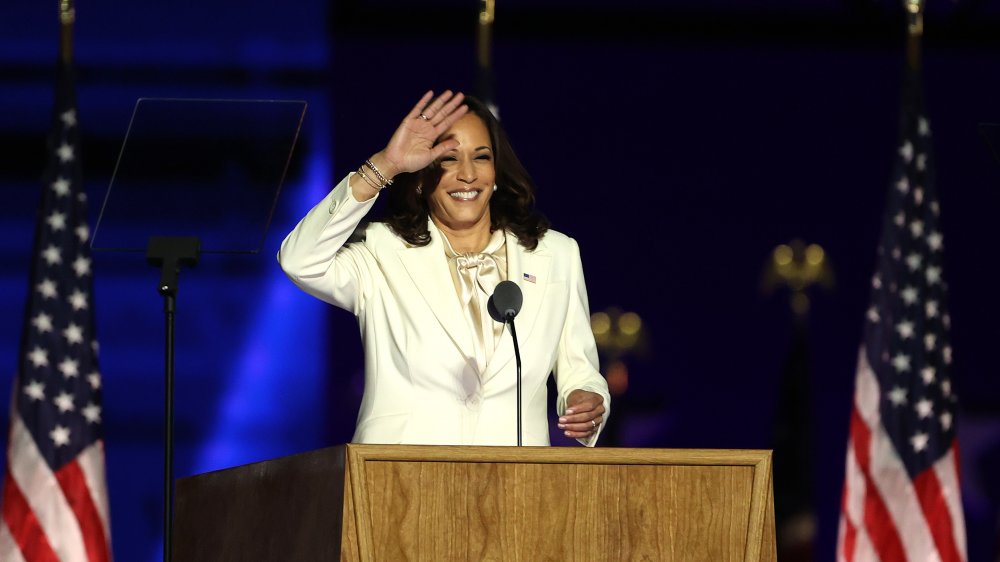 Tasos Katopodis/Getty Images
"I hear you been running, from the beautiful queen, that you could be becoming," sings Mary J. Blige in "Work That" (via YouTube). She continues, "Just because the length of your hair ain't long, And they often criticize you for your skin tone, Wanna hold your head high, Cause you're a pretty woman ... Read the book of my life, And see I've overcome it." Echoing these lyrics, along the campaign trail, Harris often spoke about setting an example for others to follow. She did so again twice today. Once, via Twitter: " While I may be the first woman in this office, I will not be the last — because every little girl watching tonight sees that this is a country of possibilities," she promised. And she did so, again, when she walked out on the stage in Wilmington, Delaware to Blige's hit song. 
How does Blige feel about Kamala Harris using "Work Out" as her campaign anthem? When, after this year's Democratic National Convention, Mary J. Blige found out that Kamala Harris had used her song, she was astounded. She told Andy Cohen, that "It was just overwhelming it blew me away. I didn't know, I was so surprised and blown away that she chose it ... "to have it be a part of our history is just crazy" (via HITC).