Maya Harris' Tribute To Her Sister Is A Total Tearjerker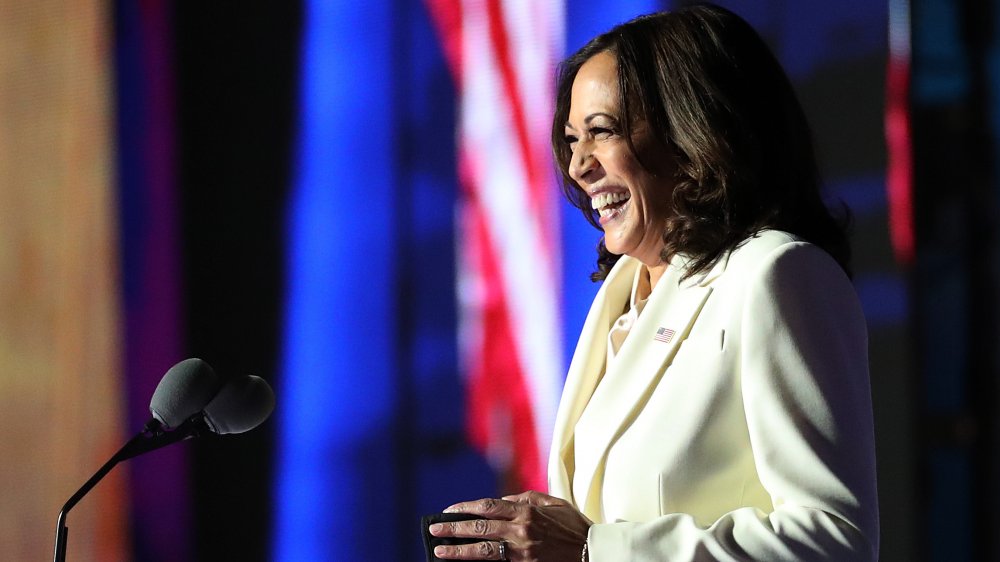 Drew Angerer/Getty Images
Vice President-elect Kamala Harris' devotion to her mother is campaign lore, as were the hurdles her mother had to overcome to carve a niche for herself in the United States. "My mother, who raised me and my sister, was a proud woman. She was a brown woman. She was a woman with a heavy accent. She was a woman who, many times, people would overlook her or not take her seriously. Or because of her accent, assume things about her intelligence. Now, every time my mother proved them wrong," Harris has said on the campaign trail (via NBC News).
Hours after Kamala Harris made history as the country's first woman, and the first person of color to be nominated to the post, Maya Harris, her sister, posted a black-and-white photo honoring their mom Shyamala Gopalan with the caption: "Mommy taught us we could be and do anything. She would be beyond proud today."
Maya Harris' tweet drew social media kudos
The tweet drew more than 100,000 likes, as well as congratulations from well-wishers. The post also resonated with immigrant parents and women on social media, with one tweeting: "I was born in India and I have never been more proud of my heritage until now." Another posted: "My mother is an immigrant from Asia and she raised her two daughters to be resilient and sympathetic. I'm the same age as @KamalaHarris and also a lawyer and politician. I cannot tell you how proud I'm of you, your sister and your dear mom. Congratulations and God Bless!" Another wrote: "From a fellow Indian woman, with 2 half Indian daughters, thank you to your mommy, to Aunty, for her power and giving her daughters this power."
And within the tweets, there was one that acknowledged the sacrifices undertaken by Shyamala Gopalan herself: "In you & your sister, I see her strength. I see that a single mother can do everything in her power to raise her children to be a light in the world. We are overjoyed that Kamala will be the VP" (via Twitter).