Kamala Harris Seems To Deliver A Victory Speech One-Liner To Trump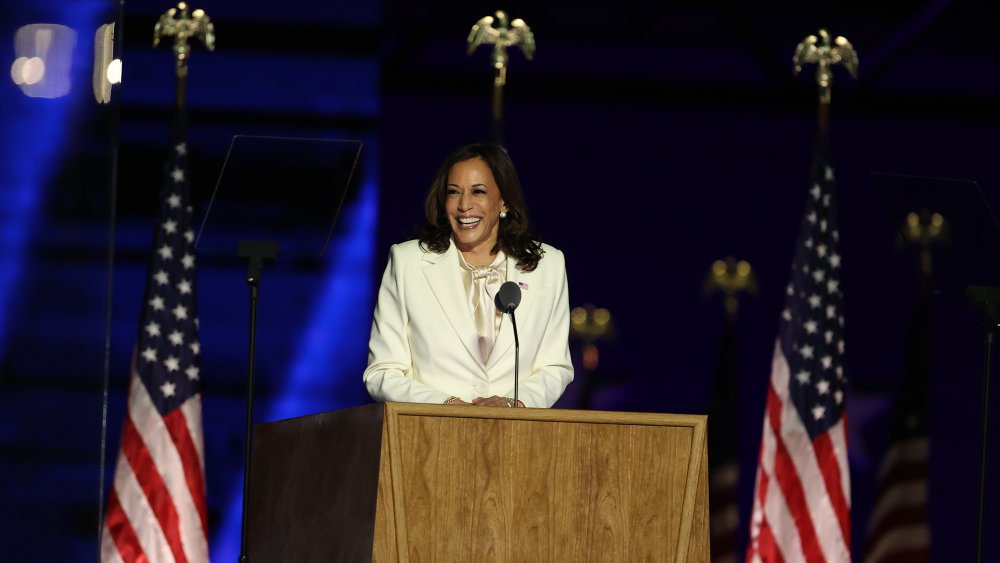 Tasos Katopodis/Getty Images
When the Biden-Harris campaign held their first victory event in Delaware, the stage went first to the Vice President-elect Kamala Harris who was given the platform and opportunity to thank the campaign workers, and to acknowledge the history that was being made as a result of her election. Harris wore white, a possible acknowledgement to the suffragette movement (via Twitter). And in her speech, she acknowledged the hardships and the work that went into the victory. "I know times have been challenging. Especially the last several months. The grief, sorrow, and pain, the worries and the struggles, but we have also witnessed your courage, your resilience and the generosity of your spirit. For four years, you marched and organized for equality and justice, for our lives and for our planet and then you voted," she said (via CNN).
She continued: "And you delivered a clear message. You chose hope and unity, decency, science, and yes, truth. You chose Joe Biden as the next president of the United States of America."
The closing lines of Harris' speech may have been meant for President Trump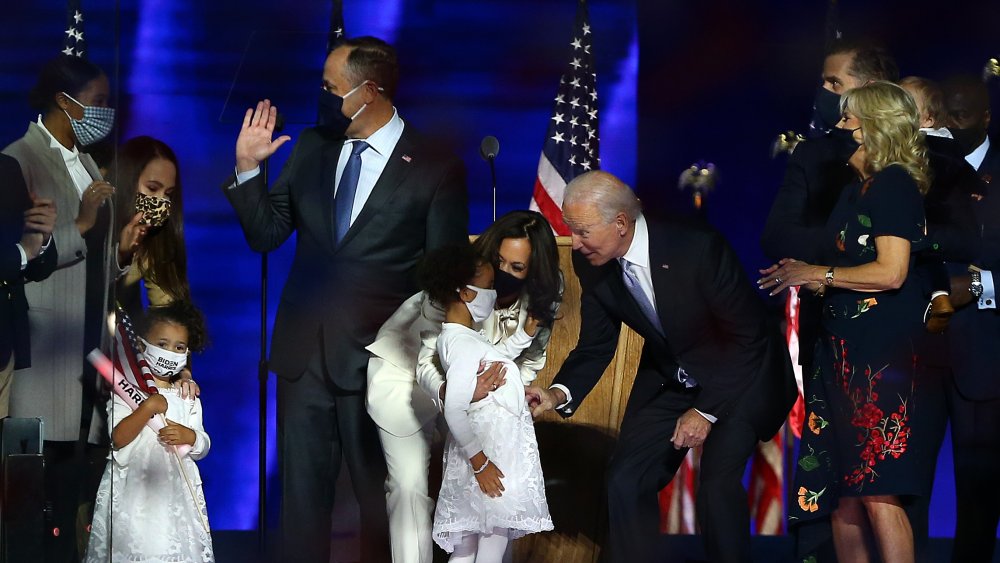 Tasos Katopodis/Getty Images
Her last line seemed to be aimed at President Donald Trump, and it resonated with social media. "I am happy and humbled and so proud to be one of the Americans on the side of Decency, Honesty and Justice. I'm sorry for those 70 millions that worship Corruption and Meanness but at least they will be safe and protected with President Biden. Goodness won. God Bless America!" one supporter tweeted. Another posted: "Decency. After four years ... four long years I had almost forgotten what a leader with even the most basic level of human decency was like. Thank you @JoeBiden and @KamalaHarris." A third social media user tweeted: "TRUTH! JUSTICE! And the African-Indian-Female-American way!" along with #LikeABoss and #HistoryMade. 
One of the most touching responses to the Vice President-elect's comment was a meme depicting a photo of former President Barack Obama carrying a baby girl, standing before the portrait of Abraham Lincoln at the White House. The meme simply said, "Madam Vice-President."