Joe Biden's 'Note To Self' From 2016 Will Bring Tears To Your Eyes
In 2016, Joe Biden shared his story on what would go on to become an Emmy-nominated series for CBS called "Note to Self." In it, he talks about his childhood, political career, and personal tragedies that defined him as a public servant. He begins by revealing a painful childhood memory. "Dear Joe," he reads, "You're only 12. Your stutter is debilitating. It embarrasses you. And the bullies are vicious. Listen to Mom when she says, 'bravery resides in every heart, and yours is fierce and clear.' Listen to Dad when he says. 'Joey, when you get knocked down, get up, get up.' Because if you listen, you'll summon the bravery to overcome the stutter, and you'll learn to stand up to bullies."
What follows is a mini-autobiography of Biden's political ascent, his years as a senator, and eventually, his role in the historic Obama White House. He says: "You'll learn from Dad, who moved the family to look for work, that a job is about a lot more than just your paycheck, it's about dignity, it's about respect. And that's why you'll follow your heart and serve your community, your state, and your country."
Biden: "Something good will come if you look hard enough"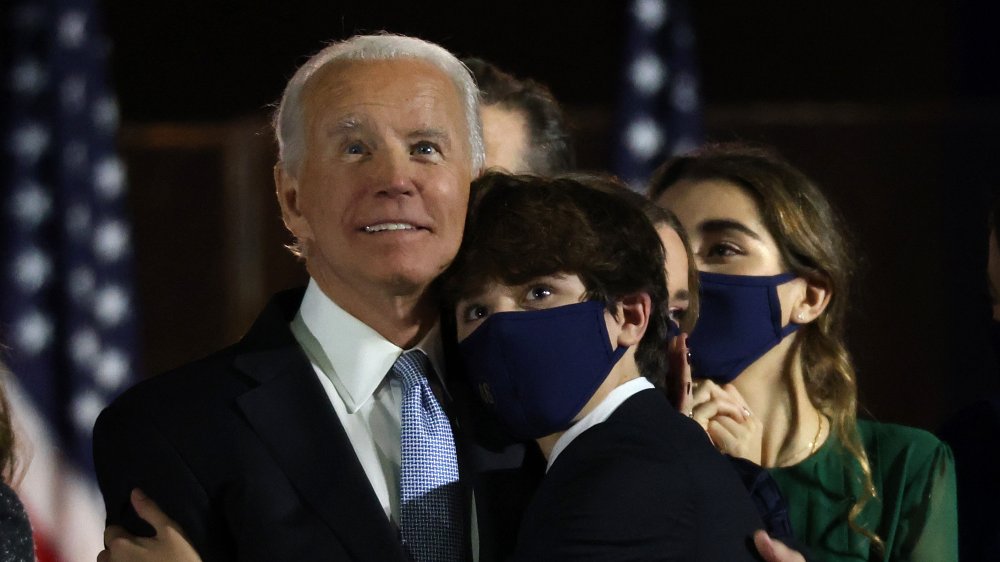 Win Mcnamee/Getty Images
He even addresses the heartache that came with losing his first wife Neilia and their daughter Naomi, and then later his son Beau. "One day you'll be on top of the world, only to be brought down in a flash with a profound loss and a grief that leaves a black hole in your heart, questions of faith in your soul and an anger, anger beyond rage. That's when you'll have to dig deep and live what Mom taught you — that out of everything terrible that happens, something good will come if you look hard enough. You'll hold on with faith and pure grit" (via WTOP News).
Biden's victory at the polls gave CBS the chance to give the segment a fresh airing, and sure enough, audiences went back to take a second look. "'You realize that countless people have suffered equally or more, but with much less support and much less reason to want to get up. But they do, they get up. They keep going. And so must you.' Powerful. Gracious. Congratulations on your new president, US," one social media user tweeted. 
Biden's 12-year-old self would undoubtedly proud of his future accomplishments. And the night of his presidential victory speech arrived 48 years to the day after he was first elected to the senate, The New York Times tweeted.