Ariana Grande's Newest Project Will Make Animal Lovers Happy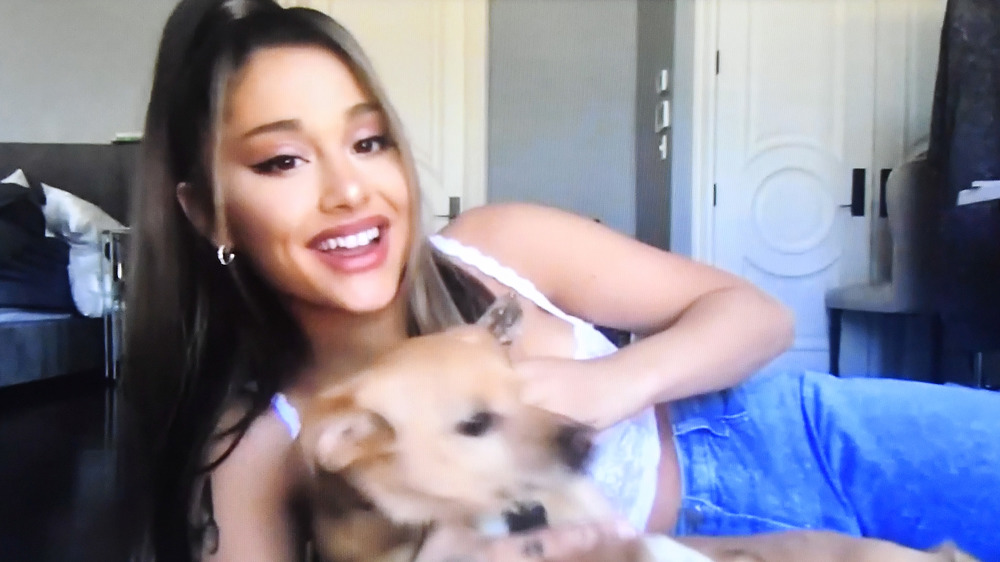 Frazer Harrison/Getty Images
Ariana Grande is famous for being many things: a pop star with a vocal range to rival even the great Mariah Carey, an actress, an outspoken feminist, and an aficionado of the sleek high ponytail, to name just a few. Fans of the pint-sized singer-songwriter will know that she's also a proud animal lover, even adopting late ex-boyfriend Mac Miller's dog following his tragic 2018 death. 
Grande previously opened up to Billboard back in 2015 about her love of rescuing pooches, explaining, "I got involved with dog rescues by simply loving animals. Dogs are the most harmless, sweetest babes in the world. They show nothing but unconditional love, so they deserve that in return." At the time, the chart-topping artist shared that her mission was "to help as many homeless dogs as I can find loving families who will cherish them." While she considers singing to be her passion, Grande admitted that without spreading awareness about the causes that matter most to her, "I'll feel like I'm doing this for no reason." 
Now, the "Positions" hitmaker is making an even bigger difference with the announcement of her brand-new, animal-loving initiative. Let's learn more about Ariana Grande's latest project.
Ariana Grande wants to ensure needy dogs get the homes they deserve
As Billboard notes, Ariana Grande currently has 10(!) dogs in her care — namely, Cinnamon, Coco, Fawkes, Lafayette, Ophelia, Pignoli, Sirius, Strauss, Toulouse, and of course, the late Mac Miller's pooch, Mryon — all of whom are rescues. The Grammy Award-winning artist frequently posts snapshots of herself cuddling up to them on Instagram, and has often been captured by paps walking her adorable pups.
Now, she's turning her attention to opening a new rescue center in Los Angeles. Entitled Orange Twins Rescue, the official site will be updated soon, with Grande tweeting in Nov. 11, 2020, "We are so happy, proud and excited. our site coming soon." The center's Twitter page already has tens of thousands of followers, while its Instagram boasts even more — so evidently, interest in the "7 Rings" singer's latest venture is high. "Our mission at Orange Twins Rescue is to advocate and rescue any animal in need," the center's website states. 
With the non-profit launching just a couple weeks after Grande released her sixth studio album, Positions, she's proving once again that she's multi-talented in every conceivable way.