What You Don't Know About Prince Harry And Jill Biden's Friendship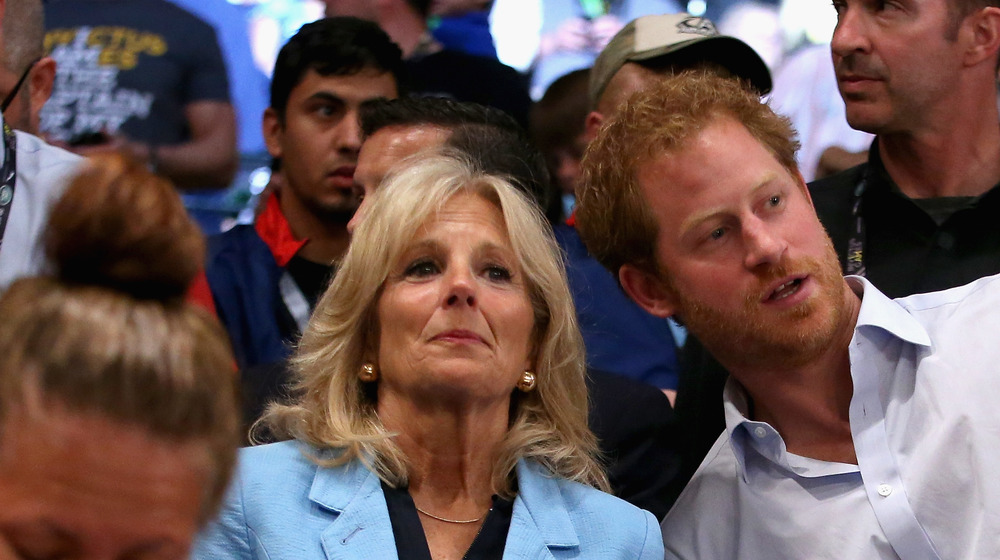 Chris Jackson/Getty Images
When the presidential reins are officially turned over to Joe Biden in January, he and his wife, Jill, will be forging bonds with a wide variety of international leaders and dignitaries. But one notable name will need no introduction: The First Family-elect already has a warm relationship with Britain's Prince Harry and his wife, Meghan Markle. The two power couples have been chummy ever since the prince visited the U.S. back in 2012 during the Obama administration.
The Duke of Sussex and the future First Lady, in particular, seem to have hit it off especially well. As the Daily Mail reported, the two found common ground over their support for the military; Prince Harry served in the British Army, while the late Beau Biden, Joe Biden's son from his first marriage, was an army major. When the Bidens visited England in 2014 for the inaugural of the Invictus Games — a sporting event created by the Duke for wounded veterans — Biden joked that his wife was "spending too much damn time with Prince Harry!" (per The Mirror).
Not everyone approves of Prince Harry & Jill Biden's friendship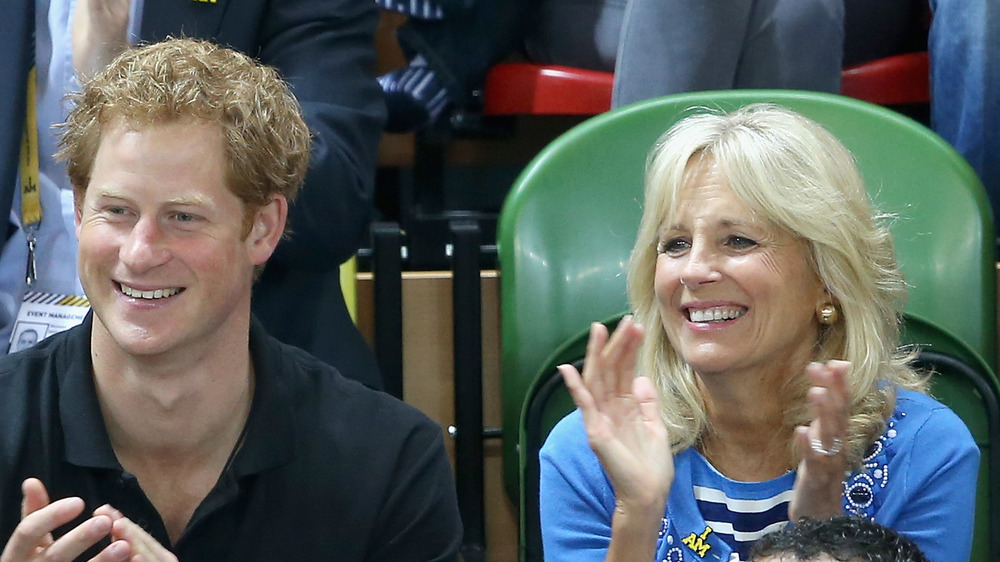 Chris Jackson/Getty Images
A cordial working relationship between world leaders is to be expected, but there was no love lost between Prince Harry and President Trump over the last four years. As Insider notes, the President was less than pleased with Meghan Markle's public remarks about him, calling her "nasty," and Harry seemingly tried to avoid being photographed with him. Still, the royal couple's actions during election season came as a surprise to many — and not a pleasant one. The Sussexes made a video for Voter Registration Day urging Americans to vote, with the Duke adding, "It's vital that we reject hate speech, misinformation, and online negativity." 
The message was widely interpreted as a jab at Trump and an endorsement of their friends the Bidens (per The Guardian), not to mention a violation of protocol. While Harry has relinquished his status as a working royal, he's still a member of the family, and British monarchs are expected to stay out of politics. But as he has proven time and again, he's determined to follow his own path, and when the Bidens take up residence in the White House, it's a pretty good bet that the welcome mat will always be out for the Duke and Duchess of Sussex.