Ellen's People's Choice Awards Win Has People Seeing Red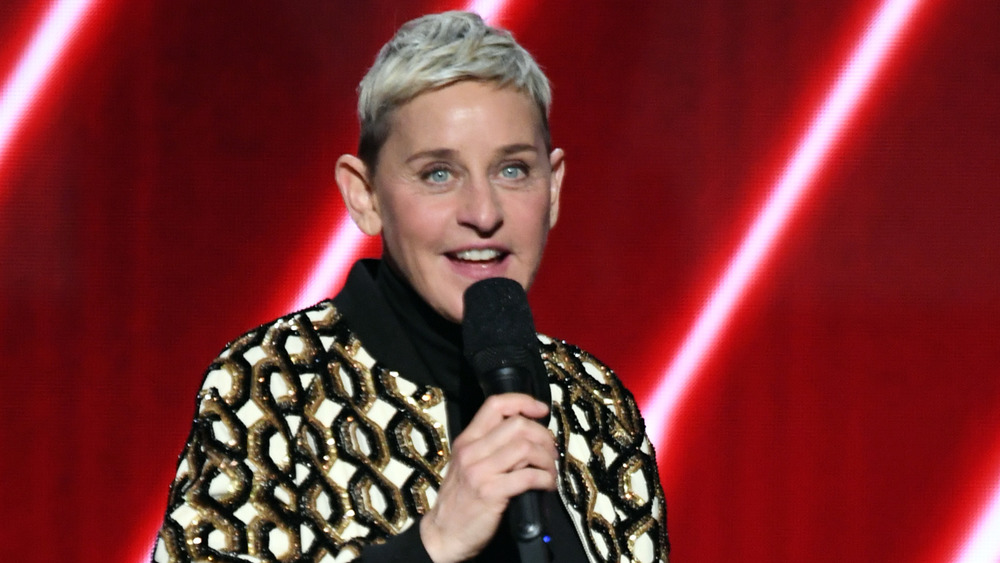 Kevin Winter/Getty Images
The E! People's Choice Awards have been an annual tradition for decades, whose popularity endures because of its unique concept: Instead of industry insiders choosing the winners, it's the average public who decides which entertainers brought them the most joy over the past year. But one of the winners of the 2020 People's Choice Awards is making viewers wonder whether the "people" really made the selection. 
The Daytime Talk Show award nominees read like an honor roll of morning TV (per E! News). Among them: Today, The Kelly Clarkson Show, Good Morning America, Red Table Talk, The Wendy Williams Show, The View, and Live With Kelly and Ryan. But when the envelope was opened, Ellen DeGeneres was the name on the paper. True, The Ellen DeGeneres Show has been a fixture of daytime TV since 2003 (per IMDb), and millions tune in to watch the comedian banter with A-list guests. She was once even known as "The Queen of Nice" for her aw-shucks personality. But this year, that sweetheart rep was tarnished by allegations by former staffers on DeGeneres's show that the workplace was a hostile and even racist place to work (via BuzzFeed). DeGeneres was shamed into offering an apology (per New York Times) saying that "things happen here that should never have happened."
Not everyone thought the win was deserved
The People's Choice Twitter account quickly lit up with messages from fans who thought the win was undeserved at best, and at worst suspicious. One viewer tweeted, "So we just gonna ignore how she treated her staff then?" Another replied, "Yep. It appears the #MeToo movement was just a moment. Just like the movement in support of Anita Hill." Other responses were short but not-so-sweet: "Yikes." "Ew." "Trash." "Not deserved."
But not all the reaction was negative. DeGeneres got Twitter love from fans, such as this one who replied: "YYYAAASSSS Congratulations @TheEllenShow." Or this one: "She's a baddy too! Love her." An Ellen fan defended her: "I heard that it was never her but her boss as she is the nicest person behind stage."
Was Ellen a true "people's choice," or was this a case of voting shenanigans behind the scenes? Whatever the case, her trophy tonight will take its place among the more than 20 People's Choice Awards she already has on her shelf (via Today). And DeGeneres made sure to thank her "amazing" staff in her acceptance speech, as well as her fans (per E!):  "Thanks for all of my fans for supporting me and sticking by me, I can't tell you how grateful I am and what this means to me... especially now."