Dustin Johnson's Emotional Masters Interview Has People Talking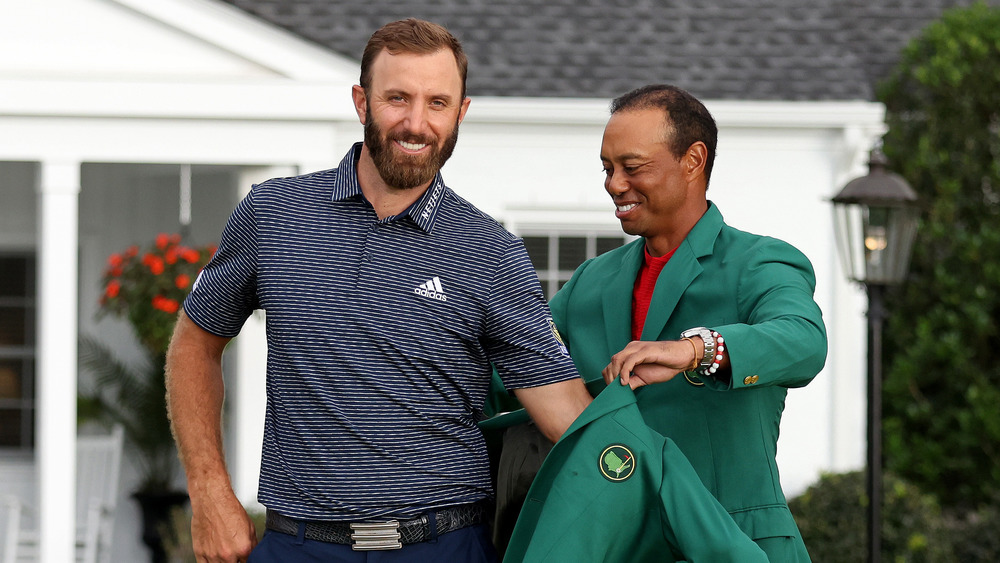 Jamie Squire/Getty Images
Golf fans are understandably overwhelmed right now after watching Dustin Johnson not only win the Masters for the first time, but win with the lowest score in tournament history. In four other tournaments the pro went into the final day with a competition lead, only to lose out in the end, but not this time. His dedication and hard work has finally paid off, and it's obvious that both Johnson and fans of the sport are emotional over his win.
The son-in-law of hockey great Wayne Gretzky couldn't stop the tears when interviewed after donning the coveted green jacket with the help of fellow competitor Tiger Woods. Wiping tears and seemingly so overcome he was unable to talk, Johnson eventually squeaked out, "I've never had this much trouble gathering myself. On the golf course, I'm pretty good at it (via ESPN)." Before being completely overwhelmed by the winning moment, the 36-year-old revealed, "It's a dream come true. As a kid, I always dreamed about being a Masters champion." And as the tears started flowing, he poignantly conveyed, "It's hard to talk. It's just incredible, obviously, as you can tell (via CBS Sports)."
Fans on Twitter are ecstatic over Dustin Johnson's win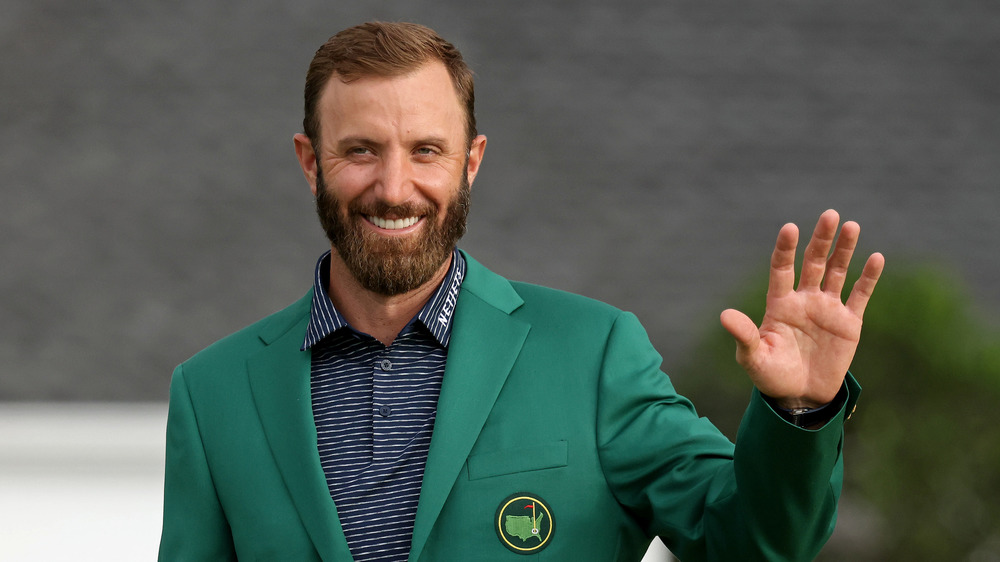 Rob Carr/Getty Images
In probably the shortest post-win interview in Master's history, all that had to be tweeted was Dustin Johnson getting choked up and wiping away tears with the caption, "It all sinks in. #themasters."
Fans can't get enough of the moment and are sharing their joy with the longtime pro-golfer. Twitter user posted what all golf lovers seem to be feeling tonight, "Extremely happy for DJ! The emotions he displays is what makes this tournament my favorite to watch. Each year I consider it a major Holiday, no matter when they play it! It is special and you can see what it means to the winners who achieve the green jacket! Congrats." Another fan got more personal, tweeting, "A true, deserving Masters Champion. He's just confirmed to any doubters, that he's in a league of his own."
It certainly was well deserved, and as Johnson revealed to CNN, "Honestly, it still feels like a dream. As a kid, dreaming about winning and having Tiger put the green jacket on you, it still seems like it's a dream, but I'm here and what a great feeling it is and I couldn't be more excited."