Demi Lovato's One-Liner At The People's Choice Awards Turned Heads
2020 really has been an eventful year for all of us, and that includes the rich and famous. Like many, actress, singer, and esteemed People's Choice Awards host Demi Lovato saw a lot of ups and downs this year, including a short lived engagement (just two months) to soap opera star Max Ehrich, according to People. Though some of us may still be reeling from all the curveballs this year has thrown, Lovato seems to be healing well from this breakup at least; making light of the situation with a self-deprecating one-liner during the awards ceremony. "I got engaged. I got unengaged," stated the singer, which E!News tweeted with the addition "2020 in a nutshell?"
Fans of Lovato were quick to tweet support for the pop star, calling her a queen and declaring their undying love. "Your best decision! WE LOVE DEMI LOVATO SINGLE," wrote Lovato fan account @LOVATICDCORAZ0N. "LEGEND," wrote a few others, simply summing up many fans' feelings about the frank statement. Even more expressed how hilarious they felt the one-liner was, replying with countless lols and lmaos to the E!News tweet.
Why Demi and Max had to call it quits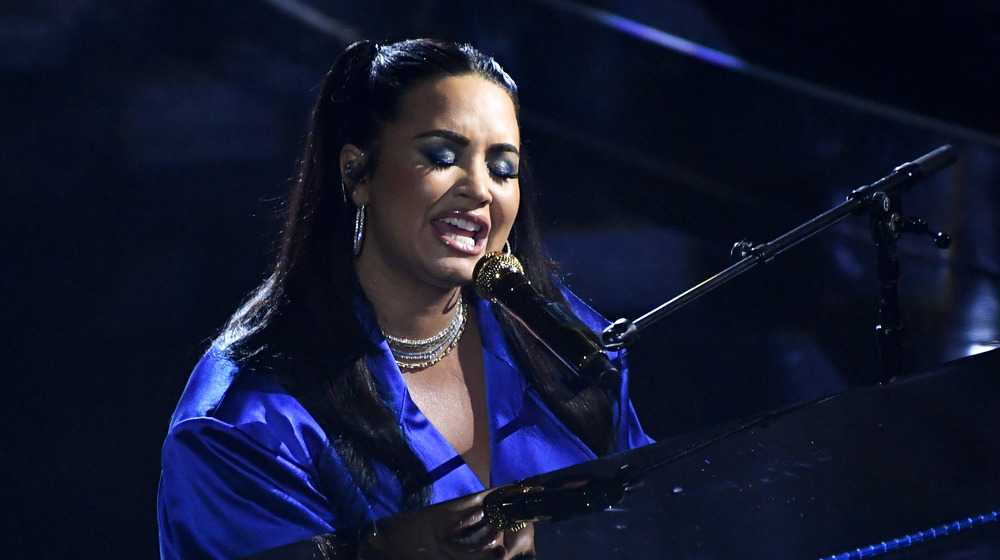 Kevin Mazur/bbma2020/Getty Images
Demi Lovato's cavalier attitude towards some of the events of 2020 are super relatable to many of us who have been feeling overwhelmed this year and are now just so over it. Lovato's relationship with the The Young and the Restless actor began almost as quickly as the engagement ended, with the pair dating only four months before becoming engaged (via People). Sadly, the whirlwind romance ended because, according to E!, the star realized she did not know as much about her then fiancé Ehrich as she had previously thought. A source told the outlet that the two argued frequently post-quarantine, and Lovato was concerned about his intentions, with family and friends warning her they worried he might be untrustworthy.
While ending things was what Lovato felt was best for her, she and Ehrich appear to harbor no ill feelings towards one another. "It was a tough decision, but Demi and Max have decided to go their separate ways to focus on their respective careers. They have respect and love for one another and will always cherish the time they spent together," a source told People following the break up. We're just glad Lovato seems to be taking the heartbreak in stride and focusing on staying healthy and working on herself.