Here's What Chloë Grace Moretz Looks Like In The New Tom And Jerry Movie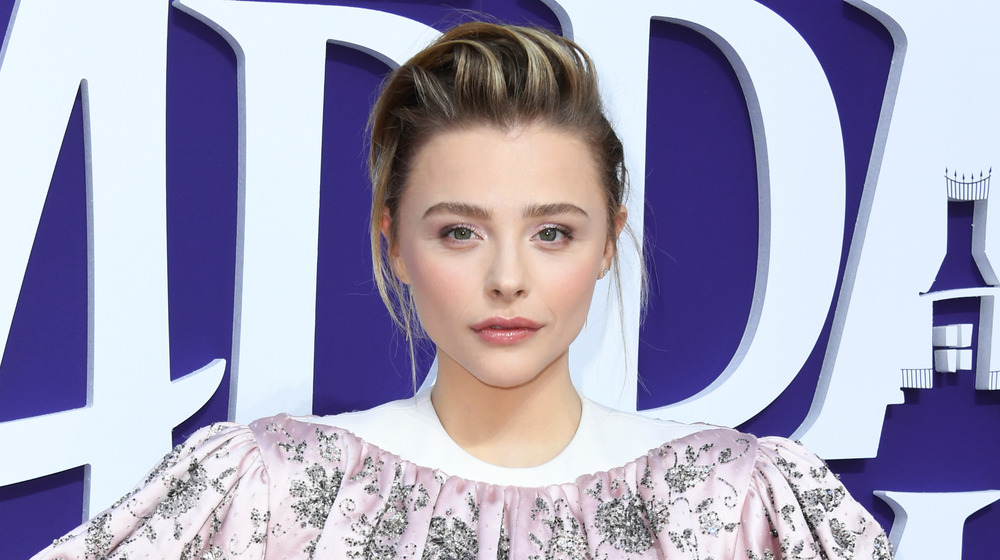 Jon Kopaloff/Getty Images
The most famous cat and mouse duo in the world is back and getting the big screen treatment once again. As ET Canada reports, Tom and Jerry are appearing in a brand-new movie for the first time in close to 30 years (they previously starred in 1992's Tom and Jerry: The Movie). As Warner Bros. enthused in a press release, "One of the most beloved rivalries in history is reignited when Jerry moves into New York City's finest hotel on the eve of 'the wedding of the century,' forcing the event's desperate planner to hire Tom to get rid of him."
They added that, unsurprisingly, "The ensuing cat and mouse battle threatens to destroy her career, the wedding and possibly the hotel itself." The "her" in question is Kayla, played by none other than Chloë Grace Moretz, who made her name in the decidedly not kid-friendly superhero movie Kick-Ass, and has filled the ensuing years with take-notice roles in the likes of Let Me In, Carrie, and Greta. Although Moretz is used to facing off against dastardly foes, judging by the first trailer for the movie, Tom and Jerry might be her fiercest challengers yet.
Chloë Grace Moretz is showing off her comedic chops
Warner Bros. describes the upcoming movie as "an eye-popping blend of classic animation and live-action," which, "stakes new ground for the iconic characters and forces them to do the unthinkable... work together to save the day." The look of the film is similar to the iconic Who Framed Roger Rabbit, but Moretz is all-business in a sharp skirt-suit with matching tie. Naturally, her character is pretty shocked by the antics of the trouble-making duo. The actress told People she had "so much fun" making the movie, describing her character as "a lot like Jerry" and a "total goofball." Although she's known predominantly for her darker roles, Moretz argued Tom and Jerry gave her the opportunity to flex her comedic muscles.
The actress is a massive fan of the iconic cartoon, admitting she's been watching it "for as long as I can remember." Performing alongside Tom and Jerry was good fun but "the biggest challenge was working opposite nothing being there" as "Tom was a stick with a name tag (seriously)" while Jerry was a small scale model. Still, Moretz acknowledges, "It was very interesting to be able to improv opposite nothing and create with the animators and push the boundaries of what we could achieve." Tom and Jerry is directed by Tim Story (2005's Fantastic Four, Think Like a Man and Barbershop) and also features Colin Jost, Ken Jeong, Michael Peña, and Rob Delaney among its human cast.