Obama's Donald Trump Joke On Jimmy Kimmel Is Turning Heads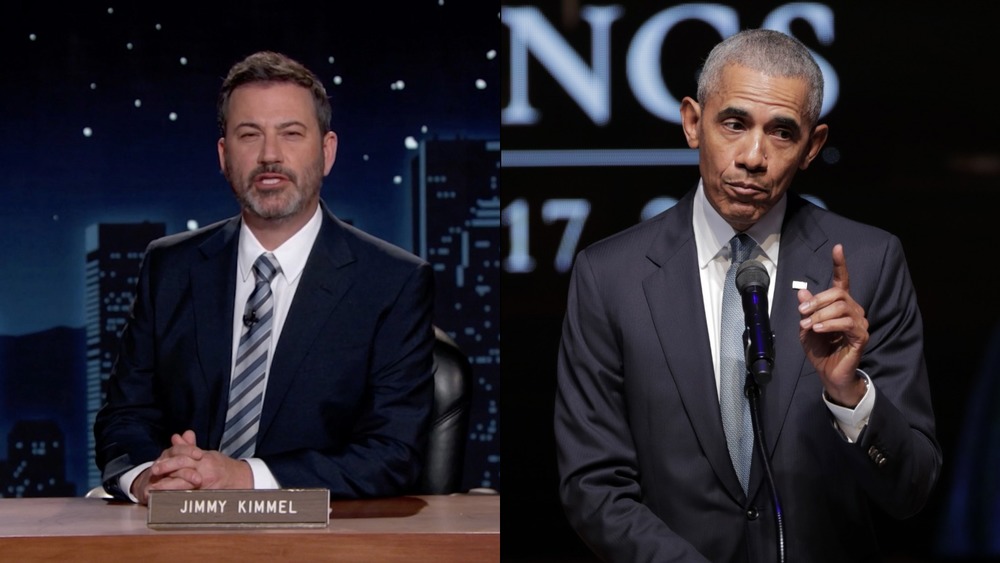 Getty Images, Pool/Getty Images
People are snapping Barack Obama's new memoir, A Promised Land, as if it were the last piece of pumpkin pie at Thanksgiving. On its release date (Tuesday, November 17, 2020), the book in all of its forms sold 890,000 copies, setting a record for Penguin Random House, says Forbes. In comparison, George W. Bush and Bill Clinton sold only 220,000 and 400,000 copies respectively, on their first days out. Michelle Obama's best-seller, Becoming, sold 725,000 copies on day one. That's something that Barack tries not to "rub it in over dinner," as he shared on an episode of Jimmy Kimmel Live. Besides, Michelle doesn't mind. Her attitude, as paraphrased by Barack is, "Boy, you go out and sell some books, that's fine, because that will pay for some of my shoes." Good on her.
Earlier this week, Obama sat down with NPR's Michel Martin to talk about A Promised Land. "President Trump is refusing to concede. How do you understand that?" Martin asked. Obama's answer was sobering. "I take it seriously," the former president replied. "It is yet one more example of how Donald Trump's breach of basic democratic norms is hurting the American people." 
Kimmel couldn't help but breach the subject as well. This time, Obama had a slightly different take on the issue. 
How Obama proposes to remove Trump from the White House if he doesn't go willingly
Kimmel was admittedly less diplomatic than Michel Martin in his approach to the matter. "You know the White House well," Kimmel prefaced his question. "Are there places someone could hide if they were being removed, are there little cubby holes or anything we should worry about?" This is where it gets good. "Well," Obama mused with a smile, "I think we can always send the Navy Seals in there to dig him out."
And so, thanks to Obama, the Twitterverse has found the fodder for yet another cause célèbre. While more conservative Twitter factions are busy screaming that his joke was paramount to "Making death threats agains the current president" and comparing the statement to the way that "Booth threatened Lincoln," others are busy adding onto Obama's quip. "If that happened, boy would Trump's adult diapers come in handy," tweeted one user. "Put it on pay per view, and I'll subscribe," begged another.