The Reason Chris Pratt Told Chris Hemsworth To Gain 25 Pounds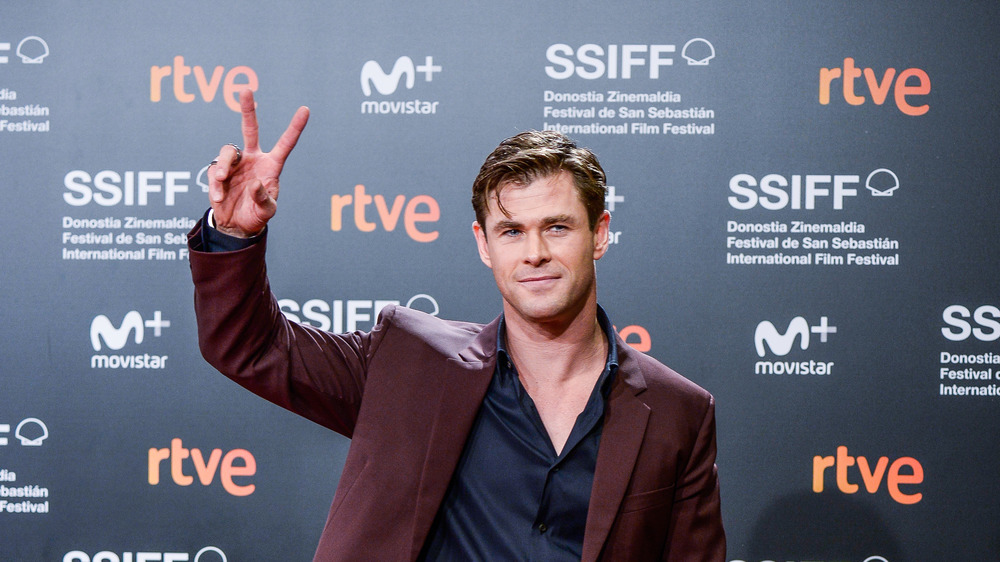 Carlos Alvarez/Getty Images
With Marvel's newest upcoming film in the process of being filmed, the superhero cast are working hard to look their best. Thor: Love and Thunder is scheduled to begin filming in early 2021, and will star the usual suspects within the Marvel Thor franchise: Chris Hemsworth, Tessa Thompson, Natalie Portman, and more (via Variety). However, due to an unexpected turn that the Thor storyline has taken, audiences will see some familiar faces with the Guardians of the Galaxy diegesis appear in the new Thor film, including Chris Pratt as Star-Lord.
The Marvel cast have always had some hilarious banter that they have no problem sharing with the world — it's one of the reasons that we have absolutely fallen in love with the group of people. Their relationships on set and in real life truly meld into the characters they play on screen. Well, Chris Pratt has had some words to share with Chris Hemsworth as of late.
Pratt couldn't help but show his goofy side in the comments of Hemsworth's Instagram post
It's no secret that in order to be a Marvel superhero, you have to be in fantastic shape. Hemsworth plays Thor, the god of lightning and thunder — but we're starting to think that he might be a real life god after seeing photos this past weekend of his work out routine (via People). "Cheat day today. Decided to treat myself to this extra large donut, gosh it's heavy," he jokingly captioned the photo. He's pushing over a gigantic tire in the photo, his muscles making a full appearance.
It seems that Pratt had decided to knock the god-like athlete down a few pegs by jokingly commenting, "Hey bud. Just heard from my trainer and he needs you to stop working out because since we're gonna be in the same movie and everything he doesn't want me to stand next to you if you look like that." But he couldn't leave Hemsworth's comments section without adding, "I'm gonna need you to put on 25 lbs real quick cool thanks."
The playful banter continued when Hemsworth commented back, "Don't worry mate we can just both use the same fancy filter that's been applied here," the actor joked. "It's called instashred."
We don't know about you, but we're even more excited for February now!