Twitter Has Some Unflattering Comparisons For Tyra Banks' DWTS Finale Dress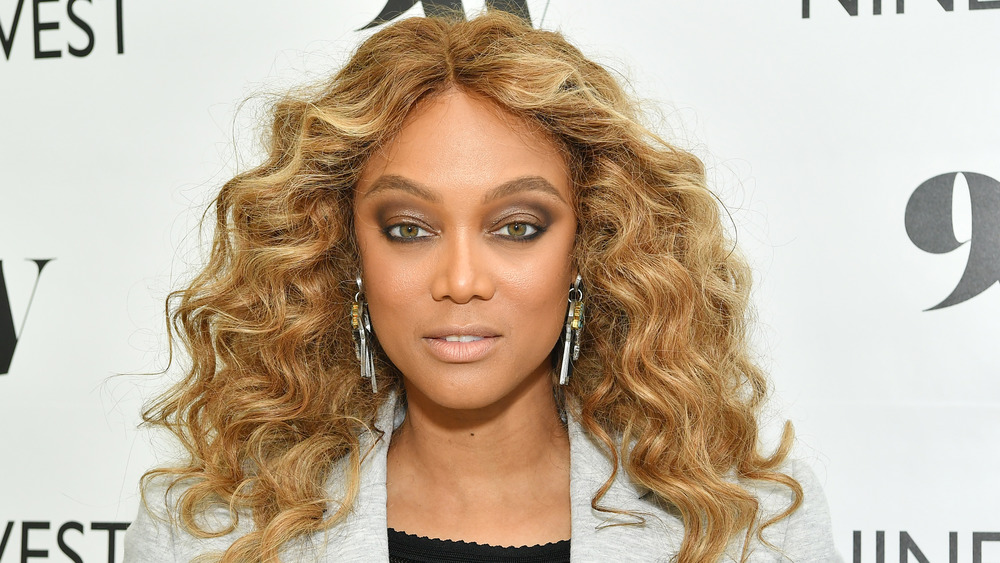 Amy Sussman/Getty Images
Tyra Banks has got an impressive resume. Former supermodel, actress, and host of America's Next Top Model. Yes, her resume shows she has made some solid decisions in her lifetime. That is why we were shocked to see her choice of gown at the most recent finale of Dancing With the Stars. And we weren't the only ones. Twitter appears to be jabbering away over the DWTS host's choice of ensemble. Here is what some are having to say about it.
During the course of the finale, Banks changed her gowns (or, costumes) a number of times. One of Bank's garments was a flouncy, pale blue number, with more light as air layers than a croissant. This is the look that has Twitter chattering and comparing the look to a multitude of cleaning products. One user writes, "I don't know who designed that dress, but Tyra Banks blue dress looks like an SOS scouring pad." Another user writes, "@tyrabanks looks like she is sponsored by @Swiffer (her dress could really clean my floors)".
Banks admits that she was nervous
Not everyone was as harsh. Previously eliminated DWTS contestant and Tiger King star Carole Baskin tweeted, "I don't know how you change your amazing costumes so quickly! Lots of modeling practice, I guess." Banks herself didn't appear to be too one hundred percent pleased with her own looks that evening either, saying, "I was not able to do a fitting this week, so it was a hot mess. I actually wasn't sure what I was gonna wear. I was a little nervous" (via US).
Banks also reveals a surprising accessory she had under some of her DWTS gowns. "If you rewatch episodes there are some shows where I'm having more fun and it's because I have on sneakers under my dress. And that's 100 percent true," she told US. "When I have on sneakers under my dress, I feel more free."
While Banks' puffy blue gown may not have won over all viewers, it was former Bachelorette star Kaitlyn Bristowe and pro partner Artem Chigvintsev that won the show's title.