Melania Trump Reveals A New Look To Greet The White House Christmas Tree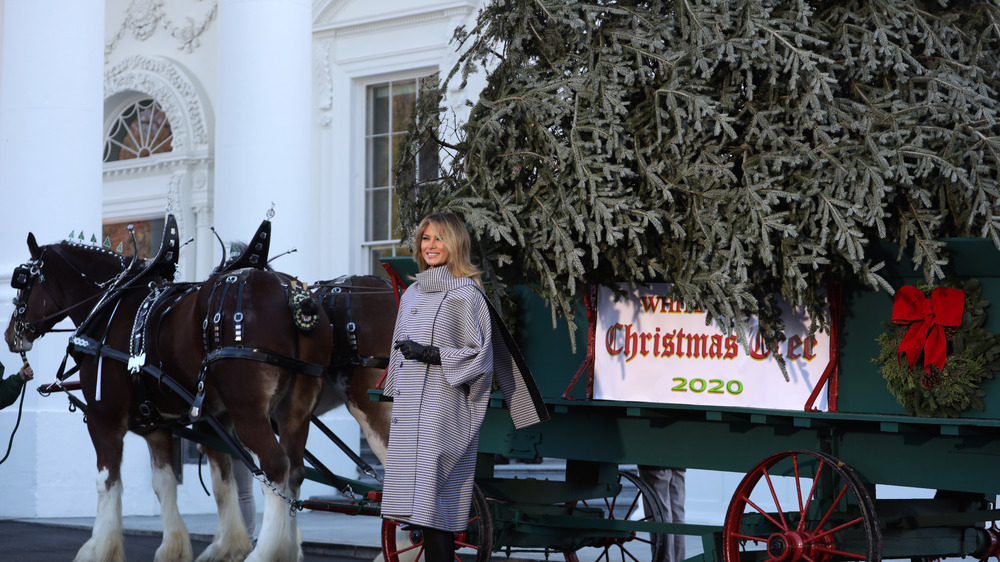 Alex Wong/Getty Images
Christmas has come to the White House — or at least the Christmas tree has arrived. The New York Post reported that at about noon on Monday, a newly blonde First Lady Melania Trump greeted the 18½-foot Fraser fir from a tree farm in West Virginia pulled by a team of Clydesdale horses while being serenaded by a military band playing "O Tannenbaum" and "Hark the Herald Angels Sing."
The pomp and circumstance of the happy occasion, designed as a good news photo op, could not, unfortunately distract from the debacle of the leaked tapes of FLOTUS bad mouthing her holiday decorating duties that surfaced in October. As Vanity Fair humorously observed, "She's doing it all as though she wasn't recorded besmirching the name of the holiday that her husband famously saved from the dreaded P.C. police."
But in the midst of all the jeers and jokes, the fact that Melania Trump is rocking a much different look as a blonde is being glossed over when it could actually be telling the world a lot about FLOTUS' mindset right now.
Melania Trump may have drastically changed her hair color to signify she's ready for change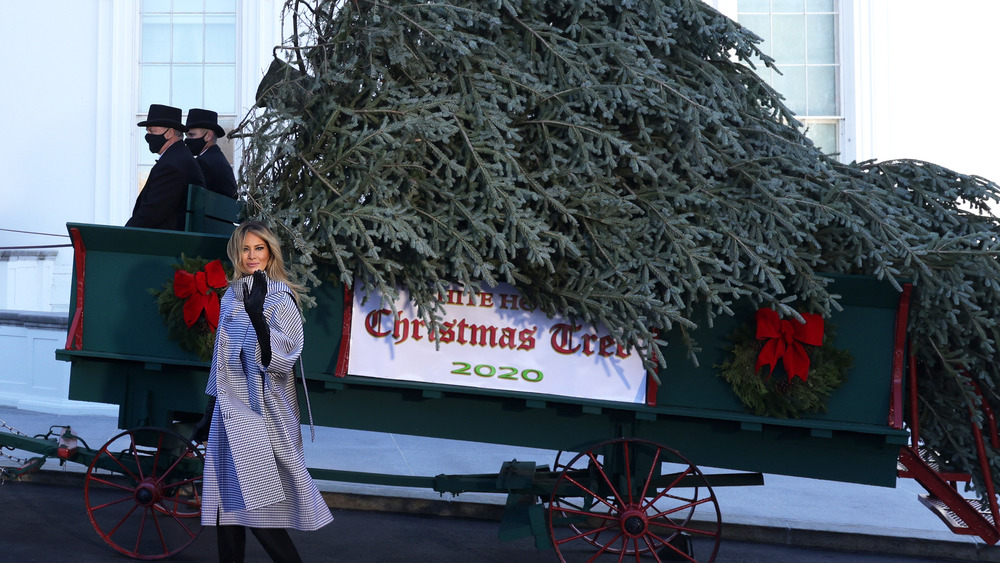 Alex Wong/Getty Images
The First Lady and former model looked beautifully stylish, as she often does, in a herringbone swing coat, and beautifully blonde highlighted hair that framed her face and cascaded over her shoulders in perfectly styled curls. But as Elite Daily points out, for women, a drastic change in hair style or color often directly correlates with major life changing events.
Celebrity hairstylist Owen Gould explained to the outlet, "Hair holds so much more energy than most of us are aware of. It can be used as a statement, an air of strength." Further explaining, "Some women use it as a security blanket whose purpose is to shield and protect, while others use it as a secret weapon to tease and entice."
Could Melania Trump be using her newly colored blonde coif as a suit of armor against the backlash she knew would come as the holiday decorating debacle came back into the news? It's certainly possible. She has also recently recovered from a battle with Covid, and is about to embark on a new life away from the White House. All of these things could contribute to the need for change or as stylist Kyle White described to Marie Claire, "The right hair color can give confidence, enhance your mood, and make you feel sexy again."
Whatever Melania Trump is going through likely directly correlates with her new look as Gould confirms, "there is usually a direct correlation between what's happening on our heads and what's happening in our lives."