What You Didn't Know About Diego Maradona's Ex-Wife
The news of Argentine soccer star Diego Maradona's passing has just taken the world by storm. He was 60 years old and passed away at his home in Buenos Aires due to a heart attack, which occurred nearly two weeks after he had been released from a hospital following brain surgery. While he was a true legend within the world of sports, he was just generally a well-liked individual, leading to the President of Argentina Alberto Fernandez declaring three days of national mourning for the star. "You took us to the highest place in the world," the President said alongside a photo of himself and Maradona embracing (via ESPN). "You made us immensely happy. You were the greatest of all. Thanks for existing, Diego. We are going to miss you the rest of our lives."
While his sporting career certainly spoke for itself, Maradona was known for having an extravagant and exhilarating lifestyle. That being said, you might not know as much about his personal life. Keep reading to learn more about the fascinating relationship he had with ex-wife Claudia Villafane and the interesting details of their lives.
Claudia Villafane was accused of stealing millions from Diego Maradona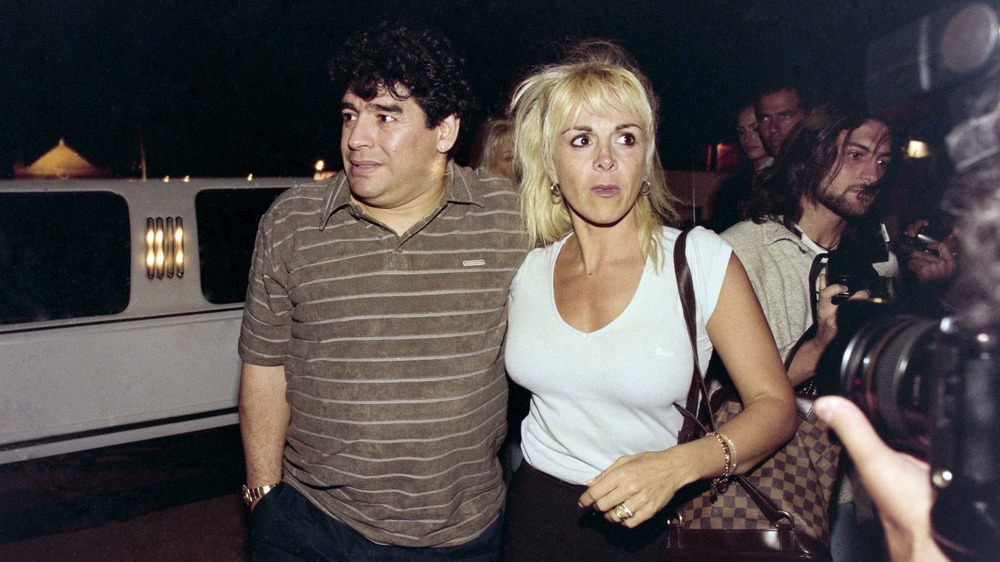 Ricardo Ceppi/Getty Images
Their love story starts off quite romantically. Maradona met Villafane when she was just 17 years old, and the couple tied the knot in 1989 (via Meaww). Also from Buenos Aires, Villafane was a TV personality and producer, perhaps best known for her appearances in Muñeca brava, MasterChef Celebrity Argentina, and Maradona by Kusturica . The couple had two children together, but sadly decided to separate in 2003 after 17 years of marriage. However, Villafane and Maradona traveled to Naples together in 2005 and were also spotted together at the 2006 World Cup. While they — and perhaps the world — might have believed that their relationship could go on as normal after the divorce, this proved to be untrue (via The Sun).
In 2015, Maradona accused his ex for fraud over $6 million that went missing from his bank accounts, subsequently leading to her very public denouncement of him. It was later discovered that Villafane had $3 million stashed in a bank in Uruguay, which had not been declared to authorities. She also owned three apartments in Miami that were each worth $2 million, which further suggested her fraudulence (via CNM Sports).