Here's How To Stretch Out Those Tight Boots The Right Way
Shutterstock
We may receive a commission on purchases made from links.
Few things in life are as exciting as getting a brand-new pair of shoes that you can't wait to wear. Okay, that may be an exaggeration, but you get it. Now that winter is upon us, it's time to stock up on cold weather essentials — luxurious leather boots at the top of the list. However, it can be disappointing to discover that your new boots are uncomfortably stiff upon first wear.
Don't be too discouraged — new leather boots should feel this way when you first purchase them. Just make sure they aren't painful, as that's a sign that your shoes may be too small for you. Too-small shoes are not only horribly uncomfortable, but they can also negatively impact your health. According to the American Academy of Orthopedic Surgeons, tight shoes can cause corns, bunions, and other deformities that might even require surgery to correct. When searching for a new pair of shoes, they recommend ensuring that your toes don't feel pinched or cramped and that none of your toes are pushed over another toe.
If your new leather boots fit correctly but just need a little breaking in, there are plenty of ways to do so — so you can get to flaunting them ASAP.
Tried-and-true methods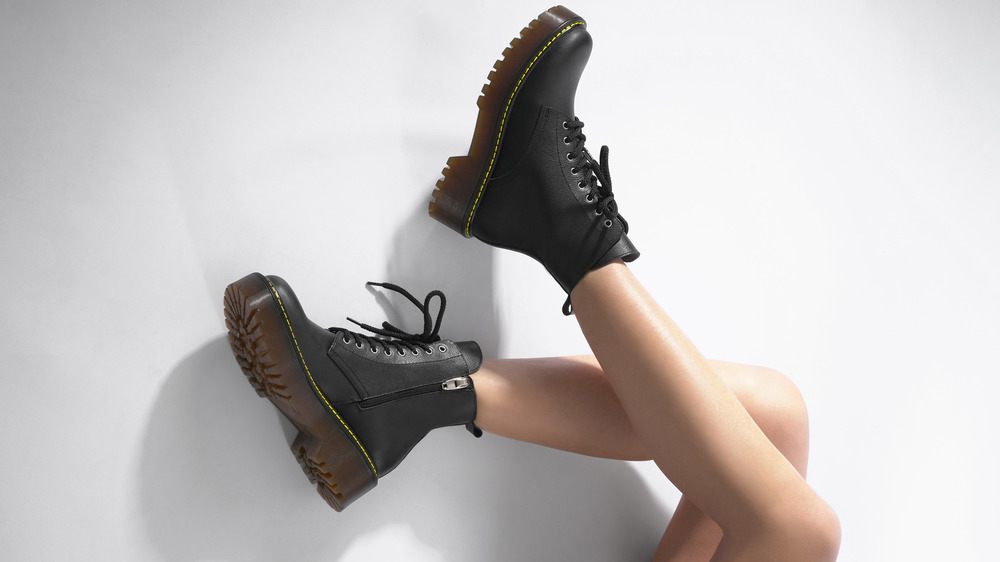 Shutterstock
There are lots of simple ways to stretch out your leather boots. For one, you can wear them over thick socks. This classic method might be a little uncomfortable, but wearing thick socks with your new boots for even a couple hours around the house can be helpful. A boot stretcher is probably the easiest (and least painful) way to stretch out your leather boots. The foot-shaped device gets placed into your shoes, stretching them out so they're perfectly shaped. InStyle recommends this pair from HSN — or, if you need to also stretch out the calf of knee-length boots, this one from Amazon. To avoid damaging the leather, leave the boot stretcher in your shoes for a few hours at a time.
Strangely enough, both heating and freezing your boots can help stretch out the leather. While wearing a pair of thick socks, clothing subscription company StichFix recommends pointing your blow dryer on the tightest parts of your shoe (making sure to keep the dryer about 6 inches away) for about 20 seconds each time. Move your toes around while doing this to encourage stretching. Then, wear the boots until they cool down so that they mold to your foot shape. Be sure to only do this with genuine leather, and be extra careful. Overdoing it could damage the material.
If you want to try the freezing method, InStyle suggests filling (fully sealed) sandwich bags with water and sticking them inside your boots. Then, place your shoes in the freezer. When the water freezes, it will expand and slowly stretch out the leather.