Inside Rihanna And A$AP Rocky's Relationship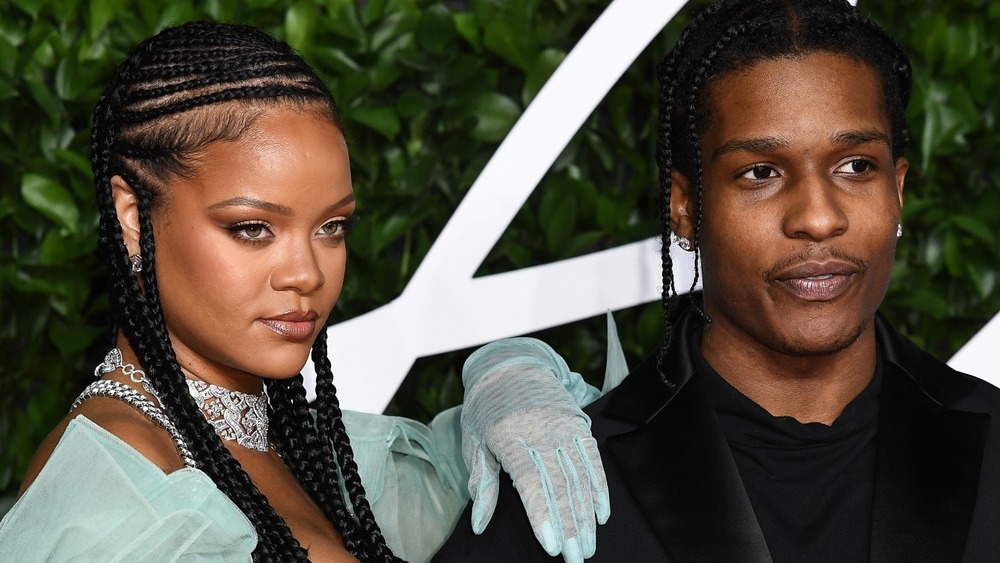 Jeff Spicer / BFC / Getty Images
Bad Gal RiRi might actually be officially off the market — for now anyway, according to People. A source told the publication Rihanna is dating rapper A$AP Rocky and a sighting reported by Page Six seems to confirm it. The pair was seen seated behind a curtain at The Beatrice Inn — a New York City restaurant owned by Angie Mar — on Saturday night. Sure, they could have just been grabbing a bite to eat as friends, but the rumors that have been swirling about these two, particularly since Rihanna's split from billionaire boyfriend Hassan Jameel, suggest otherwise.
Rihanna parted ways with Jameel in January of 2020, and fans immediately turned their attention to the "Love on the Brain" singer's mingling with A$AP Rocky. TMZ reports the two hung out backstage at the 2020 Yams Day benefit concert in Brooklyn — an event that raises funds to fight substance abuse — and prior to that, Rihanna had attended the rapper's comeback show in Sweden. And, waaaay before that, back in 2013, the two were seen kissing on the set of a music video — not as part of the choreography. Even though the smooch may have seemed entirely legit, TMZ reports Rocky brushed it off, insisting the two were still just friends. Fast forward to the summer of 2020 when, according to People, Rihanna brought A$AP Rocky on for her Fenty Skin campaign and the two were featured in interviews where the chemistry seemed more than a little obvious.
Rihanna and A$AP Rocky have too much fun together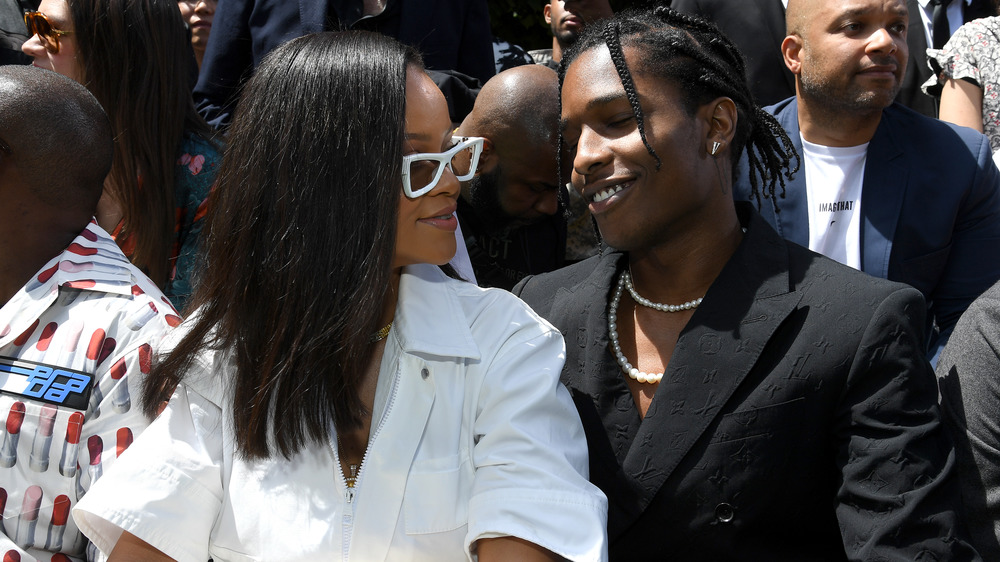 Pascal Le Segretain/Getty Images
When Rihanna featured A$AP Rocky in her Fenty Skin campaign, part of her promotional efforts included teaming up with the "Everyday" rapper for virtual interviews with outlets like GQ. In one interview documented on YouTube, Rihanna asked Rocky what the hardest part about working with her is. A$AP responded, "I think the hardest part about working with you is not goofin' off and laughing the whole time. Like this s*** is comedy. You know, people be so cool it's hard not to laugh. The hardest part is not having too much fun. You just forget that it's still work at the end of the day." Cuuuute.
If you're not convinced that laughter is a sure sign of flirtatiousness, how about A$AP telling Rihanna in that same interview that the outfit she wore on the red carpet at 2019's British Fashion Awards was "fire" (via US Weekly). Come on, compliments are a dead giveaway that a man likes you, right? Rihanna and A$AP Rocky have yet to confirm they are actually a thing, and she's been open about her plans for the future not necessarily requiring a partner. But, their relationship seems super sweet, just the same.