The Character Dolly Parton Wanted Miley Cyrus To Play In Her Netflix Show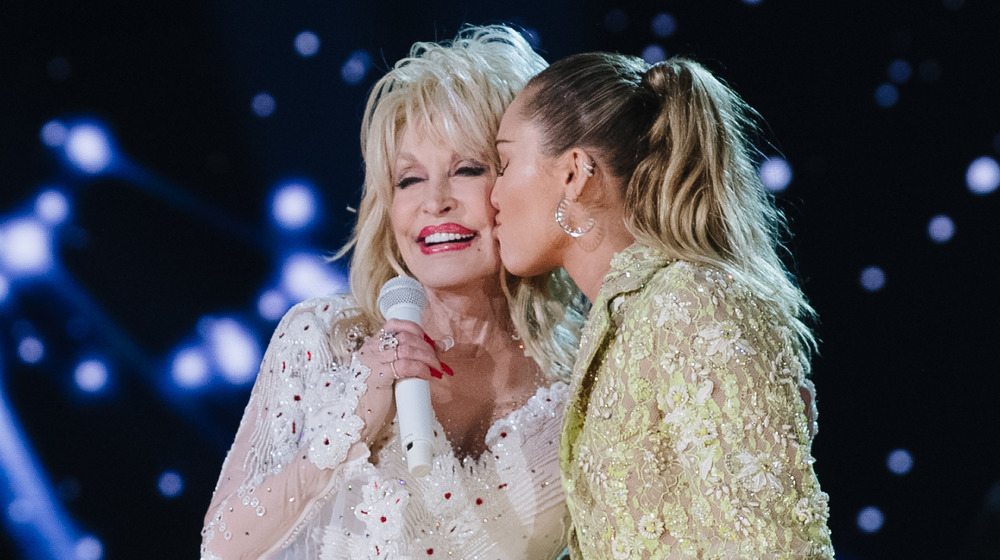 Emma Mcintyre/Getty Images
Dolly Parton is like the whole world's fairy godmother, whether she's giving underprivileged children access to reading through her Imagination Library initiative, or helping with the formulation of a COVID-19 vaccine. For Miley Cyrus, though, the country icon is actually her godmother. Their lifelong bond is keenly felt regardless of whether they're sharing the stage, but it feels particularly special whenever they do. Parton even featured as "Aunt Dolly" on Cyrus's breakout Disney show, Hannah Montana.
Speaking to Vanity Fair, the legendary singer-songwriter revealed that it was actually her goddaughter's idea to feature her. According to Parton, Cyrus really put her foot down, telling producers, "I want my Aunt Dolly on here," leading them to write her character into the show. Looking back on the experience, the country icon reminisced, "we just worked so great together." It's unsurprising, then, that when the time came to return the favor, Parton was adamant Cyrus would get the part in question.
Dolly Parton wanted her goddaughter to bring her most famous song to life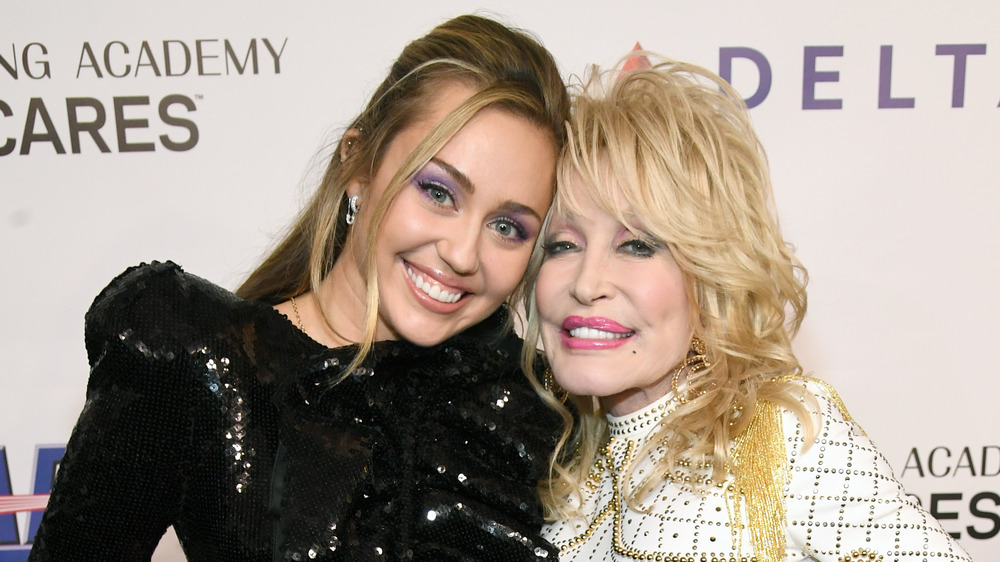 Kevin Mazur/Getty Images
In November 2019, Netflix made all our early Christmas dreams come true with the release of Dolly Parton's Heartstrings, an eight-episode anthology series focusing on some of her most beloved songs. When it came to "Jolene," the legendary 1973 ode to a woman with "flaming locks of auburn hair" intent on stealing Parton's man right from under her nose, the country star only had one actress/singer in mind for the titular role. In an interview with ET, Parton admitted, "Years back when I used to think of Jolene ... I used to think ... Miley would have been great at that as well."
Unfortunately, Cyrus was busy elsewhere and Julianne Hough ended up playing the part. Parton shared that she saw "a lot of people" before landing on Hough, explaining, "We wanted it to be someone that kind of was described in the song, with auburn hair, ivory skin, the emerald green eyes, which she had all of that. All she had to do was put on this beautiful red hair and she was the most beautiful Jolene you could ever, ever get." Of course, if she'd had her way, the Hannah Montana star would've been strapping on the wig — something she got used to while pulling double-duty on the hit show, of course.